Three-Time PBR Canada Champion Aaron Roy Wins Career-First Monster Energy Tour Event in Edmonton
By: Kacie Albert Saturday, October 20, 2018 @ 10:59 PM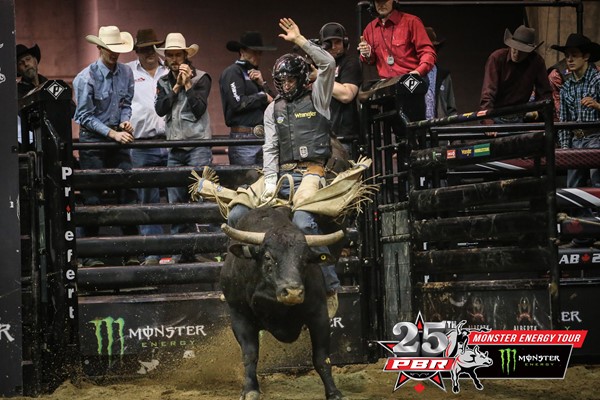 EDMONTON, Alberta – Amid his first season back since fracturing his femur at the 2016 PBR (Professional Bull Riders) World Finals, three-time Canadian Champion Aaron Roy (Yellow Grass, Saskatchewan) captured his career-first Monster Energy Tour event win inside the Edmonton EXPO Centre, victorious at the Command Tubular Edmonton Classic, presented by Mac's/Circle K.
In Round 1, Roy got off to a hot start, making the 8 aboard Rhythm & Blues (Flying High Rodeo Co.) for 84 points. The 31-year-old then brought the electric crowd to its feet with an event-best 87.5-point effort on Hanna Motors Two Point Oh (Skori Bucking Bulls) in the championship round.
For the win, Roy earned a cheque for $4,896, in addition to 490 Canadian and 120 world points. He rose from No. 12 to No .7 in the national standings, now 999.99 points behind No. 1 Lachlan Richardson (Gresford, New South Wales, Australia).
While the event win is his first on the nation's premier tour, Roy previously notched victories this season on the Touring Pro Division in both Coronation, Alberta and Manor, Saskatchewan. Thus far this season, Roy has recorded five Top-5 and 12 Top-10 finishes.
Edgar Durazo (Moctezuma, Sonora, Mexico) and Jake Gardner (Fort St. John, British Columbia) tied for second, both earning 55 world points.
Durazo, who also netted $2,830.50 and 180 Canadian points, tallied an 81.5-point scored on Cold Water (Girletz Rodeo Stock) in Round 1, which he followed with an 86.5-point ride on Finning Milky Chance (Flying Four Bucking Bulls) in the championship round.
For Gardner, his runner-up finish came after he rode Private Ryan (Girletz Rodeo Stock) for 83 points in the first round, and Original Sin (Thompson Rodeo Livestock) for 85 points in his final out. He also leaves the Edmonton EXPO Centre with $2,601 and 178.33 Canadian points.
Making his Canadian debut, Kache Moosman (Price, Utah) was the fourth rider to deliver a flawless 2-for-2 performance at the Monster Energy Tour's debut event in Edmonton, concluding the stop fourth.
The 28-year-old's Top-5 finish was backed by two qualified rides aboard bovine athletes from Skori Bucking Bulls. He made the 8 on Snap Shot for 84 points, and the covered 2015 PBR Canada Bull of the Year Minion Stuart for 83 points.
Rounding out the Top 5 was Jackson Scott (Kamloops, British Columbia). His finish was backed by a Round 1 win, riding Border King (Foley Bucking Bulls) for 85 points. He leaves the EXPO Centre with $1,560.60, 145 Canadian and 15 world points.
Cody Coverchuk (Meadow Lake, Saskatchewan) surpassed Brock Radford (De Winton, Alberta) in the national standings, now ranked No. 2 in Canada after finishing seventh. His qualified ride, the first of the night, came aboard Fired Up Freddy (Foley Bucking Bulls) for 84 points in Round 1.
He now trails No. 1 Richardson by 83.33 in the national standings.
Hanna Motors Two Point Oh earned his second high-marked bull of the event honors in Edmonton, marked 43.5 points for his trip with Roy in the championship round.
The PBR Canada Monster Energy Tour next travels to Saskatoon, Saskatchewan and the SaskTel Centre on November 23-24 for the 2018 PBR Canada Finals.
PBR Canada Monster Energy Tour – Command Tubular Edmonton Classic, presented by Mac's/Circle K
Edmonton EXPO Centre – Edmonton, Alberta
Event Leaders (Round 1-Round 2-Event Aggregate-Canadian Points-World Points-Payout)
1. Aaron Roy, 84-87.5-171.50-490-120-$4,896
2. Edgar Durazo, 81.5-86.5-168.00-180-55-$2,830.50
(tie). Jake Gardner, 83-85-168.00-178.33-55-$2,601
4. Kache Moosman, 84-83-167.00-140-20-$1,530
5. Jackson Scott, 85-0-85.00-145-15-$1,560.60
6. Juan Carlos Contreras, 84.5-0-84.50-80-10-$1,116.90
7. Cody Coverchuk, 84-0-84.00-55-5-$550.80
8. Jared Parsonage, 83-0-83.00-18.33-0-$107.10
(tie). Cody Casper, 83-0-83.00-18.33-0-$107.10
10. Zac Peterson, 82.5-0-82.50-5-0-$0
11. Tim Lipsett, 81.5-0-81.50-0-0-$0
(tie). Micheal Ostashek, 81.5-0-81.50-0-0-$0
13. Dalton Rudman, 81-0-81.00-0-0-$0
14. Todd Chotowetz, 80.5-0-80.50-0-0-$0
Marcos Gloria, 0-0-0.00-0-0-$0
Austin Richardson, 0-0-0.00-0-0-$0
Zane Lambert, 0-0-0.00-0-0-$0
Nick Tetz, 0-0-0.00-0-0-$0
Dayton Johnston, 0-0-0.00-0-0-$0
Wyatt Gleeson, 0-0-0.00-0-0-$0
Wacey Finkbeiner, 0-0-0.00-0-0-$0
Jordan Hansen, 0-0-0.00-0-0-$0
Logan Biever, 0-0-0.00-0-0-$0
Thor Hoefer II, 0-0-0.00-0-0-$0
Jake Lockwood, 0-0-0.00-0-0-$0
Cole Young, 0-0-0.00-0-0-$0
Dakota Louis, 0-0-0.00-0-0-$0
Chase Thielen, 0-0-0.00-0-0-$0
Klayton Lakevold, 0-0-0.00-0-0-$0
Italo Aguilar Goncalves, 0-0-0.00-0-0-$0
2018 Canada National Standings
(Place, Rider, Events, Wins, Top 5's, Points, Total Winnings)
1. Lachlan Richardson, 20, 2, 13, 2,392.49, $38,256.62
2. Cody Coverchuk, 35, 2, 14, 2,309.16, $31,177.00
3. Brock Radford, 23, 2, 9, 2,297.50, $38,092.85
4. Jared Parsonage, 18, 5, 6, 1,832.49, $29,690.93
5. Lonnie West, 20, 2, 6, 1,725.83, $22,222.42
6. Marcos Gloria, 17, 2, 5, 1,655.00, $142,189.53
7. Aaron Roy, 20, 3, 5, 1,392.50, $16,617.75
8. Zane Lambert, 20, 1, 7, 1,334.16, $24,229.13
9. Nick Tetz, 20, 1, 8, 1,222.50, $18,076.45
10. Daylon Swearingen, 13, 0, 4, 979.99, $12,579.60
11. Dayton Johnston, 34, 0, 6, 965.00, $14,213.55
12. Wacey Finkbeiner, 18, 0, 6, 907.50, $13,994.43
13. Koal Livingston, 9, 0, 5, 895.00, $12,810.09
14. Jake Gardner, 25, 1, 4, 873.33, $12,963.78
15. Wyatt Gleeson, 26, 1, 5, 795.00, $12,232.33
16. Logan Biever, 32, 0, 4, 624.99, $7,410.33
17. Tanner Byrne, 8, 1, 2, 552.50, $7,737.93
18. Garrett Green, 6, 2, 2, 550.00, $9,039.75
19. Matt Triplett, 8, 0, 4, 549.16, $7,919.55
20. Todd Chotowetz, 7, 1, 3, 548.33, $16,039.14
21. Lachlan Slade, 16, 0, 5, 512.50, $6,827.48
22. Austin Richardson, 3, 1, 1, 500.00, $6,416.48
23. Edgar Durazo, 13, 0, 3, 480.00, $6,342.15
24. Thor Hoefer II, 15, 1, 2, 475.83, $6,743.83
25. Justin Lloyd, 13, 0, 2, 395.00, $7,448.58
26. Tim Lipsett, 21, 0, 4, 380.00, $5,462.78
27. Juan Carlos Contreras, 13, 1, 1, 355.00, $4,606.45
28. Chase Outlaw, 4, 1, 1, 320.00, $9,616.13
29. Dakota Buttar, 5, 1, 1, 320.00, $5,185.51
30. Jordan Hansen, 6, 0, 2, 290.00, $18,102.35
31. Justin Paton, 4, 1, 1, 275.00, $5,689.33
32. Cody Casper, 20, 0, 1, 243.33, $4,522.90
33. Cole Young, 23, 0, 1, 222.50, $3,055.75
34. Cody Floyd, 14, 0, 2, 220.00, $2,173.07
35. Jackson Scott, 9, 0, 1, 211.66, $2,203.20
36. Stormy Wing, 4, 0, 1, 200.00, $11,757.80
37. Lawson Nobbs, 6, 0, 1, 195.00, $2,119.05
38. Andrew Alvidrez, 1, 0, 1, 195.00, $1,879.63
39. Zac Peterson, 7, 0, 1, 192.50, $2,803.94
40. Chase Thielen, 19, 0, 1, 175.00, $2,046.89
41. Stetson Lawrence, 3, 0, 2, 160.00, $1,694.48
42. Wyatt Covington, 5, 0, 2, 160.00, $2,741.25
43. Kache Moosman, 1, 0, 1, 140.00, $1,530.00
44. Klayton Lakevold, 25, 0, 1, 135.00, $1,197.44
45. Cawl Braithwaite, 4, 0, 1, 115.00, $1,212.31