Rank Reports: VJV Slash
By: Covy Moore Tuesday, May 19, 2020 @ 2:05 PM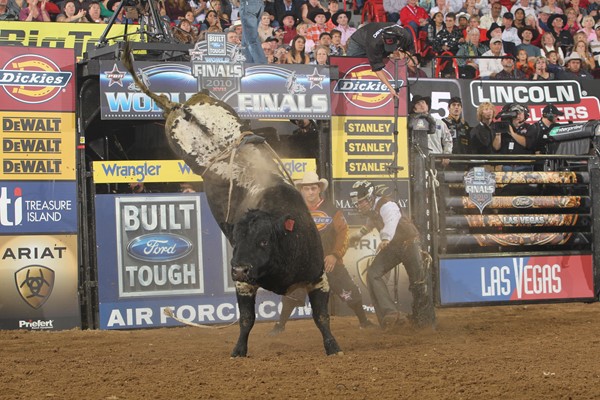 AIRDRIE, Alberta – A standout from the Alberta outfit's pen, VJV Slash is one of the first bulls you think of when hear Vold Rodeo.
Born in 2004 at the Vold's Ponoka ranch, Slash would become the flagship animal athlete for the firm.
However, as many bulls do, Vold admitted that in Slash's early years he didn't seem much more than average.
"We always buck our calves young, so he went through the same motions as everyone else did. He wasn't anything special to begin with," Vold said.
"As a long four-year-old, we put some riders on him, he started to show some pretty great potential. For his first trip we took him to Saskatoon to one of Jason [Davidson's] bull ridings, before the finals were there. Rocky McDonald got on him and he was the high ranked bull of the long round, and ever since that day he was a short round bull."
Vold credits VJV Slash with being the bull that helped launch their program, and put his name on the map.
"He kick started our program for us, he got us a name for when we got started in the contracting business," Vold explained.
RELATED: Slash – The Canadian Icon
"It was just the fact he was that good. People get noticing that bull and people get asking what events that bull will be going to. When you are just getting your foot in the door, like everyone has to, they would want you to bring Slash, but also a bunch more. That's how it works. If you got a good bull, you will always be able to bring more."
In his 61 outs on record across all levels of competition, Slash was ridden just nine times, with six of those at PBR events
"Ninety-five per cent of the time he was to the left, out the left delivery. He would get out there and kick hard and most guys wouldn't get past that first or second corner. He had a lot of whip to him a lot of up and down, and really quick. Lots of guys liked him though," Vold said.
"Tyler Thomson has a famous line about that bull that he was, 'the cockiest bull he had ever seen in his life,' he just stands in the chute, his ears might wiggle once or twice. He was one bull that the box didn't bother him. But when the chute gate opened it was go time.
"It is hard to find that trait in these animals. Quietness comes around only once in a while. He would just stand there, take the rope good and maybe twitch an ear. It's not easy to come by. Everyone wanted to get on him. He wasn't a hard and outrageous bull. He just had that kick and speed. The guys like him. He was rank, hardly had a bad day, but even if he did you would be 86."
Consistency brought VJV Slash, who happened to be named after the famed Guns N' Roses guitarist, to the PBR World Finals on four different occasions from 2010 to 2013.
And while Vold remembers plenty of offers to buy his powerful black and white muley, for him, keeping Slash on his truck was a better choice for the future of his contracting business.
"We had an opportunity to sell that bull three or four times. I didn't want to do that because I figured he would carry us further being in our pen than out of our pen so we kept him around," Vold said.
VJV Slash's most memorable trip in the mind of Vold just happens to be the best-ever bull ride that Vold has ever seen in his years around the sport.
In 2012 at the Glen Keeley Memorial PBR in Stavely, Alberta, Australian bull rider Josh Birks matched up with Vold's standout. The result – a 92.5-point, wild and flashy bull ride.
"I knew it was going to be good, Josh was pumped to have him and was just really pumped up that day," Vold said. "He had seen him once before that day as well. He knew the tricks of him, and he was going to get spurring on him.
"It was an exceptional day for that bull and even better day for Josh. That ride will stick in my mind forever."
While Slash last bucked in 2013, Vold said Slash has a few young bulls coming up through his system that are showing some promise and should be making PBR appearances in the future. With both Slash's build and attitude, it is a great sign of what is to come.
"You can't ask for one to be built any better than him if you are a contractor," Vold explained. "The riders might disagree on that one though. He is kind of an uphill bull, broad shoulders and that rise to his head. Guys were always sitting like they were sitting behind a saddle. Almost like they are riding a buffalo."
"We have another bull called Rico right now out of a Slash daughter, but he is built as much like Slash as I have ever seen. He is showing a lot of traits of his granddad. He looks pretty special."
Following his retirement, Slash, who passed away in 2018 due to natural causes, travelled to the home of 2006 PBR Canada Champion Scott Schiffner where he would live out his days, a decision Vold points to as a great way to give the very accomplished athlete a great retirement.
 "Those girls of his fed him like a 4H steer and got him fat and happy," Vold said.
"The girls got on his back at one point. That is something I never thought I would see on a bucking bull of that calibre and that rank. He would just stand there, eat grain and be happy with them girls on his back."
"When you're a true athlete and a true competitor, you deserve to be recognized, taken care of, and celebrated for what you've done for your sport." Schiffner explained. "I think we honor a lot of great athletes of the human nature, so this is my way of honoring some of these bulls that have been so good."