Two-Time PBR Canada Champion Zane Lambert Adds Wealth of Experience to Team Canada for 2020 PBR Global Cup USA
By: Kacie Albert Friday, February 7, 2020 @ 3:06 PM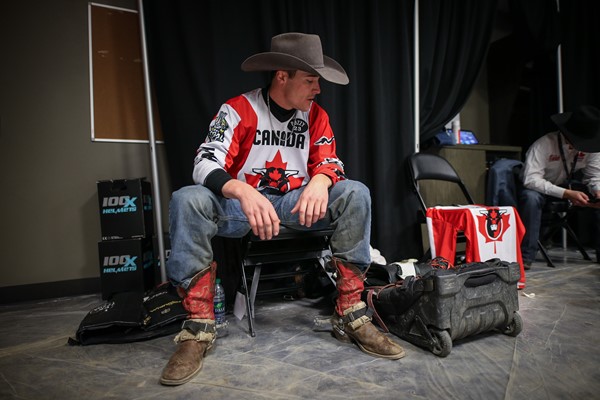 NEW YORK CITY – When Team Canada exited AT&T Stadium on Feb. 10, 2019, they were eager to move past the less-than-ideal performance they had delivered the prior two days in Arlington, Texas for the 2019 PBR Global Cup USA.
Riding great momentum after finishing third at the 2018 PBR Global Cup Australia, concluding the global bull riding spectacle a slim 19.75 points behind event-winning Team Brazil, the Canuck contingent went a dismal 3-for-18 at the inaugural edition of the event akin to the "Olympics of bull riding," on U.S. soil.
Fast forward 12 months, and with that poor finish firmly in their rearview mirror, the seven men tapped to represent the Maple Leaf on Feb. 15-16 for the 2020 WinStar World Casino and Resort PBR Global Cup USA, presented by Monster Energy, are eager to return the Red and White to global bull riding glory.
"I feel pretty privileged being able to be on the Global Cup team," two-time PBR Canada Champion Zane Lambert said. "I feel like I had a strong representation for the team. I've come up short a couple of times and kind of feel like I haven't proven my best yet, so getting this fourth opportunity it will be good to get another score on the board for Canada."
RELATED: Coaches Schiffner and Girletz Announce Finals Riders Set to Compete for Team Canada Ahead of 2020 PBR Global Cup USA
Now a four-time Team Canada select, Lambert adds a wealth of experience to the roster.
At the inaugural edition of the event in Edmonton, Alberta in November 2017, the five-time PBR World Finals qualifier went 2-for-4 in Canada's heart-breaking third-place finish on home soil, while he added one score to the nation's total in Sydney.
Lambert, however, was shutout at the 2019 PBR Global Cup USA, going 0-for-4.
"I think coming up as short and as terrible as we did last year it humbled us and put us in a good position," Lambert explained. "We've got nothing to lose. We've got everything to gain."
"There's four of us that were on the team last year that saw what happened and how it all went down, coming up with the loss. I think the guys are going to come a little more prepared, including me, and we're going to be a little more serious about just riding each one of our bulls."
Returning to AT&T Stadium alongside Lambert are Dakota Buttar, the lone other rider to be selected to all four Team Canadas, in addition to Jordan Hansen and Jared Parsonage. Buttar and Hansen were responsible for the nation's three scores last season, with Hansen reaching the 8-second whistle twice, and Buttar once.
And for Lambert, he believes the recipe for success in 2020 is simple – "just riding each bull."
"That's where it starts. And that's where it finishes," Lambert explained further. "That's all we need to do. So just hopefully guys take it a lot more serious. Yeah we're here as a good team, we're here to have fun, but we're here to win too and I think the team we've got picked this year are very serious about doing that, so I think we have very similar wants and drives."
In addition to a newfound focus, Team Canada will travel to the United States under new leadership, with Scott Schiffner and Tanner Girletz comprising the nation's coaching staff.
At the first three PBR Global Cups, Aaron Roy led the team, making history in 2019 as the first athlete to both coach and ride as part of a team at the global event.
"I think Tanner and Scott bring more of a coach aspect to it," Lambert said. "Someone else is there to crunch the numbers and to pick the bulls, and we're just there to do our jobs and not think about all the craziness that's going on around the arena and that big event."
"So it's hopefully going to take some pressure off the riders on the thinking part, so they don't have to go out there and think, they can just get in there and do what they do day-to-day."
"It makes our team that much stronger by having two more numbers down there behind the chutes and with our team."
In addition to brining added manpower and a different dynamic to the contingent, the coaching duo of Schiffner and Girletz also offer vast experience.
Crowned PBR Canada's first-ever national champion in 2006, Schiffner is a 12-time PBR Canada Finals qualifier, winning the season-culminating event in 2013, and four-time PBR World Finals qualifier.
Recently retiring in 2017, along with qualifying for the PBR Canada Finals six times, Girletz is the 2006 Canadian Champion bull rider and a nine-time CFR competitor.
RELATED: Girletz Forecasts Strong Showing from a United Team Canada at 2020 PBR Global Cup USA
For Lambert, while their position as coach may be new, he has ridden alongside the duo for countless years, a fact he believes will only make Team Canada stronger.
"If anybody knows my weaknesses, and which bulls fit me and which ones don't, it's those two guys because they've had to go head-to-head with me my whole life," Lambert remarked. "So for that aspect they are a good fit for me for picking the bulls."
And while the Ponoka man is fast to recognize not every member of the young Team Canada has ridden side-by-side with Schiffner and Girletz, he believes the duo's diligent scouting in retirement is yet another asset they add.
"They pay attention, they're not riding bulls anymore. They're just paying attention to what everybody else is doing," Lambert said. "So they are able to focus on Shay [Marks] and Jake [Gardner] and see what they're doing and what they're strong points are.
"They might not have rode with them, but they're watching them now I've seen, so that's good. They're keeping an eye on how everybody is riding, where their strong points and weaknesses are, and I think that will go a long ways."
In addition to Lambert, Buttar, Hansen and Parsonage, Team Canada is rounded out by Brock Radford, who competed for the nation in both Edmonton and Sydney, along with Gardner, whose lone selection was earned in Edmonton, and team newcomer, Marks.
"Shay is very strong," Lambert said of his teammate. "He's got that girt and that try and he's put in his time. He is still trying to get better and it's growing more in these past couple years in him than I've seen in years past."
"It's what he wants to do. It's what he's always wanted to do, and he's putting in the time, and that will go a long ways. So we see a lot of promise in Shay, his effort is huge."
"With Jake Gardner, that's a very athletic kid, that's going to go a long way," Lambert said as he continued to reflect on Team Canada. "He's strong, he's gritty, he's a cowboy. He's going to be around for a long time.
RELATED: Jake Gardner Readies for Global Cup Return
"I don't think we have seen what Jake is capable of doing yet, so I don't think he knows what he's capable of doing. He's just starting to catch a little bit of that glimpse here now.  This Global Cup could really kind of get him on the right foot, and you could see a World Champion out of Jake Gardner in the future."
Following the 2019 PBR Global Cup USA, Lambert returned home, winning an event title en route to finishing No. 11 in the national standings. Already hard at work in 2020, Lambert is an early No. 9 in Canada, with his season headlined by a fifth-place result at the season-launch Monster Energy Tour event in Calgary.
"I think my biggest asset to the team is being a team player," Lambert said. "Making sure every rider is taken care of in the chutes and as well as behind the scenes. Me giving them confidence, I guess, and being there and standing behind them will help them go further."
Another asset Lambert brings is his ability to be put in high-pressure situations, against some of the world's rankest bucking bulls, facing the likes of the late Pearl Harbor in Edmonton in 2017, and the eventual YETI PBR World Champion Buking Bull Smooth Operator in Arlington in 2019.
"I came up shy both of those times I had the chance to in those big moments, so I really hope that I can get one of those big moments again and redeem myself," Lambert said. "No one remembers when you fail, but everybody remembers when you succeed."
Despite all the buildup in the nation of Canada since the 2020 PBR Global Cup USA was announced last May, Lambert is ever-focused on one goal as he prepares to return to Texas.
"I think the only successful thing we could do is win and bringing home the gold."