Persistence Pays off for Chotowetz
By: Ted Stovin Friday, June 22, 2018 @ 9:39 AM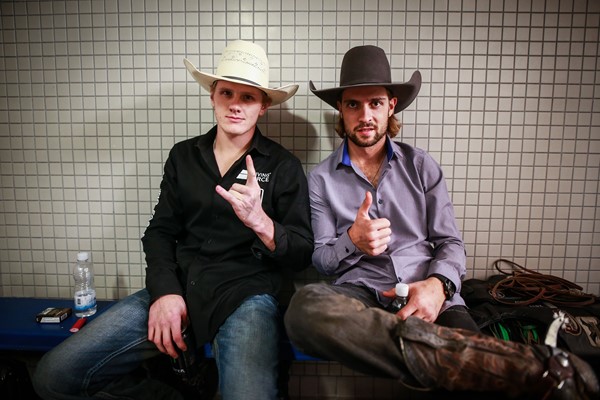 CALGARY, Alberta – In 2011, Todd Chotowetz joined an exclusive group, one of only a handful of bull riders to ever win the big three Alberta semi-pro bull riding titles in the same year.
That year, he rode to the Wildrose Rodeo Association (WRA), Lakeland Rodeo Association (LRA) and Foothills Cowboys Association (FCA) titles.
In 2012, he made his PBR debut, followed by a 2013 season spent almost in its entirety competing at Canadian Pro Rodeo Association (CPRA) events, finishing No. 20 in their standings.
The following three years, Chotowetz rode in both associations, always on the cusp of being one of Canada's top bull riders.
After years of hard work and persistence, in 2017 Chotowetz finally broke through, qualifying for his first Canadian Finals Rodeo (CFR), finishing sixth in the CPRA Standings and qualifying for his first Calgary Stampede this year.
The Major, Saskatchewan product began the 2018 campaign with high hopes starting things off going 1-for-3 in Denver at the Touring Pro Division's (TPD) National Western Stock Show, only to break his tibia in multiple places the next week at a PRCA Rodeo in Fort Worth.
"My first event back was the Innisfail Bull Riding there in the middle of May but I wasn't 100% for sure," Chotowetz said. "I don't know, [I] probably [came back] a little too early and I didn't really take care of myself as good as I should have either. Like I should have been going and getting worked on and whatnot but I didn't.
"I finally got some stuff figured out with my leg and now I can actually squeeze with it so it feels good. Real good. I thought I was only going to be out for two months, or something like that, but the tibia is a tough one to heal I guess."
With some plates and screws in his leg, a minor setback for this sport, Chotowetz made his full return at the Canadian TPD in Moose Jaw, Saskatchewan on June 9, facing E-Z To Love in Round 1. He, however, came up with a no score, bucking off at 4.52 seconds.
In Falher, Alberta this past weekend, however, his season had a massive course correction.
RELATED: Chotowetz Wins Inaugural PBR Event in Falher
"It was good, it was a cool little town, I think it was The Honey Festival is what they called it," Chotowetz said. "It was packed in there it was a good bull riding. They did a good job and it was a good pen of bulls. It was a two-header and I had a good one of Nansen [Vold]'s in the first round that I had seen once before and I liked him. He was good."
That Round 1 score of 84.5 points came on the back of Vold Rodeo's Black Bath. 
"Then I had one of Jim [Thompson]'s that was just nice and it worked out," Chotowetz said of Slip of the Lip from Thompson Rodeo who he covered for 81.5 points.
After completing the two rides, Chotowetz was unaware of the event result.
"I didn't even know that I won it at all. I thought Wyatt [Gleeson], I thought I seen him ride, I know that he was 85 or something on his first one and I thought I seen him ride his second one and I thought he was 84," Chotowetz explained. "I still thought I got second, then someone asked me what bull I was picking in the grudge match and then I was like 'Oh sweet, I won it. Perfect.'"
Fahler is the 24-year-old's first PBR win of 2018 and he's now riding 50% of his bulls, going 3-for-6 across three events.
"I'm happy to get a PBR win, geez it's been years," Chotowetz said. "I like these bull ridings, I've always liked them I've just been picking away here and there, but at least I've got some points on the board now."
With Cowboy Christmas fast approaching, heaps of opportunities are ahead for Canadian bull riders with a whopping 11 events on tap in July.
"I'm going to try to go to everything as much as I can," Chotowetz said. "Honestly these big rodeos here coming up and then I'm going to Ranchman's. I haven't looked at call backs but I hope I got in. And then just [the Calgary] Stampede there in Pool A.
"There's a lot of money to be won"
Be sure to stay tuned to PBRCanada.com and follow the tour on Facebook (PBR Canada), Twitter (@PBRCanada), and Instagram (@PBRCanada) for the latest results.