Parsonage Committed to PBR Canada Championship Run After Strong Calgary Stampede Showing
By: Ted Stovin Friday, July 19, 2019 @ 10:47 AM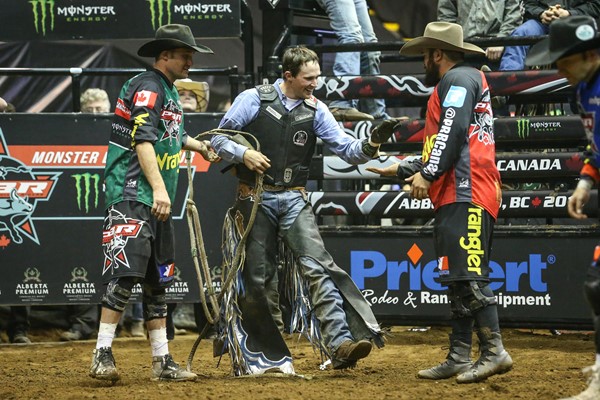 CALGARY, Alberta – This season on Canadian soil, whether it be on the rodeo or PBR circuits, Jared Parsonage has been seemingly unstoppable.
Currently No. 4 in the CPRA standings having netted $19,105.62, the Maple Creek, Saskatchewan man is the top-ranked man in PBR Canada, 447.49 points in front of No. 2 Shay Marks.
And his success on home soil has allowed him to reach new heights in the broader PBR world standings, now No. 31 and the top-ranked Canadian.
His recent surge can be credited to his runner-up finish at the 2019 Calgary Stampede, earning the 26-year-old 100 world points.
Riding Grey Tower III for 89 points in the final round, Parsonage was edged by Sage Kimzey for the 2019 title at the "Greatest Outdoor Show on Earth," after he took Night Moves to the whistle for a 92.5-point score.
"Sage made a dang good bull ride that's for dang sure," Parsonage said. "That bull bucked and Sage rode him as good as you could ride him.
"That Grey Tower, he is usually right there, but he kind of stumbled and went out there a ways. But he still bucked and that's just the way things go. I did my job and rode him, that's really all a guy can do."
As the now No. 31-ranked bull rider in the world, Parsonage had punched his ticket to the Unleash The Beast for the Last Cowboy Standing at Cheyenne Frontier Days on July 22-23.
The event would have marked Parsonage's second appearance on the PBR elite series, making his debut in January at the Glendale event.
However, committed to earning his first season-end titles in his home nation, Parsonage double-downed on Canada, declining the invite to the third Major of the season.
"It's a busy time coming up and I kind of buggered up my hand a little bit there in the first round of Calgary," he explained. "If I go to Cheyenne I get into about 10 or 12 days of straight bull riding starting with Czar and it's a big time up here."
Exclusively looking at opportunities in Canada, PBR Touring Pro Division action resumes on Friday, July 19 in Czar, Alberta. The very next day, the series travels nearly eight hours and 800 kilometers east for a stop in Manor, Saskatchewan. Completing the weekend trifecta is a CPRA event in Morris, Alberta.
Leapfrogging the Last Cowboy Standing action on the calendar, CPRA competition continues from Oyen, Alberta on Wednesday, July 24, followed by a PBR Canada Touring Pro Division event in North Battleford, Saskatchewan on Thursday, and back-to-back pro rodeo events in Medicine Hat and Lacombe on Friday and Saturday.  
Had Parsonage accepted the invite that would have meant six events in seven days.
As a rider that heavily examines the stats, Parsonage saw a better path to actualizing his goals for the season, knowing how many bulls his body can handle in a season.
RELATED: A Student of the Game – For Halifax Event Winner Parsonage, It's all About the Stats
"I've got a little lead in the PBR and I want to add to it," Parsonage said. "And I am right there at the top of the rodeo standings too and I want to add to that. I'm not going to be within striking range of a world title in the PBR by no means this year."
"Every bull I try to get on I try to get better," he continued.
"I picked some goals this year and I'm going stick to them; I think a guy needs to. There so many options right now in the world of bull riding that you need to break it down and focus a little bit."
His main goal for 2019 -- winning the PBR Canada Championship and accompanying $50,000 bonus.
"I've set that as my goal and I'm going to stick to it, pick my battles and hopefully it works out," Parsonage said.
"Instead of just going everywhere you got to focus your goals, and there is a ton of opportunity in Canada. I decided that I am going to focus on the Canadian things and I think I'll probably go to some of the events this fall when there is not much going on up here, right?"
Going to some events in the fall means that Parsonage plans to head to the elite tour after he's made up more ground in the rodeo standings in Canada and the Canadian PBR events have slowed down.
The only thing is that if he keeps on trend, he will be a seeded rider on the elite tour and may have to make a choice soon.
"Yeah that's a rocky road, if I end up seeded I got to go if I want to go to the World Finals, but that's the rocky part," he explained.
"Thirty one is the perfect number, but I don't know, I guess just everybody will have a different opinion, but that's mine. That's what I'm going to do and I'm sticking to it."
Having earned $64,861 CAD in PBR Canada competition to this point, including the $35,750 from Calgary in addition to the $19,105 from the rodeo side of things, he's already banked nearly $85,000 in his home country. That doesn't include the potential PBR Canada bonus or any money won at the Canadian Finals Rodeo.
"I thought about all that," Parsonage said. "If a guy has a decent year at the CFR and in the CPRA that's another $70,000. Some extras like Cloverdale and stuff like that, and your costs are pretty minimal compared to travelling North America."
As both the No. 1 man in Canada and the top ranked Canadian in the PBR World Standings, Parsonage is in a great place regardless.
"It's good to do be in that top ranked guy," he said. "I've just been working at it really, I just wanted to do good these Canadian [events] I set some goals and then I think the PBR thing, with the world points and those let it play out.
"I set a goal at the start of the year to try and win a couple Canadian titles so I'm going to stick to those right now and go with that."