A Student of the Game – For Halifax Event Winner Parsonage It's all About the Stats
By: Kacie Albert Tuesday, June 4, 2019 @ 4:08 PM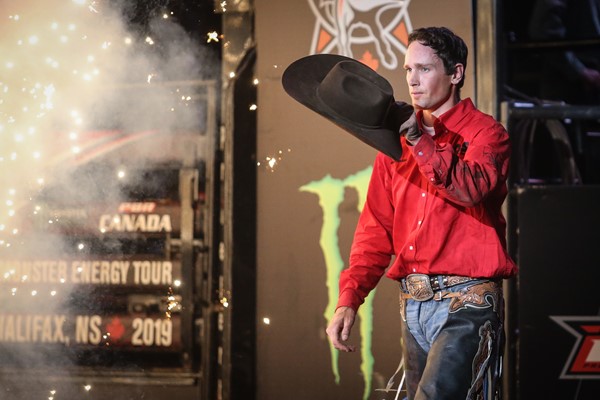 NEW YORK CITY – For the majority of the 2019 PBR Canada season, the field has been chasing one man – Jared Parsonage.
However, the standings were shaken up Friday night following the conclusion of the annual Clunie-Cooper Memorial PBR, when the Maple Creek, Saskatchewan rider was passed by travelling partner Jordan Hansen for the No. 1 ranking.
Hansen, who won the stop, surged past Parsonage, who tied for sixth, by 190 points.  
But Parsonage's occupation of the No. 2 ranking was short lived.
Returning to competition 24 hours later, nearly 4,500km away from Prince Albert, Saskatchewan, on the opposite side of the nation, Parsonage delivered a flawless 3-for-3 showing in Halifax, Nova Scotia to win his second Monster Energy Tour event of the year.
RELATED: Jared Parsonage Reclaims No. 1 Ranking in Canada with Halifax Monster Energy Tour Win
An integral decision in the 26-year-old's march to victory was his decline of a Round 2 re-ride after making the 8 on Tramp Brew for 68.5 points.
"Knowing that, when you're 68 you kind of leave yourself with no option," Parsonage said without hesitation. "Well there never is an option, but to stay on in the short round, but if you really want to win anything, you've got to stay on in the short round. And I feel like through the last couple years of my career, that's where I've had good luck rising to the occasion is in the short round.
"So I just run the risk and sometimes it works, and hopefully more often than not it does."
"You've got to ride your bulls," Parsonage explained further.
"With 11 guys, it's kind of a marathon anyways, and the re-ride, I don't find him too desirable, personally, so I thought I would just keep my score. It was only me and Daylon [Swearingen] with two rode, so why not run the risk of 'er."
While Parsonage is often regarded as one of the most consistent riders in the nation, he is also one of the most statistics-focused cowboys in Canada as well.
"I follow all the stats, I love the stats, I'm a stats guy," Parsonage said. "Stats are cool, it's why they have them in all other professional sports."
And his re-ride decision in Halifax was directly informed by his knowledge of both the statistical trends of the event, and the bull power that awaited him in the re-ride pen.
"I've always been that way through my career, everybody talks, it's kind of the bull rider ego or classic lingo, 'oh I don't know,' or 'I don't care,' [or] 'it doesn't matter, just ride your bulls,' but at the end of the day it does matter," he said.
"This is a business to me. In my opinion I want to know these bulls, I want to know what's in the re-ride pen, what I've got to be, what I've got to do. It's part of the job.
"If you want to take it serious, in my opinion, you've got to know what comes. I know what the re-rides are, I kind of know what everybody has, what's going to shakedown, what can shakedown. I think that's important."
Looking back in the record books, one has to flip back no further than this March in Lethbridge when a similar scenario played out.
In the championship round of the Monster Energy Tour's first-ever visit to the Alberta city, he had the option for a re-ride after he was marked 75 points on Big John.
With three riders left to compete in the final round, Parsonage opted to keep the score, a decision which proved dividends as he remained the lone rider to cover all three of his bovine athlete opponents.
"In Lethbridge, I think I was the fourth to last guy out, and rode a big, hard sucker there, Big John," Parsonage recalled. "And it was kind of one of them things, a bull Papa's Rockstar out of a new delivery he's never out of. So I turned it down, and run the risk, and luck was basically on my side."
 RELATED: Parsonage Wins Bridge City Chrysler/LA Towing PBR Challenge
"Like all your stats, your ride percentage, this and that, short round, 85+'s, all that stuff, I follow it, it's important to me," Parsonage continued.
"If you're at the top in all the stats, well you're obviously doing the right thing, you're winning."
In examining his run to the title in Halifax, Parsonage's third-career Monster Energy Tour victory began in Round 1 when he made the 8 on Night Shift for 82 points.
"He was little, and he was kind of shifty, but he actually did a little of this and that, he felt good the whole time," Parsonage said of the out. "Kind of pushing back, and I felt like I rode him really easy, it was a good bull. Just got the job done, 82, nothing special."
Next came the ever-crucial 8 seconds with Tramp Brew in Round 2.
"I've seen [him] just a couple times, heard about him really bucking, and it wasn't just a lot of action today," Parsonage said after the trip. "He wasn't too desirable, but got the job done."
For his win, Parsonage collected a check for $5,735.73, along with 550 Canadian and 170 world points.
In addition to returning to the top of the Canadian standings where he now leads No. 2 Swearingen by 202.08 points Parsonage gained crucial ground in the broader PBR world rankings, rising from No. 53 to No. 37. He is now just 60 points outside of the Top 35 and a return to the elite Unleash The Beast for the Last Cowboy Standing Major event, part of Cheyenne Frontier Days, on July 22-23.
"Knocking on the door of being on tour, and there's quite a few events before Cheyenne, and a big summer run, but I don't plan on stopping winning."