PBR Canada's Top 15 of 2018 – Part 2
By: Ted Stovin Friday, December 28, 2018 @ 1:44 PM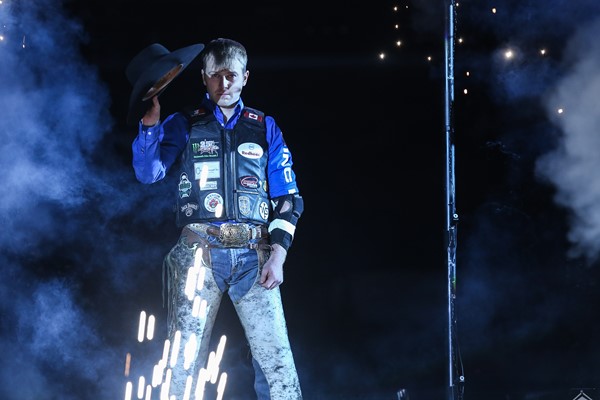 CALGARY, Alberta – In 2018, Canadian athletes, both riders and bulls, accomplished incredible milestones both at home country events and abroad.
With the start of the 2019 PBR Canada Monster Energy Tour less than a month away, and just a few days remaining on the 2018 calendar, we look back at the Top 15 outs of the season for Canadian riders and bulls, both in the Great White North and competing abroad.
On Boxing Day, we counted down from 15 to 8. Today, we look back at the Top 7.
RELATED: PBR Canada's Top 15 of 2018 – Part 1
Before we get to those Top 7 however, we have to mention a few notable moments not included on the countdown.  One of those moments is Jesse Byrne's 11th appearance at the PBR World Finals. Byrne has quietly pioneered his way from Canada to become one of, if not the best, bullfighter in the world. True to his country, he doesn't boast, but that doesn't mean we can't.
In addition to Byrne's incredible consistency, we have to tip our hat to Aaron Roy on returning to competition for the second time after what we all thought was another career-ending injury at the 2016 PBR World Finals. Roy made his return in Lethbridge in March, making the 8-second whistle on the first bull he attempted. He went on to qualify for the PBR Canadian Finals and contend for a fourth Canadian title.
Next up? Making more history by riding and coaching at the PBR Global Cup in Arlington, Texas.
RELATED: Roy Eager for Historic Dual Role at Upcoming PBR Global Cup
No. 7 – Kaique Pacheco rides Stuntman Ray for 91 points to win Milwaukee
As one of the higher-scored rides on the countdown, the significance of the score is compounded by the fact that it came aboard a bull that traces his roots to Canada's Girletz Rodeo Stock. The ride propelled Kaique Pacheco to his league-leading fifth event win and helped him extend his lead atop the world rankings to more than 1,598.33 points ahead of then No. 2 Claudio Montanha Jr. The inclusion in the countdown is Stuntman Ray's second. The bull who now bucks for Broken Arrow concluded his first season on the elite tour with two outs at the 2018 PBR World Finals, ridden by Marco Eguchi for 91 points in Round 3 and by Montanha for 88.75 points in Round 5.
Error loading Partial View script (file: ~/Views/MacroPartials/RichtextEmbedVideo.cshtml)
No. 6 – Luciano de Castro rides Canadian Mist for 92.5 points
This is the highest marked ride we see on this year's countdown, but it wasn't made by a Canadian bull rider, so it was tough to rank higher than those made by our guys. What does get it up to No. 6, however, is the fact that Luciano de Castro did tame a former Vold Rodeo bucking bull, Canadian Mist, who went on to contend for the World Champion Bucking Bull Title, for one of the highest marks of the entire PBR season. When he wins that title next year he can be No. 1!
Error loading Partial View script (file: ~/Views/MacroPartials/RichtextEmbedVideo.cshtml)
No. 5 – Happy Camper Dominates in Canada
On Canadian soil in 2018, no bull won more than Two Bit Bucking Bulls' Happy Camper. The four-year old bucker won three bull of the event honors on the Monster Energy Tour, victorious in Calgary, Ottawa and Moncton, but he didn't stop there. The bovine athlete added another in Lethbridge to go with numerous others including the top mark at the Calgary Stampede, at 46.5 points.
RELATED: Happy Camper Begins Second PBR Season With Win in Calgary
To cap it off, Happy Camper was selected to his second PBR World Finals and became only the fourth bull in Canadian history to earn both the Bull of the Year and Bull of the PBR Canadian Finals in the same season.
RELATED: Happy Camper Caps Dominant Season with Canadian Title
Turning five in 2019 there's no telling where this bovine athlete from Magrath, Alberta will go.
Error loading Partial View script (file: ~/Views/MacroPartials/RichtextEmbedVideo.cshtml)
No. 4 – Buttar Claims Career First 90-point Score with 90 Points on Inferno in Columbia
In 2018, Dakota Buttar took the next step in solidifying himself as one of the top bull riders on the planet. In 2017 he won his first event title at the PBR's elite level, however this year, he upped his game and made not one, but two 90-point rides on the premier series. He recorded the first of his career in Columbus, Ohio in April when he covered Inferno for 90 points.
Error loading Partial View script (file: ~/Views/MacroPartials/RichtextEmbedVideo.cshtml)
No. 3 – Zane Lambert tames Finning Young Trent for 90 points
Again, this may not be the highest marked ride on the countdown, but the timing was impeccable. On the biggest stage for the PBR in Canada, two-time PBR Canada Champion Zane Lambert made the second 90-point effort of his season in the championship round of the Monster Energy PBR Canadian Finals, scored 90 points on Finning Young Trent.
Finning Young Trent won top honors as the bull of the event in Yorkton, Saskatchewan two weeks prior to the finals in Saskatoon staking his claim as one of the top up-and-coming bulls in the nation. Lambert was in search of a third National title but came up short. Still, he finished his season with a highlight and two of the three top rides on Canadian soil in 2018.
Error loading Partial View script (file: ~/Views/MacroPartials/RichtextEmbedVideo.cshtml)
No. 2 – Byrne Wins St. Louis
After the worst season of his professional and personal career in 2017, Tanner Byrne came back to make it all count in 2018. He still faced numerous challenges, more injuries and continued to deal with the loss of his friend Ty Pozzobon, however, he rose above them all.  
Helping him to qualify for his fourth World Finals, Byrne earned the third premier series event win of his career when he was victorious at February's stop in St. Louis.
RELATED: Tanner Byrne wins St. Louis Invitational
Byrne holds the top finish ever by a Canadian bull rider in the PBR World Standings at No. 8 in 2015, he's also leading the nation with the most wins on the PBR's elite series, the next closest have one to his three. Will he improve on that ranking in 2019 and potentially become the first Canadian to win a World Title?
Error loading Partial View script (file: ~/Views/MacroPartials/RichtextEmbedVideo.cshtml)
No. 1 – Buttar Rides Rising Sun for 90.5 points in Milwaukee
In the top spot of the 2018 countdown is Dakota Buttar. With the best finish by a Canadian in the 2018 PBR World Standings at No. 17, recording three 90-point rides across all levels of competition, he was our best this season. He neared the PBR's Top 10 after this second-place finish in Milwaukee.
The 90.5 points on Rising Sun are his highest to date but likely won't be for very much longer. Buttar looks to the top of the world when the new season starts next weekend in New York City at "The World's Most Famous Arena" in Madison Square Garden.
Error loading Partial View script (file: ~/Views/MacroPartials/RichtextEmbedVideo.cshtml)
PBR Canada's Monster Energy Tour returns for 2019 on January 26th at Bell MTS Place. Tickets are available at Ticketmaster.ca