Happy Camper Caps Dominant Season with Canadian Title
By: Kacie Albert Thursday, November 29, 2018 @ 5:14 PM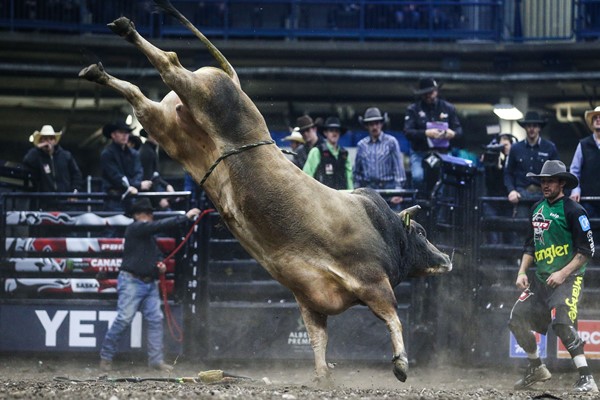 NEW YORK CITY – In 2017, after winning the ABBI Canada Classic Championship and making his first PBR World Finals appearance as one of just a handful of three-year-olds selected to the most prestigious event in bull riding, expectations were high for Two Bit Bucking Bulls' Happy Camper in 2018 – and the four-legged freight train did not disappoint.
Selected to buck at the first leg of the inaugural Global Cup in Edmonton, Alberta, the now four-year-old set the tone for the 2018 campaign early, bucking off Team Australia's Troy Wilkinson in 1.89 seconds to earn a 44.5-point bull score.
After making two equally marked trips at the Canadian Touring Pro Division season-launch event in Lethbridge, Happy Camper showed he would indeed be a force to reckon with season-long, earning the bull of the event honor at the first Monster Energy Tour stop of 2018 in Calgary. The bovine athlete earned the top marks, a 43.5-point score, after dispatching Jake Gardner in 4.44 seconds. 
RELATED: Happy Camper Begins Second PBR Season with Win in Calgary
Two months later, at the Canadian premier series' next event, Happy Camper was the top bucker yet again, this time marked 44.5 points for his out with Austin Richardson.
RELATED: Happy Camper's Dominance Continues in Ottawa
Collectively, Happy Camper was ridden just three times in 15 trips in 2018.
More impressive though is the list of awards the young bull amassed in the regular season -- three Monster Energy Tour Bull of the event honors, and the top bull score at the Calgary Stampede, 46.5 points for his 4 seconds of work against Marcos Gloria.
"That was a pretty big deal, and to see that was pretty special too," Josh Berezay of Two Bit Bucking Bulls said via telephone of his bull's high-marked out at the Calgary Stampede.
In final events of the season, Happy Camper only continued to shine.
Earning yet another trip to the PBR World Finals, Happy Camper returned to Canada to conclude his year at the 2018 PBR Monster Energy Canadian Finals, presented by Mac's/Circle K and Dakota Dunes Casino.
RELATED: Eleven Canadian Bulls Selected to 2018 PBR World Finals
There, not only was Happy Camper awarded the PBR Canada Bull of the Year title, a recognition voted upon by the league's riders, but he put his athletic prowess on full display for the fan's inside SaskTel Centre, marked 45.5 points for his 3.9-second buckoff of 2015 PBR Canada Champion Tanner Byrne in the championship round, to be crowned the PBR Canada Bull of the Finals.
RELATED: PBR Canada Names 2018 Stock Contractor, Bull and Event of the Year
"It was a good trip," Berezay recalled of his bull's trip in Saskatoon. "That was the best I'd seen him I think since Calgary. And I just think he's going to be a quality bull for a long time."
While Two Bit Bucking Bulls' Bucking Fantastic was the high-marked bull of the Canadian Finals in 2012, Happy Camper is the first bull from the Magrath, Alberta outfit to be named Canadian Bull of the Year. He is also the first bull since Hey Jack in 2015 to earn both honors at the finals, a feat accomplished by just three other bulls: Pound The Alarm – 2013; VJV Slash – 2011; and Unabomber – 2009.
"I don't think there's anything that needs to be said, I just think he does the talking," Berezay said. "Pretty awesome accomplishment.  
"And I know he had a couple weird trips, but he's come back from that stronger and better.
"He wasn't himself in Vegas," Berezay said further of Happy Camper's Round 3 out at the 2018 PBR World Finals when he was ridden by Dener Barbosa for 84.75 points.
"He was off that week, but he still got out of Las Vegas with a 43 bull score."
Despite the "off" performance in Vegas, Happy Camper etched his name in the history books when he returned to home soil, a moment Berezay will savor for years to come.
"The very best thing about it all was having the girls beside me on the bucking chutes cheering, and Tamara in the stands," Berezay said of his daughters Nevada and Montana, and his wife. "We all have watched 465 from the first day he was alive to performing on the biggest stage. It was the best and proudest day ever."
And for the Berezay's, Happy Camper is just another member of the family, born and raised on their ranch, adding to the sentimentality of the moment.
"That's the biggest deal for us is you know we raised his mom and we raised his dad," Berezay explained. Happy Camper's dad, Pedro, came from the late Ty Pozzobon and the Quartieri family of New Mexico, while on his mother's side, he goes back to some of the first Carlyle cows the Berezay's ever bought from Tyler Thomson.
"You believe in what you believe in to try and make something great like that, and when it comes to pass it's pretty cool!"
Looking forward to 2019, however, Berezay believes some of Two Bits' up-and-coming bulls will join Happy Camper atop the leaderboard.
"We've got a bunch of good up-and-coming bulls that everyone's going to start seeing here," Berezay said. "I think this is the first year because of Happy we never really pushed our young bulls. We let them grow up, so our four-year-olds coming this year should come with a lot more size and ready.
"So we're excited about all that!"