Reigning PBR Canada Champion Nick Tetz Finishes Second in Round 2 of the 2023 PBR World Finals
By: Kacie Albert Sunday, May 14, 2023 @ 12:23 AM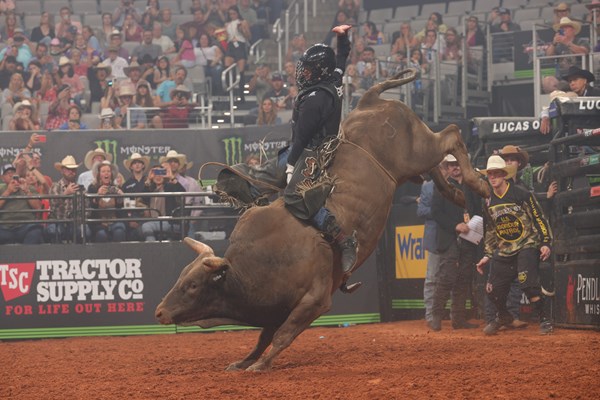 FORT WORTH, Texas – During Round 2 of the 2023 PBR (Professional Bull Riders) World Finals: Unleash The Beast, the sport's rank bovine athletes surrendered just four qualified rides in 40 attempts. Reining PBR Canada Champion Nick Tetz (Calgary, Alberta) cracked the code, logging his first qualified ride at the marathon event to finish second in Round 2.
Tetz conquered Bandito Bug (Chris Utz/Carey Brothers/Mike Chaney/Blake Sharp) for a commanding 89 points, becoming the first rider in PBR competition to cover the bull and net 48 Unleash The Beast points.
Tetz is now ranked No. 43 in the Unleash The Beast standings after beginning Round 2 ranked No. 46 and is third in the overall event.
Dallas's own Austin Richardson (Dallas, Texas) topped the evening, delivering an unmatched score to win Round 2.
"Being here to win the round in front of the hometown crowd puts icing on the cake," said Richardson. "I'm trying my hardest, riding the rankest bulls, trying to make some money."
Richardson took the round win less than three months after fracturing his sternum and puncturing a lung at the premier series event in Los Angeles.
Drafting Black Gold (Cooper/Scruggs Bucking Bulls) as his second opponent at bull riding's most prestigious event, Richardson remained in perfect time with the fast-spinning jet-black bull en route to an 89.75-point score.
Richardson, who rides for the Austin Gamblers in the separate PBR Team Series, earned a check for $37,500 and 88 Unleash The Beast points. He surged to the top of the event leaderboard, now tied for the first-place position alongside Derek Kolbaba (Walla Walla, Washington), climbing from No. 38 to No. 27 in the overall series standings.
Kolbaba was unable to extend his lead in the World Finals event, tossed by Chateau Montelena's Montana Jacket (Vella/Coleman/Ogden/Hart) in 4.68 seconds.
Round 2 marked the first trip for the top contenders in the YETI PBR World Champion Bull Race.
Compliments of a monstrous 46-point trip earned via his 5.9 seconds of work against Dener Barbosa (Paulo de Faria, Brazil), Ridin' Solo (Cord McCoy/Bill McCarty/McCoy Rodeo) tied Cool Whip (Julian/Staci Addison/D&H/Crooked W) for the No. 1 rank in the fierce title battle.
Both Solo and Cool Whip, who was marked just 42.75 points for his 4.27-second buckoff of Boudreaux Campbell (Crockett, Texas), now hold a matching 45.61-point average.
UTZ BesTex Legend (Blake Sharp/Chris/Utz/Carey Brothers) and Flapjack (Parker/OK Corralis/Gordon/D&H Cattle) are hot on their hooves, ranked No. 3 and No. 4, respectively, in the title battle.
In Round 2, UTZ BesTex Legend upended Wingson Henrique da Silva (Navirai, Brazil) in 4 seconds to earn a 46-point score, while Flapjack sent Josh Frost (Randlett, Utah) to the ground in a similar 4.08 seconds to garner a 46.25-point score.
UTZ BesTex Legend is now within 0.03 of the No. 1 rank, while Flapjack is 0.08 points back.
In the feverish battle for the 2023 PBR World Championship, the Top 10 remains unchanged after none of the contenders were able to make the 8 in Round 2.
Two-time PBR World Champion and current No. 2 Jose Vitor Leme (Ribas do Rio Pardo, Brazil) remains on the hunt for his first qualified ride in Fort Worth after he was deemed to have let go of his rope aboard JAG Metals Grand Theft (D&H Cattle Co./Philip Elkins) in a heartbreaking 7.81 seconds. Leme remains 74 points back of No. 1 Kaique Pacheco (Itatiba, Brazil), who is not competing at the World Finals due to injury.
While No. 3 Dalton Kasel (Muleshoe, Texas) initially received a 71.5-point score aboard Moon Juice (Shuler Bucking Bulls), he opted to accept his re-ride even after grimacing in pain and limping off the dirt. Kasel, however, was unable to find success again, as Mr. Nasty (Blake Sharp/Koe Wetzel/Cody O'Neil) upended him in 1.81 seconds. The Texan still trails the No. 1 rank by 231.34 points.
Returning to the Round 2 leaderboard, Colten Fritzlan (Rifle, Colorado) was third, netting 44 Unleash The Beast points.
The Colorado man's 86-point ride atop Alakazam (D&H Cattle/Buck Cattle/Tommy Julian) allowed him to rise from No. 23 to No. 19 in the gold buckle standings.
As the only other rider to make the 8, Braidy Randolph (Jonestown, Pennsylvania) was fourth.
Randolph outlasted Twisted Steel (Cooper/Scruggs Bucking Bulls) for 85.75 points to net 40 Unleash The Beast points. He gained three positions in the standings, rising from No. 27 to No. 24.
The 2023 PBR World Finals: Unleash The Beast continues with Round 3 on Sunday, May 14, at 1:45 p.m. CDT.
Stay tuned to PBR.com for the latest news and results and be sure to follow the league on all social media platforms at @PBR.
PBR Unleash The Beast
PBR World Finals: Unleash The Beast
Dickies Arena – Fort Worth, Texas
Event Leaders (Round 1-Round 2-Round 3-Round 4-Round 5-Round 6-Round 7-Round 8-Event Aggregate-Event Points)
1. Derek Kolbaba, 89.75-0-0-0-0-0-0-0-89.75-88 Points.
(tie). Austin Richardson, 0-89.75-0-0-0-0-0-0-89.75-88 Points.
3. Nick Tetz, 0-89-0-0-0-0-0-0-89.00-48 Points.
4. João Ricardo Vieira, 88.5-0-0-0-0-0-0-0-88.50-48 Points.
5. Chase Dougherty, 88.25-0-0-0-0-0-0-0-88.25-44 Points.
6. Ramon de Lima, 87-0-0-0-0-0-0-0-87.00-40 Points.
7. Colten Fritzlan, 0-86-0-0-0-0-0-0-86.00-44 Points.
8. Dener Barbosa, 85.75-0-0-0-0-0-0-0-85.75-36 Points.
(tie). Braidy Randolph, 0-85.75-0-0-0-0-0-0-85.75-40 Points.
10. Dawson Branton, 85-0-0-0-0-0-0-0-85.00-30 Points.
(tie). Joao Lucas Campos, 85-0-0-0-0-0-0-0-85.00-30 Points.
12. Boudreaux Campbell, 84.75-0-0-0-0-0-0-0-84.75-22 Points.
(tie). Koltin Hevalow, 84.75-0-0-0-0-0-0-0-84.75-22 Points.
Jose Vitor Leme, 0-0-0-0-0-0-0-0-0.00
Dalton Kasel, 0-0-0-0-0-0-0-0-0.00
Cooper Davis, 0-0-0-0-0-0-0-0-0.00
Andrew Alvidrez, 0-0-0-0-0-0-0-0-0.00
Eduardo Aparecido, 0-0-0-0-0-0-0-0-0.00
Rafael Jose de Brito, 0-0-0-0-0-0-0-0-0.00
Daniel Keeping, 0-0-0-0-0-0-0-0-0.00
Jesse Petri, 0-0-0-0-0-0-0-0-0.00
Tate Pollmeier, 0-0-0-0-0-0-0-0-0.00
Wingson Henrique da Silva, 0-0-0-0-0-0-0-0-0.00
Keyshawn Whitehorse, 0-0-0-0-0-0-0-0-0.00
Silvano Alves, 0-0-0-0-0-0-0-0-0.00
Kyler Oliver, 0-0-0-0-0-0-0-0-0.00
Rafael Henrique dos Santos, 0-0-0-0-0-0-0-0-0.00
Eli Vastbinder, 0-0-0-0-0-0-0-0-0.00
Ezekiel Mitchell, 0-0-0-0-0-0-0-0-0.00
Manoelito de Souza Junior, 0-0-0-0-0-0-0-0-0.00
Guilherme Valleiras, 0-0-0-0-0-0-0-0-0.00
Lucas Divino, 0-0-0-0-0-0-0-0-0.00
Wyatt Rogers, 0-0-0-0-0-0-0-0-0.00
Marcus Mast, 0-0-0-0-0-0-0-0-0.00
Brady Turgeon, 0-0-0-0-0-0-0-0-0.00
Chase Outlaw, 0-0-0-0-0-0-0-0-0.00
Flavio Zivieri, 0-0-0-0-0-0-0-0-0.00
Dakota Louis, 0-0-0-0-0-0-0-0-0.00
Aaron Williams, 0-0-0-0-0-0-0-0-0.00
Josh Frost, 0-0-0-0-0-0-0-0-0.00
Claudio Montanha Jr., 0-0-0-0-0-0-0-0-0.00
2023 Professional Bull Riders Unleash The Beast Standings
(Place, Rider, Events, Wins, Top 5's, Points, Total Winnings)
1. Kaique Pacheco, 25, 3, 10, 980.00, $226,512.67
2. Jose Vitor Leme, 16, 3, 10, 906.00, $217,281.67
3. Dalton Kasel, 22, 4, 8, 748.66, $155,855.67
4. Dener Barbosa, 22, 2, 5, 661.83, $124,141.67
5. Cooper Davis, 21, 2, 4, 645.50, $135,426.00
6. Boudreaux Campbell, 25, 0, 7, 622.66, $106,854.67
7. Andrew Alvidrez, 26, 2, 5, 615.00, $133,451.67
8. Eduardo Aparecido, 25, 1, 5, 595.50, $116,441.14
9. Rafael Jose de Brito, 26, 1, 7, 555.00, $126,205.81
10. Daniel Keeping, 24, 2, 3, 434.33, $110,253.33
11. João Ricardo Vieira, 21, 0, 4, 433.00, $55,944.33
12. Jesse Petri, 28, 1, 4, 403.00, $87,558.14
13. Tate Pollmeier, 21, 0, 4, 389.25, $66,152.81
14. Wingson Henrique da Silva, 21, 0, 3, 343.50, $57,518.33
15. Keyshawn Whitehorse, 24, 0, 2, 343.25, $50,551.33
16. Luciano De Castro, 16, 0, 3, 339.50, $51,314.67
17. Ramon de Lima, 16, 1, 2, 334.50, $68,153.33
18. Silvano Alves, 27, 0, 4, 314.00, $46,512.00
19. Colten Fritzlan, 20, 1, 2, 312.66, $58,017.48
20. Chase Dougherty, 13, 1, 1, 296.83, $61,126.67
21. Kyler Oliver, 14, 0, 5, 283.00, $47,556.67
22. Thiago Salgado, 14, 0, 3, 277.50, $36,385.00
23. Rafael Henrique dos Santos, 22, 1, 2, 274.50, $46,903.67
24. Braidy Randolph, 18, 0, 2, 267.00, $32,682.67
25. Mason Taylor, 16, 0, 1, 264.50, $33,348.00
26. Derek Kolbaba, 18, 0, 1, 250.00, $23,438.33
27. Austin Richardson, 12, 0, 2, 245.00, $25,578.67
28. Eli Vastbinder, 23, 1, 2, 233.50, $59,226.00
29. Ezekiel Mitchell, 23, 0, 1, 223.00, $26,865.14
30. Manoelito de Souza Junior, 24, 0, 1, 194.00, $20,013.00
31. Marcelo Procopio Pereira, 14, 0, 1, 189.00, $16,313.33
32. Guilherme Valleiras, 8, 1, 2, 187.00, $53,743.62
33. Koltin Hevalow, 24, 0, 0, 184.50, $16,696.33
34. Brady Oleson, 11, 1, 1, 167.00, $45,380.33
35. Lucas Divino, 5, 0, 3, 166.50, $27,989.14
35. Sandro Batista, 13, 0, 2, 166.50, $21,514.67
37. Jess Lockwood, 4, 0, 2, 159.00, $32,875.67
38. Wyatt Rogers, 22, 0, 0, 157.25, $15,245.95
39. Casey Roberts, 12, 0, 1, 149.00, $33,136.00
40. Marcus Mast, 18, 0, 0, 146.50, $17,245.00
41. Brady Turgeon, 7, 0, 2, 136.00, $21,476.00
42. Bob Mitchell, 11, 0, 1, 135.00, $15,163.00
43. Nick Tetz, 10, 0, 1, 133.00, $12,946.00
44. Chase Outlaw, 20, 0, 1, 131.50, $19,955.14
45. Flavio Zivieri, 14, 0, 2, 116.66, $23,232.67