Perfect Jared Parsonage Wins PBR Canada Touring Pro Division event in Camrose, Alberta, to Reclaim No. 1 Rank in Heated 2023 PBR Canada Championship Battle
By: Kacie Albert Monday, May 15, 2023 @ 7:57 AM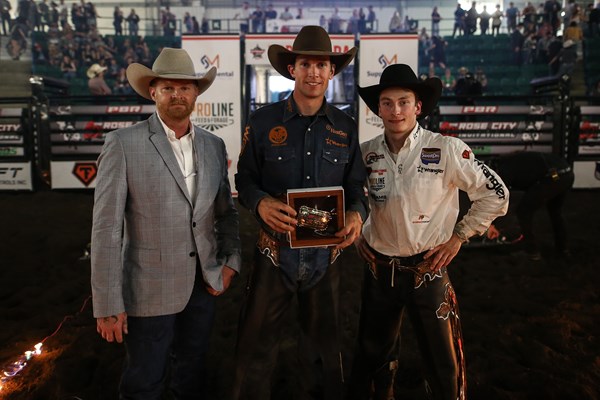 CAMROSE, Alta. – As the lone rider to go a perfect 2-for-2 in Camrose, Alberta, Jared Parsonage (Maple Creek, Saskatchewan) won the PBR (Professional Bull Riders) Canada Touring Pro Division's Rose City Invitational, recapturing the No. 1 rank in the heated battle to be crowned the national champion and earn the accompanying $50,000 bonus.
Parsonage set the tone early in Round 1 when he delivered the fourth-best score, topping Bull Dozer (Skori Bucking Bulls) for 85 points.
The reserved Saskatchewan man then took on Wild Time (Vold Rodeo) in the championship round. Remaining in perfect time with the animal athlete, Parsonage posted the top score of the round, marked 86.5 points, clinching the event victory.
Compliments of the golden finish, Parsonage netted a crucial 124 Canadian points. He leap-frogged No. 1 Coy Robbins (Camrose, Alberta) for the No. 1 rank in the national standings, now 90.34 points out front.
Event-organizer Robbins tied for sixth via his 1-for-2 effort. Robbins' 83.5-point ride aboard Big Easy (Skori Bucking Bulls) garnered him 20.66 points.
Round 1 winner Weston Davidson (Strongfield, Saskatchewan) was second, netting 78 Canadian points.
After posting the top score of the event in Round 1, dominating Times A Wasting (Thompson Rodeo Livestock) for 87 points, Davidson was unable to remain atop the leaderboard in the championship round when he was tossed by The Remedy (X6 Ranch Bucking Cattle/B2 Braithwaite Ranches) in a quick 3.66 seconds.
Davidson surged from No. 9 to No. 4 in the national standings, now within 145.5 points of No. 1 Parsonage.
Wyatt Gleeson (Sundre, Alberta) and Ashton Sahli (Red Deer, Alberta) tied for third, each taking home 46 national points.
Delivering matching 85.5-point rides in the opening round, Gleeson covered Disco Daze (X6 Ranch Bucking Cattle/Legend Rodeo Stock), while Sahli conquered Wolf Bait (Vold Rodeo).
Gleeson gained seven positions in the standings, rising from No. 17 to No. 10. Sahli is now No. 15 in Canada after traveling to the event unranked.
Rounding out the Top 5 in fifth was Tyler Craig (Crossfield, Alberta).
The young gun rode Devils Dues (X6 Ranch Bucking Cattle/Legend Rodeo Stock) for 84.5 points in Round 1 to collect 32 national points.
The result allowed Craig to crack Canada's Top 10, elevated from No. 13 to No. 9.
PBR Canada's Touring Pro Division next travels to Winnipeg, Manitoba, for the PBR Bulls Night Out, presented by Red River Exhibition, on Friday, May 26. Action at the Red River Exhibition Park gets underway at 7:00 p.m. MDT.
Stay tuned in to PBRCanada.com and follow the tour on Facebook (PBR Canada), Twitter (@PBRCanada), and Instagram (@PBRCanada) for the latest results, news, stats and more.
PBR Canada Touring Pro Division
Rose City Invitational
Camrose Recreation Centre – Camrose, Alberta
Event Leaders (Round 1-Round 2-Event Aggregate-Event Points)
1. Jared Parsonage, 85-86.5-171.50-124 Points.
2. Weston Davidson, 87-0-87.00-78 Points.
3. Wyatt Gleeson, 85.5-0-85.50-46 Points.
(tie). Ashton Sahli, 85.5-0-85.50-46 Points.
5. Tyler Craig, 84.5-0-84.50-32 Points.
6. Coy Robbins, 83.5-0-83.50-20.66 Points.
(tie). Cody Coverchuk, 83.5-0-83.50-20.66 Points.
(tie). Joe Alejos, 83.5-0-83.50-20.66 Points.
9. Kobe Whitford, 83-0-83.00-15 Points.
10. Jordan Hansen, 82-0-82.00-12 Points.
Jake Gardner, 0-0-0.00
Cody Fraser, 0-0-0.00
Chad Hartman, 0-0-0.00
Cole Wagner, 0-0-0.00
Aaron Roy, 0-0-0.00
Fabian Dueck, 0-0-0.00
Jake Maher, 0-0-0.00
Cauy Schmidt, 0-0-0.00
Brock Radford, 0-0-0.00
Jett Lambert, 0-0-0.00
William Barrows, 0-0-0.00
Callum Miller, 0-0-0.00
Grady Smeltzer, 0-0-0.00
Micheal Ostashek, 0-0-0.00
Keaton Martz, 0-0-0.00
Tanner Eno, 0-0-0.00
Wade Marshall, 0-0-0.00
Brahmer Gaehring, 0-0-0.00