2022 PBR World Champion Daylon Swearingen Delivers Monstrous 90-Point Ride to Repeat as London, Ontario, Cup Series Event Winner
By: Kacie Albert Wednesday, May 31, 2023 @ 10:57 PM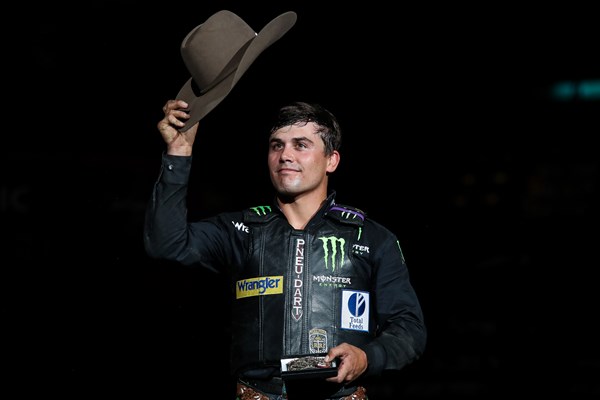 LONDON, Ont. – In front of a raucous Wednesday night crowd in London, Ontario, 2022 PBR (Professional Bull Riders) World Champion Daylon Swearingen's (Piffard, New York) natural aptitude for the sport was on full display inside Budweiser Gardens. Delivering a perfect 2-for-2 performance and capping his efforts with a monstrous 90-point ride, Swearingen defended his title as the Cup Series' London Classic event champion, catapulting to No. 7 in the 2023 PBR Canada Championship race.
Swearingen, an anchor for the Carolina Cowboys in the separate PBR Team Series, brought his talents to Canada as he continues his return from injury ahead of the league's second season, sidelined for the majority of the Unleash The Beast season as he recovered from a groin injury.
In Round 1, Swearingen first put points on the board when he went the distance atop International Gangster (CJ Bucking Bulls), marked 83 points.
With an early pick in the championship round bull draft, Swearingen elected to go head-to-head with Bull of the Year contender Langham Kid (Two Bit Bucking Bulls).
In a decision which proved dividends, Swearingen remained in perfect time with the powerful animal athlete, reaching the requisite 8 as the fans inside the venue erupted in boisterous cheer. Swearingen was scored a mammoth 91.5 points, now the high-marked ride of the 2023 Canadian season, enough to clinch the victory.
Swearingen earned 125 national points. He surged from unranked to No. 7 in the heated 2023 PBR Canada Championship battle. He is now within 166 points of No. 1 Jared Parsonage (Maple Creek, Saskatchewan).
Should 2019 PBR Canada Champion Swearingen continue his red-hot ways in Canada and earn the 2023 title, he would become the fourth multi-time title holder in Canadian history, joining three-time winner Aaron Roy (Yellow Grass, Saskatchewan) and two-time Champions Cody Coverchuk (Meadow Lake, Saskatchewan) and Zane Lambert (Ponoka, Alberta).
Also chasing his second Canadian Championship, Dakota Buttar (Eatonia, Saskatchewan) was second, collecting 96 national points.
Butta rode Peacock (Vold Rodeo/Prescott) for 85 points in Round 1, before covering Positively Bangin' (Outlaw Buckers Rodeo Corp) for 87 points in the championship round.
The 2020 PBR Canada Champion surged 13 spots in the standings, climbing from No. 18 to No. 5. Buttar is now just 148 points back of the No. 1 rank.
Young gun Chad Hartman (Lancer, Saskatchewan) was third.
Hartman's 84-point score aboard Red Pearl (CJ Bucking Bulls) in Round 1 netted him 54 national points. He rose from No. 15 to No. 8 in Canada. Chasing his first national title, Hartman inched within 170 points of No. 1 Parsonage.
Fourth was William Barrows (Foremost, Alberta).
Barrows' 1-for-2 performance was headlined by and 83.5-point ride atop G Unit (Vold Rodeo) in Round 1.
The Albertan took home 38 national points and is now No. 11 in Canada.
Rounding out the Top 5, and tying for fifth, was Cody Fraser (Wilmington, South Australia, Australia) and Wade Marshall (Invercargill, New Zealand).
Each contender was scored 80 points in Round 1, riding Red Carpet (CJ Bucking Bulls) and Cheese and Crackers (CJ Bucking Bulls). Fraser earned 21 national points and Marshall netted 29 points.
In the bull pen, Langham Kid was crowned the YETI "Built for the Wild" Bull of the Event. The powerful animal athlete was scored a tour stop-best 45 points when he was ridded by Swearingen.
The 2023 PBR Canada Sup Series, presented by Wrangler, will next travel to Regina, Saskatchewan, and Brandt Centre for the PBR Regina Classic on Wednesday, June 21. Action will get underway at 7 p.m. CST.  
Stay tuned in to PBRCanada.com and follow the tour on Facebook (PBR Canada), Twitter (@PBRCanada), and Instagram (@PBRCanada) for the latest results, news, stats and more.
PBR Canada Cup Series, presented by Wrangler
PBR London Classic
Budweiser Gardens – London, Ontario
(Round 1-Round 2-Event Aggregate-Event Points)
1. Daylon Swearingen, 83-91.5-174.50-125 Points.
2. Dakota Buttar, 85-87-172.00-96 Points.
3. Chad Hartman, 84-0-84.00-54 Points.
4. William Barrows, 83.5-0-83.50-38 Points.
5. Cody Fraser, 80-0-80.00-21 Points.
(tie). Wade Marshall, 80-0-80.00-29 Points.
7. Jake Gardner, 79.5-0-79.50-11 Points.
8. Cody Coverchuk, 78-0-78.00-9 Points.
Nick Tetz, 0-0-0.00
Weston Davidson, 0-0-0.00
Tyler Craig, 0-0-0.00
Wyatt Gleeson, 0-0-0.00
Garrett Green, 0-0-0.00
Ashton Sahli, 0-0-0.00
Fabian Dueck, 0-0-0.00
Cauy Schmidt, 0-0-0.00
Carter Sahli, 0-0-0.00
Brock Radford, 0-0-0.00
Jett Lambert, 0-0-0.00
Callum Miller, 0-0-0.00
Micheal Ostashek, 0-0-0.00
Keaton Martz, 0-0-0.00
Nick Goncalves, 0-0-0.00
Tyler Ewart, 0-0-0.00
Brahmer Gaehring, 0-0-0.00
Jack Miller, 0-0-0.00
2023 PBR Canada National Standings
(Place, Rider, Events, Wins, Top 5's, Points, Total Winnings)
1. Jared Parsonage, 4, 2, 3, 291.00, $19,845.83
2. Aaron Roy, 8, 2, 4, 186.00, $14,710.16
3. Nick Tetz, 6, 1, 2, 182.00, $11,515.36
4. Coy Robbins, 7, 3, 4, 181.66, $15,759.79
5. Dakota Buttar, 7, 0, 3, 143.00, $11,555.73
6. Weston Davidson, 10, 0, 3, 126.50, $9,799.79
7. Daylon Swearingen, 2, 1, 1, 125.00, $8,562.50
8. Chad Hartman, 8, 0, 2, 121.00, $7,250.00
9. Jake Gardner, 8, 0, 2, 120.50, $7,133.13
10. Tyler Craig, 10, 0, 3, 120.00, $4,317.50
11. William Barrows, 7, 0, 2, 118.50, $6,388.75
12. Cody Fraser, 12, 1, 4, 113.50, $6,543.75
13. Wyatt Gleeson, 8, 0, 2, 111.00, $6,340.63
14. Jordan Hansen, 2, 0, 1, 103.00, $5,875.00
15. Garrett Green, 4, 0, 1, 101.00, $4,810.00
16. Cody Coverchuk, 10, 0, 2, 100.16, $5,673.54
17. Ashton Sahli, 4, 0, 1, 75.00, $4,106.25
18. Stefan Tonita, 4, 0, 1, 48.50, $1,572.81
19. Griffin Smeltzer, 2, 1, 1, 48.00, $3,941.88
20. Kobe Whitford, 4, 0, 1, 40.50, $1,615.00
21. Cole Wagner, 5, 1, 1, 36.50, $3,479.69
22. Wade Marshall, 5, 0, 1, 29.00, $875.00
23. Fabian Dueck, 7, 0, 1, 27.50, $1,587.50
24. Jake Maher, 9, 0, 1, 27.00, $2,337.50
25. Joe Alejos, 1, 0, 0, 20.66, $446.25
26. Tim Lipsett, 4, 0, 0, 19.50, $258.33
27. Blake Smith, 2, 0, 1, 19.00, $2,032.03
28. Cauy Schmidt, 5, 0, 1, 18.00, $1,655.73
29. Carter Sahli, 6, 0, 1, 17.00, $1,115.63
30. Brock Radford, 8, 0, 1, 16.00, $1,500.00
31. Cole Young, 4, 0, 0, 14.00, $0.00
32. Jett Lambert, 4, 0, 0, 13.50, $0.00
33. Callum Miller, 6, 0, 1, 11.00, $508.23
34. Micheal Ostashek, 8, 0, 1, 5.50, $1,261.72
35. Grady Smeltzer, 3, 0, 0, 2.00, $0.00