Perfect Jordan Hansen Wins PBR Canada Cup Series Event in Regina, Saskatchewan, to Surge to No. 5 in Fierce National Title Battle
By: Kacie Albert Thursday, June 22, 2023 @ 4:41 PM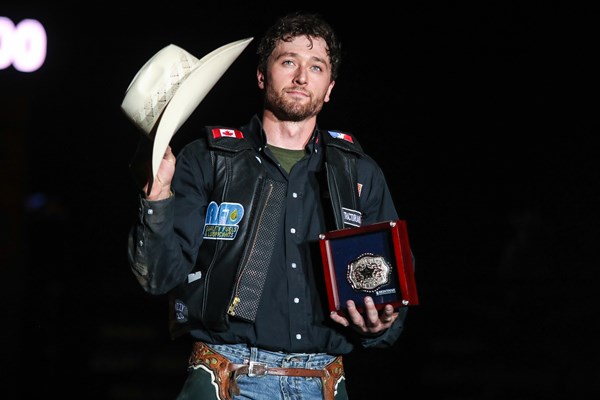 REGINA, Sask. – At the fifth elite PBR (Professional Bull Riders) Canada Cup Series, presented by Wrangler, event of the season in Regina, Saskatchewan, Jordan Hansen (Amisk, Alberta) showed up and showed out, going a perfect 2-fof-2 to win the PBR Regina Classic, catapulting to No. 5 in the heated national title battle.
Hansen first put points on the board in Round 1 when he delivered the second-best score, covering Irish Rebel (Wilson Rodeo) for 88 points.
With the second selection in the championship round bull draft, Hansen elected to go head-to-head with The Remedy (X6 Ranch Bucking Cattle/B2 Braithwaite Ranches) as his final animal athlete opponent.
A decision which proved dividends, Hansen remained in perfect time with the powerful bovine, matching him jump-for-jump en route to the requisite 8. As the electric crowd erupted in boisterous cheer, Hansen was marked a round-winning 88 points to cement his event victory.
Courtesy of the golden finish, Hansen collected a crucial 126 national points.
Seeking his first PBR Canada Championship this November in Edmonton, Alberta, Hansen rose from No. 16 to No. 5 in the nation. He is now within 62 points of No. 1 Jared Parsonage (Maple Creek, Saskatchewan).
Parsonage was shutout at his home province event, unable to extend his lead atop the standings. In Round 1, Parsonage was upended by Funkadelic (CS Bucking Bulls) in an uncharacteristic 2.33 seconds.
As the only other rider to go a perfect 2-for-2, Fabian Dueck (Loma Plata, Paraguay) was second, garnering 83.5 national points.
Dueck first rode Times A Wasting (Thompson Rodeo Livestock) for 86 points in Round 1, before topping Finning Nikki Sixx (Flying Four Bucking Bulls) for 80.5 points in the championship round.
The Paraguay native rose 11 positions in the Canadian national standings, surging from No. 27 to No. 16.
Coy Robbins (Camrose, Alberta) delivered his second 90-point ride of the season, and fourth of the 2023 season on Canadian soil, to secure a third-place finish.
In Round 1 of the PBR Regina Classic, Robbins was unmatched delivering a mammoth 90.5-point ride aboard Wood Chuck (Lazy S Bucking Bulls).
Holding the coveted first pick in the championship round bull draft, Robbins initially selected Built Tough (Thompson Rodeo Livestock). While Robbins was brought down in 2.68 seconds, he was awarded a re-ride as the bull stumbled.
Robbins then found himself climbing aboard a familiar opponent in Ringling Road (Wilson Rodeo). The Albertan first attempted the bull this March during the Cup Series stop in Lethbridge, Alberta, brought down in 2.71 seconds.
As the last man out of the chutes, Robbins was unable to reverse his fortunes, again brought down short of the 8, this time in 2.24 seconds.
The podium finish earned Robbins 65 national points. He rose from No. 4 to No. 3 in the standings, now 44.34 points back of No. 1 Parsonage.
Reigning PBR Canada Champion Nick Tetz (Calgary, Alberta) was fourth, collecting 38 national points.
Attempting to become the first back-to-back Canadian Champion in history, Tetz was locked in a rubber match with Busta Rhymes (X6 Ranch Bucking Stock/Legend Rodeo Stock) in Round 1.
The duo first went head-to-head in October 2022 when Tetz covered the bull for 86.5 points in Medicine Hat, Alberta. Tetz, however, was unable to replicate his past success when the pair had most recently faced off this March during the Cup Series event in Lethbridge, Alberta's accompanying 5/5 Bucking Battle. Busta Rhymes proved too much for Tetz, tossing him in 5.68 seconds.
In Regina, Tetz emerged the more dominant athlete, riding Busta Rhymes for 86.5 points to advance to the championship round third on the event leaderboard.
Tetz, who was recently signed by the Arizona Ridge Riders in the separate PBR Team Series, however, was unable to conclude the event with a score, tossed by Time Marches On (Thompson Rodeo Livestock) in a hard-fought 7.25 seconds.
The Calgary rider rose from No. 3 to No. 2 in the standings, pulling within 36 points of No. 1 Parsonage.
Rounding out the Top 5 in fifth was Tyler Craig (Crossfield, Alberta).
Craig went 1-for-2, riding Rose Tattoo (CS Bucking Bulls) for 86 points in the opening round to net 32.5 national points. He rose from No. 11 to No. 6 in the Canadian standings, now within 138.5 points of No. 1 Parsonage.
In the bull pen, Built Tough bucked a cut above the rest, crowned the YETI "Built for the Wild" Bull of the Event. In his championship round trip with Robbins, the animal athlete was marked a PBR Regina Classic-best 45 points.
The 2023 PBR Canada Sup Series, presented by Wrangler, will next travel to Kelowna, British Columbia, and Prospera Place for the PBR Okanagan Challenge on Thursday, July 20. Action will get underway at 7 p.m. PDT. 
Stay tuned in to PBRCanada.com and follow the tour on Facebook (PBR Canada), Twitter (@PBRCanada), and Instagram (@PBRCanada) for the latest results, news, stats and more.
PBR Canada Cup Series, presented by Wrangler
PBR Regina Classic
Brandt Centre – Regina, Saskatchewan
(Round 1-Round 2-Event Aggregate-Event Points)
1. Jordan Hansen, 88-88-176.00-126 Points.
2. Fabian Dueck, 86-80.5-166.50-83.5 Points.
3. Coy Robbins, 90.5-0-90.50-65 Points.
4. Nick Tetz, 86.5-0-86.50-38 Points.
5. Tyler Craig, 86-0-86.00-32.5 Points.
6. Stefan Tonita, 84.5-0-84.50-26 Points.
7. Aaron Roy, 82-0-82.00-19 Points.
Jared Parsonage, 0-0-0.00
Dakota Buttar, 0-0-0.00
Cody Coverchuk, 0-0-0.00
Weston Davidson, 0-0-0.00
Chad Hartman, 0-0-0.00
Jake Gardner, 0-0-0.00
William Barrows, 0-0-0.00
Wyatt Gleeson, 0-0-0.00
Blake Smith, 0-0-0.00
Griffin Smeltzer, 0-0-0.00
Wade Marshall, 0-0-0.00
Cauy Schmidt, 0-0-0.00
Jake Maher, 0-0-0.00
Tim Lipsett, 0-0-0.00
Carter Sahli, 0-0-0.00
Callum Miller, 0-0-0.00
Elijah Mora, 0-0-0.00
Weston Hartman, 0-0-0.00
Toby Leake, 0-0-0.00
Conner Halverson, 0-0-0.00
Zane Hall, 0-0-0.00
2023 PBR Canada National Standings
(Place, Rider, Events, Wins, Top 5's, Points, Total Winnings)
1. Jared Parsonage, 5, 2, 3, 291.00, $19,845.83
2. Nick Tetz, 9, 1, 5, 255.00, $17,635.36
3. Coy Robbins, 8, 3, 5, 246.66, $19,934.79
4. Aaron Roy, 12, 3, 5, 242.00, $19,330.62
5. Jordan Hansen, 3, 1, 2, 229.00, $15,237.50
6. Tyler Craig, 11, 0, 4, 152.50, $5,605.00
7. Dakota Buttar, 11, 0, 3, 145.00, $11,555.73
8. Cody Coverchuk, 13, 0, 3, 126.66, $8,255.42
9. Weston Davidson, 14, 0, 3, 126.50, $9,799.79
10. Daylon Swearingen, 2, 1, 1, 125.00, $8,562.50
11. Chad Hartman, 13, 0, 2, 121.00, $7,250.00
12. Jake Gardner, 9, 0, 2, 120.50, $7,133.13
13. William Barrows, 8, 0, 2, 118.50, $6,388.75
14. Cody Fraser, 12, 1, 4, 113.50, $6,543.75
15. Garrett Green, 5, 0, 1, 113.00, $5,549.50
16. Wyatt Gleeson, 9, 0, 2, 111.00, $6,340.63
16. Fabian Dueck, 9, 0, 2, 111.00, $7,887.50
18. Ashton Sahli, 7, 0, 2, 94.00, $6,377.34
19. Stefan Tonita, 8, 0, 1, 84.50, $2,322.81
20. Blake Smith, 6, 1, 3, 70.50, $7,947.50
21. Griffin Smeltzer, 3, 1, 1, 48.00, $3,941.88
22. Kobe Whitford, 4, 0, 1, 40.50, $1,615.00
23. Cole Wagner, 5, 1, 1, 36.50, $3,479.69
24. Jake Dunham, 4, 0, 2, 35.00, $3,964.72
25. Wade Marshall, 6, 0, 1, 29.00, $875.00
26. Cauy Schmidt, 9, 0, 1, 28.00, $1,942.60
26. Jake Maher, 14, 0, 1, 28.00, $2,337.50
28. Joe Alejos, 1, 0, 0, 20.66, $446.25
29. Tim Lipsett, 6, 0, 0, 19.50, $258.33
30. Carter Sahli, 7, 0, 1, 17.00, $1,115.63
31. Brock Radford, 11, 0, 1, 16.00, $1,500.00
32. Cole Young, 4, 0, 0, 14.00, $0.00
33. Jett Lambert, 4, 0, 0, 13.50, $0.00
34. Callum Miller, 7, 0, 1, 11.00, $508.23
35. Micheal Ostashek, 9, 0, 1, 5.50, $1,261.72
36. Grady Smeltzer, 4, 0, 0, 2.00, $0.00