Two-Time PBR Canada Champion Cody Coverchuk Delivers Perfect Performance in Lacombe, Alberta, to Win Second Touring Pro Division Event of 2023
By: Kacie Albert Saturday, July 29, 2023 @ 11:30 PM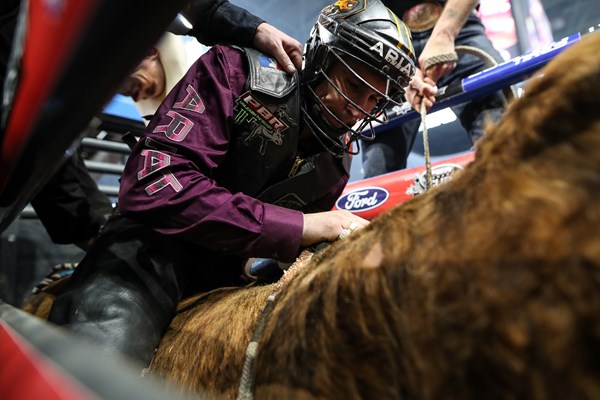 LACOMBE, Alta. – Chasing his record-tying third PBR (Professional Bull Riders) Canada Championship this November, Cody Coverchuk (Meadow Lake, Saskatchewan) continued to ride red-hot Saturday evening, going a perfect 2-for-2 in Lacombe, Alberta, to win his second Touring Pro Division event of the 2023 season, victorious at the Lacombe Pro Bull Riding.
Coverchuk got off to a quick start in Round 1, climbing to second on the event leaderboard when he topped Emerald Inn (X6 Ranch Bucking Cattle/B2 Braithwaite Ranches) for 84.5 points.
As the penultimate man to leave the chutes at the Lacombe and District Agricultural Society, Coverchuk then went head-to-head against Black Jack (Skori Bucking Bulls). In what proved to be a perfect pairing, Coverchuk remained in perfect time with the animal athlete, matching him jump-for-jump en route to the whistle for a commanding 89.5 points.
The score not only earned Coverchuk the Round 2 win, but also clinched him the event victory.
Coverchuk also logged a seventh-place finish in Lacombe courtesy of a double-entry. His second Top-10 finish was headlined by an 82-point ride atop Highway to Heaven (Flying High Rodeo Co.) in Round 2.
Earning a combined 48 national points, the two-time PBR Canada Champion furthered his stronghold on the No. 4 rank in the 2023 PBR Canada Championship battle. He climbed within 59.84 points of No. 1 Nick Tetz (Calgary, Alberta).
Reigning PBR Canada Champion Tetz extended his lead atop the standings via a third-place finish, earning 27.5 national points.
Also representing the Arizona Ridge Riders in the separate PBR Teams League, Tetz delivered a flawless outing at the Lacombe Pro Bull Riding, topping Original Prankster (Vold Rodeo) for 82.5 points in Round 1, and Smoke Bomb (Vold Rodeo/Brady Walker) for 88.5 points in Round 2.
Attempting to become the first back-to-back PBR Canada Champion in history, Tetz added to his lead over No. 2 Coy Robbins (Camrose, Alberta), now 46.34 points ahead.
Wyatt Gleeson (Sundre, Alberta) was second, netting 30.5 national points.
As the final rider to cover both of his bovine athlete opponents, Gleeson rode Big Easy (Skori Bucking Bulls) for 85 points in Round 1, and Sicario (Flying High Rodeo Co.) for 88.5 points in the final round.
Gleeson climbed four spots in the national standings, rising from No. 11 to No. 7. He is now within 165.5 points of No. 1 Tetz.
Tyler Craig (Crossfield, Alberta) parlayed an 88-point ride aboard Whiskey Clouds (Skori Bucking Bulls) in Round 2 into a fourth-place result.
Taking home 13 national points, Craig remained No. 10 in the Canadian standings, inching within 179 points of the top spot.
Rounding out the Top 5 in fifth was Aaron Roy (Yellow Grass, Saskatchewan).
On the hunt for his unprecedented fourth national title this November, Roy rode Superstition (X6 Ranch Bucking Cattle/Wilson Rodeo) for 87 points in Round 2 to earn 12 national points.
Roy remained No. 6 in Canada but is now within 159.5 points of No. 1 Tetz.
In the bull pen, Black Jack was the Bull of the Event. During his Round 2-winning out with Coverchuk, Black Jack was marked an event-best 44 points.
The 2023 PBR Canada season continues Thursday, August 10 in Tofield, Alberta, for the Touring Pro Division's Tofield Bull Bash. Action at Tofield Fairgrounds begins at 7:00 p.m. MDT.  
Stay tuned in to PBRCanada.com and follow the tour on Facebook (PBR Canada), Twitter (@PBRCanada), and Instagram (@PBRCanada) for the latest results, news, stats and more.
PBR Canada Touring Pro Division
Lacombe Pro Bull Riding
Lacombe and District Agricultural Society – Lacombe, Alberta
Event Leaders (Round 1-Round 2-Event Aggregate-Event Points)
1. Cody Coverchuk [2], 84.5-89.5-174.00-38 Points.
2. Wyatt Gleeson, 85-88.5-173.50-30.5 Points.
3. Nick Tetz, 82.5-88.5-171.00-27.5 Points.
4. Tyler Craig [2], 0-88-88.00-13 Points.
5. Aaron Roy, 0-87-87.00-12 Points.
6. Stefan Tonita, 0-84.5-84.50-11 Points.
7. Cody Coverchuk [1], 0-82-82.00-10 Points.
Chad Hartman, 0-0-0.00
Tyler Craig [1], 0-0-0.00
Ashton Sahli, 0-0-0.00
Weston Davidson, 0-0-0.00
Keaton Martz, 0-0-0.00
Brahmer Gaehring, 0-0-0.00