Stefan Tonita and Jake Dunham Tie for Event Win at PBR Canada Touring Division Event in Picture Butte, Alberta
By: Kacie Albert Saturday, July 8, 2023 @ 11:30 PM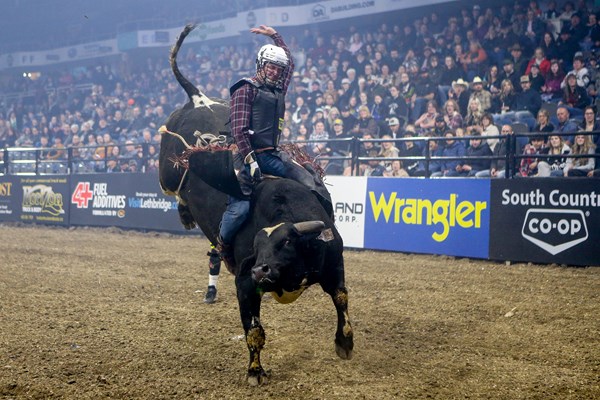 PICTURE BUTTE, Alta. – As the 2023 PBR (Professional Bull Riders) Canada season continued Saturday night in Picture Butte, Alberta, Stefan Tonita (Saskatoon, Saskatchewan) and Jake Dunham (Tucson, Arizona) were unrivaled, tying for the event win at the Touring Pro Division's Coyote Flats PBR.
As competition got underway, both Tonita and Dunham failed to convert in the opening round.
Tonita came down in a heartbreaking 7.03 seconds aboard Putsey (X6 Ranch Bucking Cattle/Legend Rodeo Stock), while Dunham was tossed by Ignite (Foley Bucking Bulls) in a close 6.62 seconds.
Both competitors, however, got a renewed shot at victory, advancing to the championship round on time.
Tonita and Dunham both rebounded in winning form, tying for the championship round victory with matching 86-point rides. Tonita topped Ceili's Pyper (Foley Bucking Bulls), while Dunham conquered Jail Break (Wilson Rodeo).
Each rider earned 23 national points.
Tonita remained No. 9 in the national standings, climbing within 179.5 points of the No. 1 rank. For Dunham, he rose five positions in the standings from No. 30 to No. 25.
Chasing history this season, 2022 PBR Canada Champion Nick Tetz (Calgary, Alberta) was third, garnering 19 national points.
Tetz was electric in the opening round, delivering the top score when he rode Times A Wasting (Thompson Rodeo Livestock) for 85 points.
Recently inked to the Reserve Roster for the Arizona Ridge Riders in the separate PBR Teams league, Tetz fell short of his second consecutive event win when he was upended by Al Capone (Thompson Rodeo Livestock) in a quick 1.59 seconds in the final round.
The podium finish allowed the Albertan to extend his lead atop the national standings, now 87.84 points ahead of No. 2 Coy Robbins (Camrose, Alberta).
Should Tetz continue his momentum and be crowned the 2023 PBR Canada Champion this November, he would become the first back-to-back title holder in history and the fourth ever multi-time national Champion.
As the only other rider to make the requisite 8, Zane Hall (Athol, Queensland) was fourth, netting 15 national points.
The Australian's performance was highlighted by an 80.5-point ride atop Almost Gone (Thompson Rodeo Livestock) in the opening round.
Built Tough (Thompson Rodeo Livestock) was crowned the Bull of the Event. The powerful animal athlete posted a tour stop-best 44-point score in the championship round when he bucked off Kelsey Pavlou (Toora, Victoria) in 2.59 seconds.
The 2023 PBR Canada season continues Wednesday, July 12 in Kinsella, Alberta. Action for the Touring Pro Division's Kinsella Graveldome Bullarama at the Kinsella Fairgrounds begins at 7:00 p.m. MT.  
Stay tuned in to PBRCanada.com and follow the tour on Facebook (PBR Canada), Twitter (@PBRCanada), and Instagram (@PBRCanada) for the latest results, news, stats and more.
PBR Canada Touring Pro Division
Coyote Flats PBR
Coyote Flats – Picture Butte, Alberta
Event Leaders (Round 1-Round 2-Event Aggregate-Event Points)
1. Stefan Tonita, 0-86-86.00-23 Points.
(tie). Jake Dunham [1], 0-86-86.00-23 Points.
3. Nick Tetz, 85-0-85.00-19 Points.
4. Zane Hall, 80.5-0-80.50-15 Points.
Weston Davidson, 0-0-0.00
Cole Brewer, 0-0-0.00
Fabian Dueck, 0-0-0.00
Jake Dunham [2], 0-0-0.00
Jake Maher [1], 0-0-0.00
Jake Maher [2], 0-0-0.00
Kelsey Pavlou, 0-0-0.00
Nick Goncalves, 0-0-0.00
Sean Lynch, 0-0-0.00
Toby Leake, 0-0-0.00
Brumby Brandenburg, 0-0-0.00
Thomas Hudson, 0-0-0.00
Tanner Skene, 0-0-0.00
Elijah Gordon [1], 0-0-0.00
Elijah Gordon [2], 0-0-0.00
Brahmer Gaehring [1], 0-0-0.00
Brahmer Gaehring [2], 0-0-0.00
Chad Neufeld [1], 0-0-0.00
Chad Neufeld [2], 0-0-0.00
Brayden Shore, 0-0-0.00
Lucas Dunand [1], 0-0-0.00
Lucas Dunand [2], 0-0-0.00