Perfect Coy Robbins Wins PBR Touring Pro Division Event in Maple Creek, Saskatchewan, to Rise to No. 2 in 2023 Canadian Championship Race
By: Kacie Albert Friday, July 28, 2023 @ 11:30 PM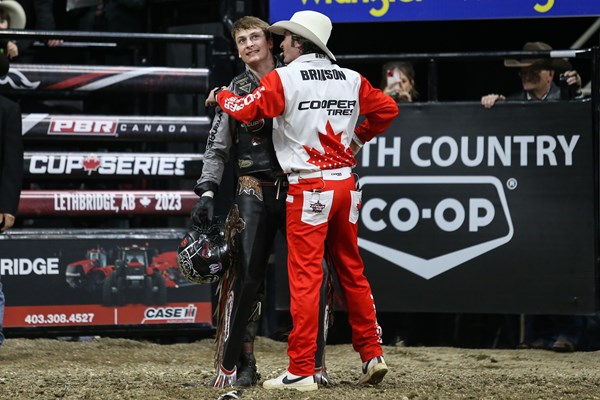 MAPLE CREEK, Sask. – The feverish 2023 PBR (Professional Bull Riders) Canada Championship race further intensified Friday evening in Maple Creek, Saskatchewan, as Coy Robbins (Camrose, Alberta) went a perfect 2-for-2 to win the Touring Pro Division's Showdown in Cowtown, climbing to No. 2 in the title race and inching within fewer than 20 points of the No. 1 rank.
As competition got underway in Round 1, Robbins climbed aboard Watermelon Sugar Hi (Kinky Buckers). Reaching the requisite 8, the 2017 PBR Canada Rookie of the Year delivered the fourth-best score of the opening round, marked 82 points.
Robbins then squared off with Putsey (X6 Ranch Bucking Cattle). Matching the bull jump-for-jump, the Albertan concluded the event with a score, awarded a championship round-best 86 points to cement his victory.
Robbins' third Touring Pro Division victory of the season garnered him a crucial 57 national points. He leapfrogged Dakota Buttar (Eatonia, Saskatchewan) for the No. 2 position, while also climbing within a mere 18.84 points of No. 1 Nick Tetz (Calgary, Alberta).
Second was Round 1 winner Griffin Smeltzer (Claresholm, Alberta).
Smeltzer's 87-point effort atop Mogely (Lazy S Bucking Bulls) garnered him 36 national points. He climbed from No. 20 to No. 16 in the battle to be crowned the 2023 PBR Canada Champion.
Weston Davidson (Strongfield, Saskatchewan) was third, netting 23 national points.
Davidson rode High & Low (X6 Ranch Bucking Cattle/Legend Rodeo Stock) for 83 points in Round 1 but fell short of the win when he was tossed by Black Sea (X6 Ranch Bucking Cattle) in a swift 1.87 seconds in the championship round.
Seeking his second career qualification to the PBR Canada National Finals this November, Davidson maintained his No. 15 rank in the standings, but rose within 251.5 points of the No. 1 position.
Ashton Sahli (Red Deer, Alberta) delivered an 82.5-point ride on Dialed In (Wilson Rodeo) to finish fourth.
Leaving Maple Creek and High Chaparral Arena with 19 national points, Sahli remained No.14 in Canada.
Rounding out the Top 5 in fifth was Stefan Tonita (Saskatoon, Saskatchewan).
The Saskatchewan native first struck in Round 1 when he covered Silverado (Wilson Rodeo) for 80 points but came up short in the final round when he was bucked off by Scootin To Hell (Midnight Bucking Bulls) in 4.28 seconds.
The 1-for-2 showing earned Tonita 15 national points, allowing him to crack the Top 10 in the PBR Canada Championship race. Rising from No. 11 to No. 9, Tonita is now just 160.5 points back of No. 1 Tetz.
In the bull pen, Edge of Tomorrow (Lazy S Bucking Bulls) and Grand Funk (Kinky Buckers) tied for the Bull of the Event honor. Each marked a tour stop-best 43.5 points in the championship round, Edge of Tomorrow earned the score for his 3.25 seconds of work against Sahli, while Grand Funk lit up the leaderboard when he tossed Elijah Gordon (Quesnel, British Columbia) in 3.15 seconds.
The 2023 PBR Canada season continues Saturday, July 29 in Lacombe, Alberta, for the Touring Pro Division's Lacombe Pro Bull Riding. Action at Lacombe and District Agricultural Society begins at 7:00 p.m. MDT.  
Stay tuned in to PBRCanada.com and follow the tour on Facebook (PBR Canada), Twitter (@PBRCanada), and Instagram (@PBRCanada) for the latest results, news, stats and more.
PBR Canada Touring Pro Division
Showdown in Cowtown
High Chaparral Arena – Maple Creek, Saskatchewan
Event Leaders (Round 1-Round 2-Event Aggregate-Event Points)
1. Coy Robbins, 82-86-168.00-57 Points.
2. Griffin Smeltzer, 87-0-87.00-36 Points.
3. Weston Davidson, 83-0-83.00-23 Points.
4. Ashton Sahli, 82.5-0-82.50-19 Points.
5. Stefan Tonita, 80-0-80.00-15 Points.
6. Cody Coverchuk, 73.5-0-73.50-5 Points.
Aaron Roy, 0-0-0.00
Chad Hartman, 0-0-0.00
Blake Smith, 0-0-0.00
Cole Brewer, 0-0-0.00
Brock Radford, 0-0-0.00
Callum Miller, 0-0-0.00
Tanner Skene, 0-0-0.00
Marcos Gloria, 0-0-0.00
Keaton Martz, 0-0-0.00
Tyson Salmon, 0-0-0.00
Kane Taylor, 0-0-0.00
Wyatt Milgate [1], 0-0-0.00
Elijah Gordon [1], 0-0-0.00
Elijah Gordon [2], 0-0-0.00
Brayden Shore, 0-0-0.00