Monstrous 90-Point Ride Propels Reigning PBR Canada Champion Nick Tetz to Victory at Touring Pro Division Event in Calgary, Alberta
By: Kacie Albert Friday, July 7, 2023 @ 11:30 PM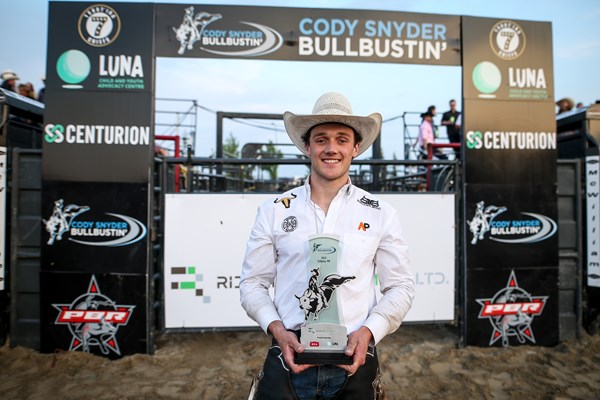 CALGARY, Alta. – Punctuation his performance with the high-marked ride of his career, and the top score of the 2023 PBR (Professional Bull Riders) Canada season, Nick Tetz (Calgary, Alberta) was unmatched Friday evening in Calgary, Alberta, victorious at the fourth Cody Snyder Charity Bullbustin'.
Recently inked to the Arizona Ridge Riders' Reserve Roster in the PBR Teams league, Tetz got off to a quick start in Round 1 when he delivered the third-best score, marked 84 points atop True Grit (Skori Bucking Bulls).
Tetz then readied to go head-to-head with Time Marches On (Thompson Rodeo Livestock) in the final round. In what proved to be a perfect pairing, Tetz matched the powerful bull jump-for-jump en route to the 8-second whistle, marked a monstrous 92 points.
The score is not only the high-marked ride of Tetz' career, but also the top score recorded on Canadian soil thus far this season.
For Tetz, the win was his second Touring Pro Division victory of the season, and third across all levels of competition in Canada. He garnered a crucial 59 national points, extending his lead over No. 2 Coy Robbins (Camrose, Alberta) to 68.84 points.
Chasing history this season, should Tetz continue his momentum and be crowned the 2023 PBR Canada Champion, he would become the first back-to-back title holder, and just fourth multi-time national Champion.
Second was Round 1 winner Garrett Green (Meeting Creek, Alberta).
Green was sensational in the opening round, topping Diggin Up Bones (Thompson Rodeo Livestock) for 85.5 points. The Albertan, however, came up short of the win when he was tossed by Shallow Creek (Vold Rodeo) in a quick 2.84 seconds in the championship round.
Leaving the Grey Eagle Resort & Casino with 36 national points, Green rose from No. 10 to No. 8 in the national standings, inching within 160 points of No. 1 Tetz.
Griffin Smeltzer (Claresholm, Alberta) was third.
Smeltzer's podium finish was highlighted by an 85.5-point score atop Times A Tickin (Thompson Rodeo Livestock) in Round 1, earning him 23 national points.
Seeing his first PBR Canada Championship, the 2022 Glen Keeley Award winner remained No. 23 in the standings.
Blake Smith (Abbey, Saskatchewan) parlayed an 83-point ride on Sippin Bravo (Thompson Rodeo Livestock) into a fourth-place finish.
The effort netted Smith 18 national points. While he remained No. 11 in Canada, he is now within 194.5 points of No. 1 Tetz.
Rounding out the Top 5 in fifth was Boudreaux Campbell (Crockett, Texas).
The 2020 PBR Rookie of the Year rode Desperado (Vold Rodeo) for 82 points in Round 1 before getting tossed by Jammer (Vold Rodeo) in a close 6.22 seconds in the final round.
Campbell, who rides for the Carolina Cowboys in the PBR Teams league, earned 15 national points.
In the bull pen, Time Marches On bucked supreme. The powerful animal athlete was crowed Bull of the Event after delivering a tour stop-best 44.5-point score in the championship round when he teamed with Tetz for the mammoth 90-point score.
The 2023 PBR Canada season continues July 8 in Picture Butte, Alberta. Action for the Touring Pro Division's Coyote Flats PBR at Coyote Flats begins at 7:00 p.m. MT.  
Stay tuned in to PBRCanada.com and follow the tour on Facebook (PBR Canada), Twitter (@PBRCanada), and Instagram (@PBRCanada) for the latest results, news, stats and more.
PBR Canada Touring Pro Division
Cody Snyder Charity Bullbustin' 4
Grey Eagle Resort & Casino – Calgary, Alberta
Event Leaders (Round 1-Round 2-Event Aggregate-Event Points)
1. Nick Tetz, 84-92-176.00-59 Points.
2. Garrett Green, 86.5-0-86.50-36 Points.
3. Griffin Smeltzer, 85.5-0-85.50-23 Points.
4. Blake Smith, 83-0-83.00-18 Points.
5. Boudreaux Campbell, 82-0-82.00-15 Points.
6. Cauy Schmidt, 81.5-0-81.50-13 Points.
7. Cody Coverchuk, 76-0-76.00-4 Points.
Aaron Roy, 0-0-0.00
Chad Hartman, 0-0-0.00
Stefan Tonita, 0-0-0.00
Tyler Craig, 0-0-0.00
Weston Davidson, 0-0-0.00
Cole Brewer, 0-0-0.00
Ashton Sahli, 0-0-0.00
Jake Dunham, 0-0-0.00
Callum Miller, 0-0-0.00
Gage Gay, 0-0-0.00
Jake Maher, 0-0-0.00
Kelsey Pavlou, 0-0-0.00
Zane Hall, 0-0-0.00
Cole Young, 0-0-0.00
Jett Lambert, 0-0-0.00
Toby Leake, 0-0-0.00
Brumby Brandenburg, 0-0-0.00
Thomas Hudson, 0-0-0.00