Garrett Green Rides Red-Hot To Win Second Cody Snyder Charity Bull Bustin' PBR Canada Touring Pro Division Event in Calgary, Alberta
By: Kacie Albert Wednesday, July 5, 2023 @ 11:30 PM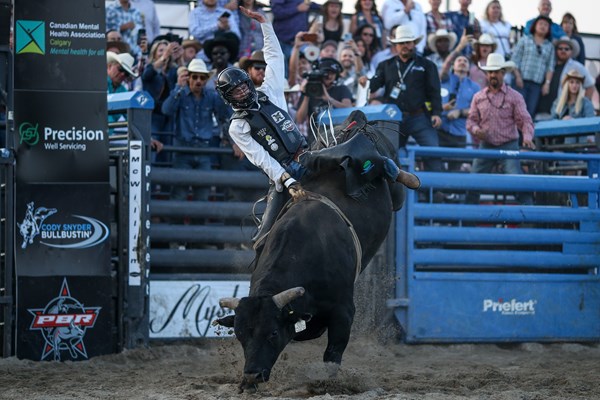 CALGARY, Alta. – Going a perfect 2-for-2 Wednesday night in Calgary, Alberta, red-hot Garrett Green (Meeting Creek, Alberta) won the second iteration of the PBR (Professional Bull Riders) Canada Touring Pro Division's Cody Snyder Charity Bull Bustin', cracking the Top 10 in the national standings.
Green got off to a quick start, recording the third-best score of Round 1 when he topped Moonwalk (Thompson Rodeo Livestock) for 83.5 points.
The Alberta veteran then squared off against Lil' Hooch (Two Bit Bucking Bulls).
In what proved to be a perfect pairing, Green reached the requisite 8 atop the animal athlete, marked an event-best 88.5 points to climb the leaderboard and cement the victory.
Green's flawless effort garnered him a much-needed 58 national points. Chasing his first PBR Canada Championship this November, Green rose from No. 14 to No. 10 in the national standings. he is now within 137 points of the No. 1 rank.
Reigning PBR Canada Champion Nick Tetz (Calgary, Alberta) extended his lead atop the national standings via a third-place finish. The hometown hopeful is chasing history this season, attempting to become the first-ever back-to-back Champion in Canadian history.
While Tetz failed to convert in Round 1, bested by Silver Creek (Vold Rodeo) in a heart-breaking 7.37 seconds, he earned a renewed shot of victory as he advanced to the championship round on time.
Making the most of his second chance at victory, Tetz, newly inked to the Arizona Ridge Riders in the PBR Teams league, was quick to rebound, finishing second in the final round via an 88-point ride aboard Haunted Creek (Vold Rodeo).
Earning 23 national points, Tetz extended his lead over No. 2 Jared Parsonage (Maple Creek, Saskatchewan) to 26 points.
2020 PBR Canada Champion Dakota Buttar (Eatonia, Saskatchewan) was second, netting 45 national points.
In Round 1, Buttar rode Wicked Water (Two Bit Bucking Bulls) for 84 points, before going the distance on Chico (Vold Rodeo) for 86.5 points in the final round.
Leaving the Grey Eagle Resort & Casino with 45 national points, Buttar climbed three spots in the national standings from No. 9 to No. 6. He is now within 96 points of No. 1 Tetz.
Should Buttar continue his upward climb in the standings, and be crowned the 2023 PBR Canada Champion, he would become just the fourth multi-time title holder in history. He would join the likes of three-time Champion Aaron Roy (Yellow Grass, Saskatchewan), and two-time title holders Zane Lambert (Ponoka, Alberta) and Cody Coverchuk (Meadow Lake, Saskatchewan).
Fourth was Boudreaux Campbell (Crockett, Texas).
The 2020 PBR Rookie of the Year continued his electric debut on Canadian soil by riding Original Prankster (Vold Rodeo) for 86 points to win Round 1.
The Carolina Cowboys' rider, however, was denied the win when he was tossed by Jam It (Vold Rodeo) in a close 5.82 seconds in the final round.
Campbell is now ranked No. 24 in Canada, after beginning the event tied for No. 34.
Rounding out the Top 5 in fifth was Griffin Smeltzer (Claresholm, Alberta).
Going 1-for-2, Smeltzer's efforts were headlined by an 82-point score atop Almost Gone (Thompson Rodeo Livestock) in Round 1.
Collecting 16 national points, Smeltzer maintained his No. 23 rank in the national standings.
For the second consecutive night, Langham Kid (Two Bit Bucking Bulls) was crowned the Bull of the Event. The powerful animal athlete was marked an event-best 44.5 points in the championship round for his 4.1-second buckoff of Conner Halverson (Gordon, Nebraska).
The 2023 PBR Canada season continues July 6-7 in Calgary, Alberta. Action for the Touring Pro Division's Cody Snyder Charity Bull Bustin' at Grey Eagle Resort & Casino begins nightly at 7:00 p.m. MT.  
Stay tuned in to PBRCanada.com and follow the tour on Facebook (PBR Canada), Twitter (@PBRCanada), and Instagram (@PBRCanada) for the latest results, news, stats and more.
PBR Canada Touring Pro Division
Cody Snyder Charity Bull Bustin' 2
Grey Eagle Resort & Casino – Calgary, Alberta
Event Leaders (Round 1-Round 2-Event Aggregate-Event Points)
1. Garrett Green, 83.5-88.5-172.00-58 Points.
2. Dakota Buttar, 84-86.5-170.50-45 Points.
3. Nick Tetz, 0-88-88.00-23 Points.
4. Boudreaux Campbell, 86-0-86.00-23 Points.
5. Griffin Smeltzer, 82-0-82.00-16 Points.
6. Chad Hartman, 80.5-0-80.50-14 Points.
7. Conner Halverson, 78.5-0-78.50-4 Points.
8. Tim Lipsett, 76.5-0-76.50-3 Points.
Coy Robbins, 0-0-0.00
Aaron Roy, 0-0-0.00
Stefan Tonita, 0-0-0.00
Tyler Craig, 0-0-0.00
Blake Smith, 0-0-0.00
Cody Coverchuk, 0-0-0.00
Weston Davidson, 0-0-0.00
Daylon Swearingen, 0-0-0.00
Fabian Dueck, 0-0-0.00
Ashton Sahli, 0-0-0.00
Cauy Schmidt, 0-0-0.00
Jake Dunham, 0-0-0.00
Wade Marshall, 0-0-0.00
Jake Maher, 0-0-0.00
Callum Miller, 0-0-0.00
Brock Radford, 0-0-0.00
Jaxton Mortensen, 0-0-0.00