Cole Brewer Dominates Third Cody Snyder Charity Bullbustin' in Calgary, Alberta, to Win Career-First PBR Event
By: Kacie Albert Thursday, July 6, 2023 @ 11:30 PM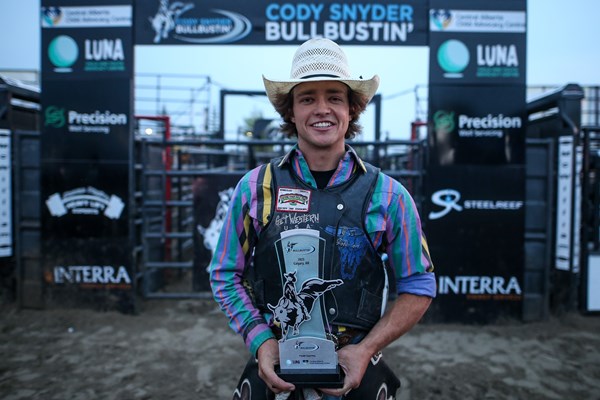 CALGARY, Alta. – At the third iteration of the Cody Snyder Charity Bullbustin, part of the PBR (Professional Bull Riders) Canada Touring Pro Division, the competing riders showed up, and showed out, as five contenders went a perfect 2-for-2. However, Cole Brewer (Eagleview, South Dakota) was unmatched, besting runner-up Coy Robbins (Camrose, Alberta) by a mere 0. 5 points, to capture his career-first PBR event win.
Brewer was sensational in Round 1 as he teamed with Bull Dozzer (Skori Bucking Bulls) for an 85-point score.
The South Dakota man then found himself matched up with Sure Shot (Skori Bucking Bulls), positioned second on the event leaderboard ahead of the championship round.
Continuing his momentum, Brewer remained in perfect time with the powerful animal athlete, covering him for 84.5 points to cement the win.
Brewer left Grey Eagle Resort & Casino in Calgary, Alberta, with 54 national points. He rose from No. 22 to No. 16 in the Canadian standings, now within 198 points of reigning PBR Canada Champion and No. 1 Nick Tetz (Calgary, Alberta).
Member of the Arizona Ridge Riders in the separate PBR Teams league, Tetz was unable to extend his lead atop the standings Thursday evening. The young Albertan is seeking history this November as he attempts to become the first back-to-back PBR Canada Champion in history.
In Round 1, Tetz met his match against Cliff (Vold Rodeo) as the animal tossed him to the ground in a quick 3.16 seconds.
Coy Robbins (Camrose, Alberta) parlayed his own 2-for-2 showing into a runner-up finish.
After riding Red Coat (X6 Ranch Bucking Cattle/Legend Rodeo Stock) for 83.5 points in the opening round, Robbins punctuated his outing with an 85.5-point ride aboard Jail Break (X6 Ranch Bucking Cattle/Legend Rodeo Stock).
Garnering 44 national points, Robbins leapfrogged Jared Parsonage (Maple Creek, Saskatchewan) for the No. 2 rank. The 2017 PBR Canada Rookie of the Year is now within 9.84 points of No. 1 Tetz.
Third was Chad Hartman (Lancer, Saskatchewan).
Reclaiming his winning ways from earlier in the week which propelled him to victory at the first Cody Snyder Charity Bullbustin', Hartman was locked in during the opening round, making the requisite 8 on Devils Dues (X6 Ranch Bucking Cattle/Legend Rodeo Stock) for 79 points.
Eighth on the leaderboard entering the championship round, Hartman then went head-to-head with Clear The Village (Vold Rodeo/Rafter G Cattle Co.). As the crowd erupted into raucous cheer, Hartman reached the whistle, marked 85 points, surging to a podium finish.
Hartman collected a crucial 30 national points, gaining him one position in the 2023 PBR Canada Championship race as he rose from No. 7 to No. 6. He is now 85.5 points back of the leading.
Rounding out the Top 5 and tying for fourth were Dakota Buttar (Eatonia, Saskatchewan) and Cody Coverchuk (Meadow Lake, Saskatchewan).
Buttar began his event with a 74.5-point ride atop Carharts and Lace (Vold Rodeo). The 2020 PBR Canada Champion then catapulted up the standings when he topped the championship round with an event-best 88-point ride atop Busta Rhymes (X6 Ranch Bucking Cattle/Legend Rodeo Stock).
The result netted Buttar 23 national points, propelling him from No. 6 to No. 4 in Canada. He inched within 73 points of No. 1 Tetz.
Buttar is attempting to join an elite club this season. Should his upward momentum continue, and he earn the 2023 Championship, he would become just the fourth multi-time title holder, joining three-time Champion Aaron Roy (Yellow Grass, Saskatchewan) and two-time winners Zane Lambert (Ponoka, Alberta) and Coverchuk.
For Coverchuk, his fourth-place effort included an 80-point ride on Lord Fear (Vold Rodeo) in Round 1, followed by an 82.5-point effort atop Broken Halo (Skori Bucking Bulls) in the final round.
The Saskatchewan man left Calgary with 25 national points. He remained No. 12 in Canada, honing within 155.34 points of the top rank.
Coverchuk is seeking history of his own at the 2023 PBR Canada National Finals. If he were to be crowned this season's Champion, he would tie Roy for most national titles won by one rider in Canadian history.
In the bull pen, Rico (Vold Rodeo/Robinson) bucked supreme, crowned the Bull of the Event. The animal athlete was scored an event-best 44 points in the championship round for his 6.72-second buckoff of the Carolina Cowboys' Boudreaux Campbell (Crockett, Texas).
The 2023 PBR Canada season continues July 7 in Calgary, Alberta. Action for the final night of the Touring Pro Division's Cody Snyder Charity Bullbustin' at Grey Eagle Resort & Casino begins at 7:00 p.m. MT.  
Stay tuned in to PBRCanada.com and follow the tour on Facebook (PBR Canada), Twitter (@PBRCanada), and Instagram (@PBRCanada) for the latest results, news, stats and more.
PBR Canada Touring Pro Division
Cody Snyder Charity Bullbustin' 3
Grey Eagle Resort & Casino – Calgary, Alberta
Event Leaders (Round 1-Round 2-Event Aggregate-Event Points)
1. Cole Brewer, 85-84.5-169.50-54 Points.
2. Coy Robbins, 83.5-85.5-169.00-44 Points.
3. Chad Hartman, 79-85-164.00-30 Points.
4. Dakota Buttar, 74.5-88-162.50-23 Points.
(tie). Cody Coverchuk, 80-82.5-162.50-25 Points.
6. Callum Miller, 86-0-86.00-20 Points.
7. Gage Gay, 84.5-0-84.50-15 Points.
8. Boudreaux Campbell, 82-0-82.00-12 Points.
9. Kelsey Pavlou, 79.5-0-79.50-9 Points.
Nick Tetz, 0-0-0.00
Aaron Roy, 0-0-0.00
Stefan Tonita, 0-0-0.00
Tyler Craig, 0-0-0.00
Blake Smith, 0-0-0.00
Weston Davidson, 0-0-0.00
Daylon Swearingen, 0-0-0.00
Fabian Dueck, 0-0-0.00
Ashton Sahli, 0-0-0.00
Conner Halverson, 0-0-0.00
Griffin Smeltzer, 0-0-0.00
Cauy Schmidt, 0-0-0.00
Jake Dunham, 0-0-0.00
Toby Leake, 0-0-0.00
Thomas Hudson, 0-0-0.00
Zane Hall, 0-0-0.00