PBR Canada National Finals Buck Back to Edmonton, Alberta and Rogers Place Nov. 17-18
By: Kacie Albert Wednesday, February 8, 2023 @ 12:07 PM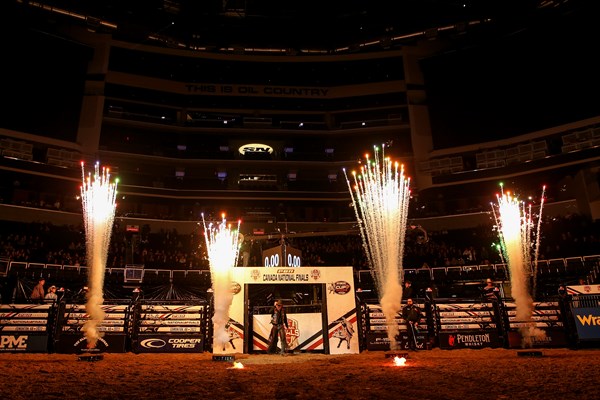 EDMONTON, Alta. – For the third time in history, PBR (Professional Bull Riders) will hold the Canadian National Finals, presented by Command Tubular Products, in Edmonton, Alberta, with the season-culminating event, part of the elite Cup Series, presented by Wrangler, returning to the state-of-the-art Rogers Place Nov. 17-18 when the 2023 PBR Canada Champion will be crowned.
Season long, riders have the opportunity to compete at dozens of Cup Series and Touring Pro Division events across Canada to earn points towards the Canadian national standings, all in an effort to be the No.1-ranked cowboy at year's end and earn the coveted PBR Canada Championship.
The 2023 PBR Canada National Finals, presented by Command Tubular Products, will again pay out a record $175,000, including a $50,000 bonus to be awarded to the 2023 PBR Canada Champion.
The bull riding action for 2023 PBR Canada National Finals, presented by Command Tubular Products, begins at 7:00 p.m. MDT on Friday, November 17 and Saturday, November 18 at Rogers Place.
Tickets for the event go on sale Friday, February 10 at 10:00 a.m. MST, and start at $40, standard fees may apply. They can be purchased online at Ticketmaster.ca. 
The 2023 slate of events marks the eighth season for the PBR Canada Cup Series as a unified competitive series traveling across the country and broadcast on TSN.
Last season, fans watched on as one of the fiercest title races in PBR Canada history wound to a close. Delivering a come-from -behind surge Nick Tetz (Calgary, Alberta) was crowned the 2022 PBR Canada Champion and earned the accompanying $50,000 bonus.
Tetz began the fourth PBR Canada National Finals of his career ranked No. 2 in the nation, 21 points behind then No. 1 Dakota Buttar (Eatonia, Saskatchewan)
While the Tetz bucked off in Round 1, he was quick to rebound, covering Langham Kid (Two Bit Bucking Bulls), for a commanding 88 points in Round 2.
When the dust settled following the first two rounds, Tetz netted 20 national points to hone within 13.5 points of No. 1 Buttar.`
However, it wasn't only a two-man race. Then No. 4 Brock Radford (De Winton, Alberta) and No. 9 Coy Robbins (Camrose, Alberta) were flawless through the opening rounds, intensifying the race. Radford concluded Rounds 1-2 as the event leader at the 2022 PBR Canada National Finals, climbing within 45 points of the No. 1 rank, while Robbins delivered two 8-second efforts of his own to garner 15 national points and close within 115.5 national points of the No. 1 rank.
As the competition continued with Round 3 on Championship Saturday, six men remained in contention for the 2022 PBR Canada Championship, including dark horses Blake Smith (Abbey, Saskatchewan) and Cody Coverchuk (Meadow Lake, Saskatchewan), ranked No. 6 and No. 7, respectively.
As No. 1 Buttar, No. 2 Tetz and No. 4 Radford all bucked off in Round 3, the pressure at the top grew as Smith, Coverchuk and Robbins all posted scores.
It all then came down to the championship round.
Smith was eliminated from the race when he bucked off Diamond Show (Vold Rodeo) in 5.61 seconds. Buttar then had his chance at a second national championship dissipate when he was sent airborne by Langham Kid in a swift 2.65 seconds.
Tetz then found himself in a must-ride position atop Brand New Guitar (Wild Hoggs Bucking Bulls). Staying in perfect time with the animal athlete, Tetz reached the whistle for a crucial 88 points.
While Coverchuk was awarded a re-ride atop his initial draw Happy Camper (Two Bit Bucking Bulls), he inevitably came down early aboard his new opponent Unkle Kranky (Vold Rodeo) in 2.8 seconds to conclude his season.
With just six outs remaining in the season, it was down to Tetz and the yet-to-ride Radford and Robbins.
Rebounding from a heart-breaking 6.02-second buckoff in Round 3, Radford covered Vertigo Spy (Vold Rodeo) for 83.5 points to conclude his season with a qualified ride. Robbins then dominated Finning Lil Shorty (Flying Four Bucking Bulls) for 88 points to complete his perfect 4-for-4 sweep of the year-end event.
After the last bull bucked, Tetz' 3-for-4 outing left him fifth overall on the event leaderboard, earning him 71 national points, enough to hold off his fellow competitors and leap-frog regular-season No. 1 Buttar for the title of 2022 PBR Canada Champion. In addition to earning the year-end title, he was awarded a check for $60,875.
Tetz finished 26.5 points ahead of No. 2 Radford.
A complete list of PBR Canada Champions include: Buttar (2020); Daylon Swearingen (2019 – Piffard, New York); Zane Lambert (2017 and 2013 – Ponoka, Alberta); Ty Pozzobon (2016 – Merritt, British Columbia), Tanner Byrne (2015 – Prince Albert, Saskatchewan); Stetson Lawrence (2014 – Williston, North Dakota); Aaron Roy (2012, 2010 and 2008 – Yellow Grass, Saskatchewan); Tyler Thomson (2011 – Black Diamond, Alberta); Beau Hill (2009 – West Glacier, Montana); Tyler Pankewitz (2007 – Warburg, Alberta); and Scott Schiffner (2006 – Strathmore, Alberta).
In addition to Tetz' electric performance, fans at the 2022 PBR Canada National Finals were also captivated by a flawless Jared Parsonage (Maple Creek, Saskatchewan). Going a perfect 4-for-4, Parsonage won the 2022 PBR Canada National Finals.
Parsonage first put points on the board in the opening rounds riding Slingin Stones (Flying High Rodeo Co.) for 84.5 points in Round 1 and Jayded (Vold Rodeo) for 82.5 points in Round 2.
The 29-year-old, however, reached a new level of excellence on Championship Saturday. He surged to the top of the event leaderboard when he won Round 3 via an 88.5-point ride on Hard Not To Get (Vold Rodeo).
With the first pick in the championship round bull draft, Parsonage elected to go head-to-head with Al Capone (Wild Hoggs/Sure Fire). In a decision which proved dividends, Parsonage logged the high-marked ride of the event, scored 89 points to clinch the PBR Canada National Finals event win.
With the golden finish, he earned 152 national points and propelled from No. 12 to No. 9 in the national standings, while also earning $39,531.25.
Other past PBR Canada National Finals event winners include: Daylon Swearingen (2021 and 2019 – Piffard, New York); Coverchuk (2018); Lambert (2017 and 2016); Brady Oleson (2015 – Blackfoot, Idaho); Roy (2014); Schiffner (2013); Pozzobon (2012); Dusty Ephrom (2011 – Kenossee Lake, Saskatchewan); Harve Stewart (2011- Stephenville, Texas); Mike Lee (2010 – Decatur, Texas); Guilherme Marchi (2009 – Tres Lagoas, Brazil); Jock Connolly (2008 – Charters Towers, Queensland, Australia); Vince Northrup (2007 – Davidson, Saskatchewan); and Brian Canter (2006 – Randleman, North Carolina).
The PBR Canada National Finals, presented by Command Tubular Products, is the ninth and final event of the 2023 PBR Canada Cup Series, presented by Wrangler, the nation's first-ever cross-country, nationally televised PBR series.
The elite Cup Series features Canada's top bull riders, alongside some of the PBR's top international athletes, squaring off against the rankest bucking bulls in North America.
At the 2023 iteration of the PBR Canada National Finals, four riders will be seeking history – Tetz, Coverchuk, Buttar and Roy.
If Tetz were to again win the title, he would become the fourth multi-time PBR Canada Champion in history, and first to accomplish the feat in back-to-back seasons. Should Coverchuk earn his third Canadian Championship, he would tie Roy for most national titles held by one rider in history. If Roy were to earn his fourth national title, he would further solidify his standing as one of Canada's greatest bull riders ever.
Stay tuned to PBRCanada.com and follow the tour on Facebook (PBR Canada), Twitter (@PBRCanada), and Instagram (@PBRCanada) for the latest event and broadcast schedule, results, news, stats and more.