Tyler Craig Dominates at PBR Canada Touring Pro Division Event in Tofield, Alberta, to Earn First Victory of 2023
By: Kacie Albert Thursday, August 10, 2023 @ 11:30 PM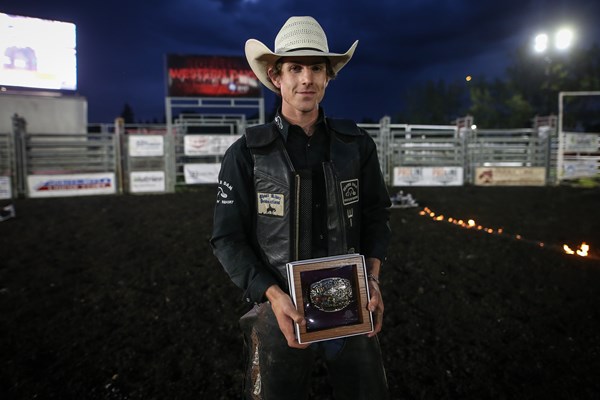 TOFIELD, Alta. – As the 2023 PBR (Professional Bull Riders) Canada season continued Thursday evening in Tofield, Alberta, Tyler Craig (Crossfield, Alberta) went a perfect 2-for-2 to win the Touring Pro Division's Tofield Bull Bash, presented by BHD Tubular, marking his first victory of the 2023 season.
Craig got off to a quick start in Round 1, tying for the top score when he conquered Times A Tickin (Thompson Rodeo Livestock) for 86.5 points.
The young Albertan then defended his position atop the leaderboard, and cemented the event win, when he covered Whiskey Clouds (Skori Bucking Bulls) for an tour stop-best 87.5 points.
Courtesy of the event win, Craig collected a much-needed 38.5 points. Craig catapulted five positions in the heated 2023 PBR Canada Championship race, rising from No. 10 to No. 5. He is now within 157.5 points of the top spot.
Reigning PBR Canada Champion Nick Tetz (Calgary, Alberta) furthered his stronghold on the No. 1 rank in the nation by tying for third at the Tofield Fairgrounds.
Tetz was sensational in Round 1, splitting the round win with Craig when he rode Silverado (Wilson Rodeo) for a matching 86.5 points.
The Arizona Ridge Rider in the separate PBR Teams League, however, fell short of the win when he was tossed by Built Tough (Thompson Rodeo Livestock) in a close 5.25 seconds in the championship round.
Garnering 17 national points, Tetz is now 48.34 points ahead of the No. 2 contender.
Should Tetz continue his momentum and be crowned the 2023 PBR Canada Champion, he would become the first rider to ever win the title in back-to-back seasons. He would also become just the fourth multi-time PBR Canada Champion in history, joining three-time winner Aaron Roy (Yellow Grass, Saskatchewan) and two-time title holders Zane Lambert (Ponoka, Alberta) and Cody Coverchuk (Meadow Lake, Saskatchewan).
Cauy Schmidt (Coronation, Alberta) was second, netting 27 national points.
As the only other rider to make the 8 atop both of his bovine athlete opponents, the 2022 PBR Canada Rookie of the Year topped True Grit (Skori Bucking Bulls) for 82 points in Round 1, before going the distance aboard Firebeatz (Foley Bucking Bulls) in the championship round.
Schmidt rose from No. 26 to No. 24 in the nation.
Two-time PBR Canada Champion Coverchuk made the most of a double entry, both tying for third and finishing fifth.
Coverchuk's third-place effort included an 86.5-point ride on Irish Rebel (Wilson Rodeo) in the championship round, while his fifth-place result was headlined by an 84-point score atop Smooth Off (Shay Marks), also in the final round.
The Saskatchewan man earned a combined 28.5 national points. He surged from No. 4 to No. 2 in Canada, now within 48.34 points of No. 1 Tetz.
Seeking history of his own, should Coverchuk earn the 2023 title, he would tie Roy for most national honors won by one rider in Canadian history.
In the bull pen, Built Tough and Whiskey Clouds tied for the Bull of the Event honor. Each bovine athlete was awarded 43.5 points in the championship round.
The 2023 PBR Canada season continues Friday, August 11 in Coronation, Alberta, for the Touring Pro Division's Royal Rumbull. Action at Coronation Rodeo Grounds begins at 7:00 p.m. MDT.  
Stay tuned in to PBRCanada.com and follow the tour on Facebook (PBR Canada), Twitter (@PBRCanada), and Instagram (@PBRCanada) for the latest results, news, stats and more.
PBR Canada Touring Pro Division
Tofield Bull Bash, presented by BHD Tubular
Tofield Fairgrounds – Tofield, Alberta
Event Leaders (Round 1-Round 2-Event Aggregate-Event Points)
1. Tyler Craig, 86.5-87.5-174.00-38.5 Points.
2. Cauy Schmidt, 82-85.5-167.50-27 Points.
3. Nick Tetz, 86.5-0-86.50-17 Points.
(tie). Cody Coverchuk [1], 0-86.5-86.50-16.5 Points.
5. Cody Coverchuk [2], 0-84-84.00-12 Points.
6. Dakota Buttar, 83.5-0-83.50-12 Points.
7. Callum Miller, 83-0-83.00-10 Points.
8. Stefan Tonita, 80.5-0-80.50-10 Points.
9. Aaron Roy, 78.5-0-78.50-9 Points.
Wyatt Gleeson, 0-0-0.00
Chad Hartman, 0-0-0.00
Blake Smith, 0-0-0.00
Ashton Sahli, 0-0-0.00
Weston Davidson, 0-0-0.00
Cody Fraser, 0-0-0.00
Tanner Skene, 0-0-0.00
Micheal Ostashek, 0-0-0.00
Keaton Martz, 0-0-0.00
Jono Couling, 0-0-0.00
Kyle Brown, 0-0-0.00
Wyatt Milgate, 0-0-0.00