Perfect Cody Coverchuk Wins PBR Canada Touring Pro Division's Elnora Brahma Rama
By: Kacie Albert Sunday, August 13, 2023 @ 11:30 PM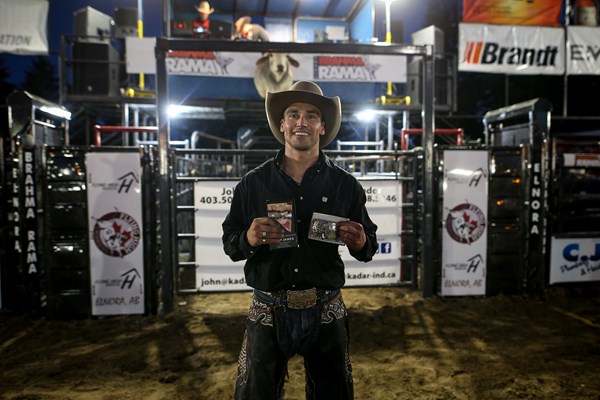 ELNORA, Alta. –  Two-time PBR (Professional Bull Riders) Canada Champion Cody Coverchuk (Meadow Lake, Saskatchewan) rode supreme Saturday night in Elnora, Alberta, going a perfect 2-for-2 to win the Touring Pro Division's Elnora Brahma Rama and inch within 34.84 points of the No. 1 rank.
Coverchuk is chasing history this season. Should he continue his upward climb and be crowned the 2023 PBR Canada Champion this November, he would tie Aaron Roy (Yellow Grass, Saskatchewan) for most Canadian national titles won by one rider with three.
The Saskatchewan man got off to a hot start in Round 1, posting the top score when he rode Desperado (Vold Rodeo) for 86 points.
Coverchuk then defended his spot atop the leaderboard when he delivered the high-marked ride of the event in Round 2, going the distance atop Irish Rebel (Wilson Rodeo) for 87 points.
Compliments of a double-entry, Coverchuk was also fourth at the Elnora Agricultural Grounds. Going 1-for-2, Coverchuk's second Top 5 effort was headlined by and 85-point score aboard Up Shift (Vold Rodeo) in Round 2.
Earning a combined 51.5 points, Coverchuk not only furthered his stronghold on the nation's No. 2 rank, but also decimated No. 1 Nick Tetz' (Calgary, Alberta) lead. While Coverchuk began the event 86.34 points back, he is now within a mere 34.84 points of the top spot.
Tetz did not compete in Elnora, Alberta, as he was stateside competing for the Arizona Ridge Riders at the PBR Camping World Team Series event in Anaheim, California.
 Ashton Sahli (Red Deer, Alberta) was second.
Sahli tied for the Round 2 win alongside Coverchuk, logging his 87-point score atop Hou's Sippin (Vold Rodeo).
Also double-entering, Sahli was also tenth courtesy of an 81-point ride on Jail Break (Wilson Rodeo) in Round 1.
Leaving his home province event with a combined 29.5 points, Sahli rose from No. 14 to No. 12 in Canada. He is now within 264 points of the No. 1 rank.
Roy was third, garnering 17 national points.
Despite bucking off Peacock (Vold Rodeo/Prescott) in 3.56 seconds in the opening round, the veteran contender was quick to rebound, cementing his podium finish when he outlasted Black Mamba (Lazy P Rodeo) for 85.5 points.
Seeking his unprecedented fourth national title at the 2023 PBR Canada National Finals, Roy cracked the Top 5, climbing from No. 6 to No. 5. He now trails No. 1 Tetz by 174.5 points.
Rounding out the Top 5 in fifth was Stefan Tonita (Saskatoon, Saskatchewan).
Tonita netted 12 national points via his 84.5-point ride atop El Patron (Flying High Rodeo Co.) in Round 2. He remained No. 9 in the national standings, inching within 210 points of the top spot.
In the bull pen, Broken Pearl (Flying High Rodeo Co.) bucked a cut above the rest, crowned the Bull of the Event. Out in Round 2, the powerful animal athlete posted a Elnora Brahma Rama-best 43-point score for his 4.03-second buckoff of Wyatt Gleeson (Sundre, Alberta).
The 2023 PBR Canada season continues Saturday, August 19 in Stavely, Alberta, for the Touring Pro Division's Glen Keeley Memorial Bull Riding. Action at Stavely Outdoor Arena begins at 6:00 p.m. MDT.  
Stay tuned in to PBRCanada.com and follow the tour on Facebook (PBR Canada), Twitter (@PBRCanada), and Instagram (@PBRCanada) for the latest results, news, stats and more.
PBR Canada Touring Pro Division
Elnora Brahma Rama
Elnora Agricultural Grounds – Elnora, Alberta
Event Leaders (Round 1-Round 2-Event Aggregate-Event Points)
1. Cody Coverchuk [1], 86-87-173.00-38.5 Points.
2. Ashton Sahli [1], 0-87-87.00-19.5 Points.
3. Aaron Roy, 0-85.5-85.50-17 Points.
4. Cody Coverchuk [2], 0-85-85.00-13 Points.
5. Stefan Tonita [1], 0-84.5-84.50-12 Points.
6. Callum Miller, 84-0-84.00-13 Points.
7. Wyatt Gleeson [2], 82-0-82.00-10.33 Points.
(tie). Chad Hartman, 82-0-82.00-10.33 Points.
(tie). Cauy Schmidt, 82-0-82.00-10.33 Points.
10. Ashton Sahli [2], 81-0-81.00-10 Points.
Wyatt Gleeson [1], 0-0-0.00
Stefan Tonita [2], 0-0-0.00
Blake Smith, 0-0-0.00
Weston Davidson, 0-0-0.00
Cody Fraser, 0-0-0.00
Micheal Ostashek, 0-0-0.00