Oklahoma Freedom Ink Two-Time PBR Canada Champion Cody Coverchuk to Team's Reserve Roster
By: Kacie Albert Thursday, August 24, 2023 @ 10:00 AM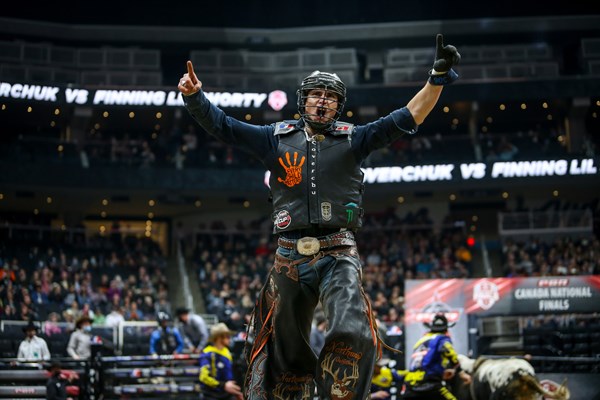 OKLAHOMA CITY, Okla. – The Oklahoma Freedom, one of eight competing teams in the PBR (Professional Bull Riders) Teams League, today announced they have signed two-time Canadian Champion Cody Coverchuk (Meadow Lake, Saskatchewan) to the contingent's reserve roster.
"We're excited to add Cody to our roster; I think he has a lot of talent," said Oklahoma Freedom Head Coach Cord McCoy. "Kody Lostroh and I are both pumped to get him in the rotation."  
Coverchuk joins the roster amid a wave of momentum. Chasing his record-tying third PBR Canada Championship this November, the Saskatchewan man is currently No. 2 in Canada, a mere 69.34 points behind No. 1-ranked Nick Tetz (Calgary, Alberta).
In leading the Canadian ranks for most 2023 Touring Pro Division events won (3), Coverchuk has also ridden to four round wins at those events, the fourth most of any active rider.
Coverchuk's success on home soil has catapulted him to No. 6 in the PBR Challenger Series Global standings, 425.84 points back of No. 1 Alan de Souza (Taubate, Brazil).
The 29-year-old joins the Oklahoma Freedom with prior team experience on the Camping World Team Series and representing Team Canada at the Global Cup.
During PBR Teams' inaugural 2022 season, Coverchuck briefly rode for the Texas Rattlers' Reserve Roster, competing in both of the team's opening games at the season-launch event in Cheyenne, Wyoming.
Prior, Coverchuk was twice tapped to ride for Team Canada, competing for his nation at both the November 2017 Global Cup in Edmonton, Alberta, and the most recent iteration of bull riding's Olympics in March 2022 in Arlington, Texas.
Coverchuk joins the team amid a wave of momentum. Compliments of a 2-1 effort in game play at the most recent Camping World Team Series event in Nashville, Tennessee, the Freedom tied for second in the event, surging to No. 2 in the league standings. They now trail the No. 1 Austin Gamblers by two games, with just one event remaining before the Freedom's annual homestand at Paycom Center, scheduled for Sept. 8-10.
Along with signing Coverchuk, the Oklahoma Freedom also released Jacob O'Mara (Denham Springs, Louisiana). The team's complete current roster is:
Protected: Elizmar Jeremias (Anapu, Brazil), Derek Kolbaba (Walla Walla, Washington), Briggs Madsen (Tremonton, Utah), Casey Roberts (Munford, Alabama), Thiago Salgado (Navirai, Brazil), Brady Turgeon (New River, Arizona) and Eli Vastbinder (Statesville, North Carolina)
Reserve: Alex Cerqueira (Iguatemi, Brazil), Coverchuk, Roscoe Jarboe (New Plymouth, Idaho) and Coy Pollmeier (Fort Scott, Kansas).
Injured Reserve: Chase Outlaw (Hamburg, Arkansas) and Tate Pollmeier (Fort Scott, Kansas).
The Freedom will return to the dirt this weekend for PBR Gambler Days in Austin, Texas, Aug. 25-27 at Moody Center. They will play the Nashville Stampede (Aug. 25), Missouri Thunder (Aug. 26) and host Austin Gamblers (Aug. 27).
Following Gambler Days, and a one-week break, the Oklahoma Freedom will then host the sixth event of the PBR Teams season, Freedom Fest, in Oklahoma City, Oklahoma, at Paycom Center, Sept. 8-10.
The bull riding action for the 2023 PBR Team Series' Freedom Fest at Paycom Center begins at 7:45 p.m. CT on Friday, September 8, 6:45 p.m. CT on Saturday, September 9, and 1:45 p.m. CT on Sunday, September 10.
Tickets for the event are on sale now, and start at $20, taxes and fees not included. They can be purchased online at Ticketmaster.com and PBR.com, at the Paycom Center Box Office, or by calling PBR customer service at 1-800-732-1727.
Three-day ticket packages are available, offering fans a 15% discount on select price levels.
For more information about Oklahoma Freedom, visit https://pbr.com/teams/freedom/, Oklahoma Freedom on Facebook, @OK_Freedom_ on Instagram, or @OKfreedom_ on Twitter.