Coy Robbins Wins PBR Canada-Best Fourth Touring Pro Division Event of 2023 With Victory in Bowden, Alberta
By: Kacie Albert Friday, August 25, 2023 @ 11:30 PM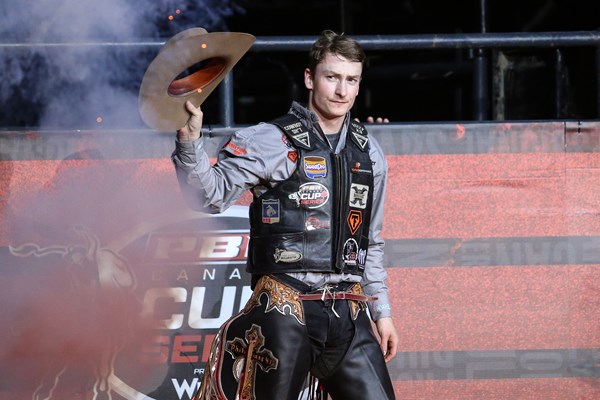 BOWDEN, Alta. – Coy Robbins (Camrose, Alberta) rode supreme Friday night in Bowden, Alberta, going a perfect 2-for-2 to win his PBR (Professional Bull Riders) Canada-best fourth Touring Pro Division event of the season, victorious at the Les Supernant Memorial Bull Bash and rising to No. 3 in the 2023 Canadian Championship race.
Robbins got off to a hot start, winning Round 1 when he delivered an 85.5-point ride atop True Grit (Skori Bucking Bulls).
In the final round of action, the 2017 PBR Canada Rookie of the Year next took on Original Prankster (Vold Rodeo). Remaining in perfect time with his animal athlete counterpart, Robbins reached the requisite 8 for 88 points to cement the event win.
Garnering 37.5 national points, Robbins climbed from No. 4 to No. 3 in the battle to be crowned the 2023 PBR Canada Champion. He is now within 138.84 points of No. 1 Nick Tetz (Calgary, Alberta).
Second was Wyatt Gleeson (Sundre, Alberta), netting 20 national points.
Despite being bucked off by Chilli Whomp (Two Bit Bucking Bulls) in 3.85 seconds in Round 1 , Gleeson was quick to rebound in the second round, covering Broken Pearl (Flying High Rodeo Co.) for an event-best 89 points.
The podium finish allowed Gleeson to crack the Top 5 in the national standings, rising from No. 7 to No.5. He is now 247.17 points back of No. 1 Tetz.
Two-time PBR Canada Champion Cody Coverchuk (Meadow Lake, Saskatchewan) was third.
Just days after being signed to the Oklahoma Freedom's Reserve Roster in the separate PBR Teams League, Coverchuk showed up determined at the Les Supernant Bull Bash. Going 1-for-2, Coverchuk rode his way to the third-place result courtesy of an 88-point ride aboard Hanna Motors Broken Halo (Skori Bucking Bulls) in Round 2.
Coverchuk left the Bowden Ag Grounds having earned 17.5 national points. While he remained No. 2 in Canada, he edged within 51.84 points of No. 1 Tetz who did not compete in Bowden due to a conflicting PBR Teams event in Austin, Texas, where he was tapped to ride for the Arizona Ridge Riders.
Should Coverchuk continue his upwards momentum and be crowned the 2023 PBR Canada Champion, he would tie Aaron Roy (Yellow Grass, Saskatchewan) for most national titles won by one rider with three.
Fourth was Chad Hartman (Lancer, Saskatchewan).
Hartman rode Wild Feathers (Eno Bucking Bulls) for 87 points in Round 2 to earn 13 national points. The Saskatchewan man rose three positions in the standings from No. 11 to No. 8. He is 273.67 points behind the top spot.
Rounding out the Top 5 in fifth was Micheal Ostashek (Edson, Alberta).
After riding Smooth Kitty (Flying High Rodeo Co.) for 80 points in the opening round, Ostashek was unable to convert in the final round, tossed by Look At This Dude (Two Bit Bucking Bulls) in 2.91 seconds.
Ostashek left Bowden having earned 6 national points.
In the bull pen, Crazy Little Thing (Two Bit Bucking Bulls) bucked supreme, crowned the Bull of the Event. Bucking in Round 2, the powerful animal athlete was marked an event-best 44 points for his 4.65 seconds of work against Callum Miller (Warwick, Queensland, Australia).
The 2023 PBR Canada season continues Sunday, September 3 in Armstrong, British Columbia, for the Touring Pro Division's Interior Provincial Exhibition & Stampede. Action at the Interior Provincial Exhibition Association begins at 8:00 p.m. PDT.  
Stay tuned in to PBRCanada.com and follow the tour on Facebook (PBR Canada), Twitter (@PBRCanada), and Instagram (@PBRCanada) for the latest results, news, stats and more.
PBR Canada Touring Pro Division
Les Supernant Memorial Bull Bash
Bowden Ag Grounds – Bowden, Alberta
Event Leaders (Round 1-Round 2-Event Aggregate-Event Points)
1. Coy Robbins [2], 85.5-88-173.50-37.5 Points.
2. Wyatt Gleeson, 0-89-89.00-20 Points.
3. Cody Coverchuk, 0-88-88.00-17.5 Points.
4. Chad Hartman, 0-87-87.00-13 Points.
5. Micheal Ostashek, 80-0-80.00-6 Points.
Coy Robbins [1], 0-0-0.00
Dakota Buttar, 0-0-0.00
Aaron Roy, 0-0-0.00
Ashton Sahli, 0-0-0.00
Stefan Tonita, 0-0-0.00
Weston Davidson, 0-0-0.00
Cody Fraser [1], 0-0-0.00
Cody Fraser [2], 0-0-0.00
Cauy Schmidt, 0-0-0.00
Callum Miller, 0-0-0.00