Ashton Sahli Sweeps the Competition in Stavely, Alberta, to Win the Coveted PBR Canada Glen Keeley Memorial Bull Riding
By: Kacie Albert Saturday, August 19, 2023 @ 11:30 PM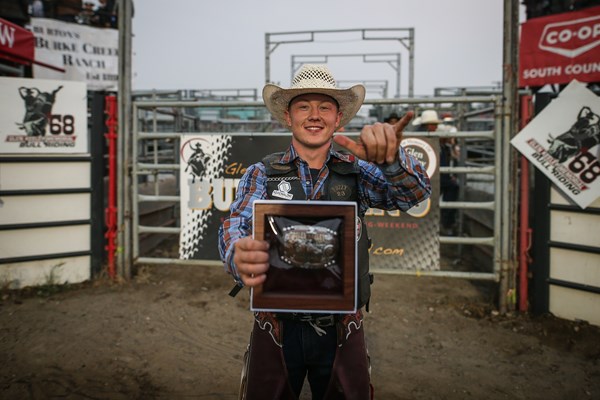 STAVELY, Alta. – Sweeping both rounds of competition Saturday night in Stavely, Alberta, Ashton Sahli (Red Deer, Alberta) was unrivaled at the PBR (Professional Bull Riders) Canada Touring Pro Division event, winning the coveted Glen Keeley Memorial Bull Riding, cracking the Top 10 in the race for the 2023 national title.
Sahli got off to a hot start in Round 1, surging to the top of the event leaderboard when he outlasted Times A Tickin (Thompson Rodeo Livestock) for what would remain and event-best 88.5 points.
As the last man to leave the chutes at Stavely Outdoor Arena, Sahli next readied to climb atop Alberta Prime Fallin Angel (Chase Kesler Bucking Bulls). In a perfect pairing, Sahli remained in perfect time with the powerful animal athlete, matching him jump-for-jump en route to the 8-second whistle.
Marked a round-best 88 points, Sahli clinched the event win and an accompanying 62 national points. He rose from No. 12 to No. 8 in the national standings, inching within 277 points of the No. 1-ranked rider.
Reigning PBR Canada Champion Nick Tetz (Calgary, Alberta) finished both second and fourth at the Glend Keeley Memorial Bull Riding to solidify his grasp on the No. 1 rank in Canada.
Tetz' silver showing included an 86.5-point ride atop Allemand Left (Wilson Rodeo) in Round 1, followed by an 87.5-point effort aboard Time Marches On (Thompson Rodeo Livestock) in the championship round.
Also going 2-for-2 to finish fourth, Tetz conquered Time Well Spent (Thompson Rodeo Livestock) for 84 points in the opening round, and then went the distance on High Voltage (Wilson Rodeo) for 85.5 points in the final round.
Collecting a combined 75 national points, Tetz extended his lead to 69.34 points ahead of No. 2 Cody Coverchuk (Meadow Lake, Saskatchewan).
Should Tetz continue his dominance atop the standings and be crowned the 2023 PBR Canada Champion he would become the first-ever back-to-back title holder in history. He would also become just the fourth multi-time Champion, joining the likes of three-time Champion Aaron Roy (Yellow Grass, Saskatchewan) and two-time winners Zane Lambert (Ponoka, Alberta) and Coverchuk.
Coverchuk also logged two Top 10 finishes in Stavely, earning a combined 40.5 points to remain No. 2 in Canada.
The two-time PBR Canada Champion locked up the fifth-place finish by going 2-for-2. He began the event with a qualified ride after reaching the requisite 8 atop Run It Up (Eno Bucking Bulls/Gaume Farms) for 84 points. He then remained perfect at the Stavely Outdoor Arena when he topped Perlich Bros Captain Jack (Chase Kesler Bucking Bulls) for 85 points.
The Saskatchewan's man sixth-place result was headlined by am 83.5-point ride atop Original Prankster (Vold Rodeo) in the opening round. He fell short of his fourth qualified ride in as many attempts when he was brought down by Scootin To Hell (Midnight Bucking Bulls) in a close 6.47 seconds in the final round.
With just a few months remaining in the season, Coverchuk now trails No.1 Tetz by 69.34 points.
Returning to the top of the leaderboard, Jake Gardner (Fort St. John, British Columbia) rounded out the Top 5 by finishing third.
In Round 1, Gardner rode Late Night Host (Kesler Rodeo) for 83 points. Positioned sixth on the event leaderboard entering the final round, Gardner then squared off against Airplane Mode (Outlaw Buckers Rodeo Corp.). Again making the 8, Gardner was awarded 87.5 points.
Netting 31.5 national points, Gardner climbed from No. 19 to No. 16 in Canada.
In the bull pen, Blue Magic (Outlaw Buckers Rodeo Corp.) was crowned the Bull of the Event. The powerful animal athlete delivered a tour stop-best 45-point score in the championship round when he bucked off Brock Radford (De Winton, Alberta) in 6.06 seconds.
The 2023 PBR Canada season continues Friday, August 25 in Bowden, Alberta, for the Touring Pro Division's Les Supernant Memorial Bull Bash. Action at the Bowden Ag Grounds begins at 7:00 p.m. MDT.  
Stay tuned in to PBRCanada.com and follow the tour on Facebook (PBR Canada), Twitter (@PBRCanada), and Instagram (@PBRCanada) for the latest results, news, stats and more.
PBR Canada Touring Pro Division
Glen Keeley Memorial Bull Riding
Stavely Outdoor Arena – Stavely, Alberta
Event Leaders (Round 1-Round 2-Event Aggregate-Event Points)
1. Ashton Sahli, 88.5-88-176.50-62 Points.
2. Nick Tetz [1], 86.5-87.5-174.00-45.5 Points.
3. Jake Gardner [1], 83-87.5-170.50-31.5 Points.
4. Nick Tetz [2], 84-85.5-169.50-29.5 Points.
5. Cody Coverchuk [1], 84-85-169.00-26.5 Points.
6. Cody Coverchuk [2], 83.5-0-83.50-14 Points.
7. Micheal Ostashek, 82-0-82.00-12 Points.
8. Brock Radford, 81-0-81.00-11 Points.
9. Tyson Salmon, 79-0-79.00-9 Points.
Dakota Buttar, 0-0-0.00
Coy Robbins, 0-0-0.00
Aaron Roy, 0-0-0.00
Tyler Craig, 0-0-0.00
Wyatt Gleeson [1], 0-0-0.00
Wyatt Gleeson [2], 0-0-0.00
Stefan Tonita, 0-0-0.00
Chad Hartman [1], 0-0-0.00
Chad Hartman [2], 0-0-0.00
Weston Davidson, 0-0-0.00
Jake Gardner [2], 0-0-0.00
Cole Brewer, 0-0-0.00
Cody Fraser [1], 0-0-0.00
Cody Fraser [2], 0-0-0.00
Fabian Dueck, 0-0-0.00
Cauy Schmidt, 0-0-0.00
Callum Miller, 0-0-0.00
Tanner Skene, 0-0-0.00
Keaton Martz, 0-0-0.00