Flawless Lonnie West Wins PBR Canada Cup Series Event in Saskatoon, Saskatchewan, to Vault to No. 7 in Heated National Championship Race
By: Kacie Albert Saturday, October 29, 2022 @ 11:36 PM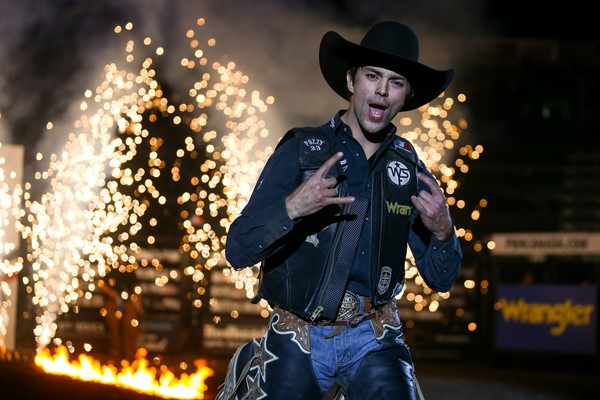 SASKATOON, Sask. – At the final regular-season PBR (Professional Bull Riders) Canada Cup Series, presented by Wrangler, event of 2022 in Saskatoon, Saskatchewan, there was no rider more dominant than Lonnie West (Cadogan, Alberta). Delivering a perfect 3-for-3 effort inside SaskTel Centre, West won the Saskatoon Classic, presented by Redhead Equipment and CASE IH, surging to No. 7 in the heated 2022 PBR Canada Championship race.
West first put points on the board in Round 1, conquering Time Marches On (Thompson Rodeo Livestock) for 84 points.
Positioned second on the event leaderboard, the charismatic Albertan drafted Look At This Dude (Two Bit Bucking Bulls) as his Round 2 opponent.
Remaining in time with the powerful animal athlete, West reached the requisite 8 for 85.5 points to punch his ticket to the championship round.
The 26-year-old then elected to climb aboard Phantom Fury (Wild Hoggs Bucking Bulls) as his final matchup in Saskatoon. A decision which proved dividends, West logged the high-marked ride of the event, scored 89.5 points to clinch the event victory.
For his efforts, West collected a crucial 90.5 Canadian points. He rose from No. 9 to No. 7 in the national standings, now within 101.5 points of the No. 1 rank.
When the dust settled inside SaskTel Centre a new man stood atop the standings in the battle for the 2022 PBR Canada Championship. Dakota Buttar (Eatonia, Saskatchewan) also went 3-for-3 to finish second and leap-frog Nick Tetz (Calgary, Alberta) for the No. 1 rank in Canada.
Should Buttar earn this season's national championship, he would become just the fourth multi-time title holder in Canadian history, first earning the year-end honor in 2020.  
The reserved Saskatchewan man was sensational in the opening round of action, winning Round 1 via his 85-point score atop Time Well Spent (Thompson Rodeo Livestock).
Buttar maintained his lead in Round 2 when he went the distance atop Crossfire's Black Jack (Lazy S Bucking Bulls) for 86 points.
Chasing his first Cup Series victory of 2022 Buttar architected a rematch with Finning Lil Shorty (Flying Four Bucking Bulls) in the championship round. Having met four times prior, Buttar clinched the 2020 PBR Canada Championship atop the bull in Grande Prairie via an 88-point score.
Replicating his past success, Buttar reached the whistle for 87 points to conclude the tour stop second.
The silver showing garnered Buttar a much-needed 84.5 national points. He surged from No. 5 to No. 1 in Canada.
Tetz was unable to remain No. 1 in Canada despite earning 4 national points for his eighth-place finish at the PBR Saskatoon Classic.
Going 1-for-3, Tetz covered Party Shocker (Wild Hoggs/Trevor Williams) for 84 points in Round 2.
Competing for just the third time on Canadian soil, three-time PBR World Champion Silvano Alves (Pilar do Sul, Brazil) finished third.
After bucking off Broken Halo (Skori Bucking Bulls) in a swift 1.53 seconds in Round 1, the Nashville Stampede rider returned determined on Championship Saturday.
Drafting Heavy On The Grind (Vold Rodeo) in Round 2, Alves burst from the chutes, besting the bovine athlete for 87 points as the crowd erupted in raucous cheer.
The score propelled Alves to fifth on the event leaderboard, giving him the chance to select Unkle Kranky (Vold Rodeo) in the final round. A renewed rivalry, Alves was upended by the bull in 4.04 seconds during the premier series event in Billings, Montana in April 2022.
Alves, however, reversed his fortunes Saturday night in Saskatchewan, covering Unkle Kranky for 85.5 points to clinch the podium finish.
Garnering 61 national points, Alves catapulted from unranked to No. 22 in the PBR Canada national standings, now on the verge of qualifying for his first PBR Canada National Finals this November.
Fourth was three-time PBR Canada Champion Aaron Roy (Yellow Grass, Saskatchewan), netting 37.5 national points.
Roy was perfect in the opening rounds of action, riding Master of Puppets (Eno Bucking Bulls) for 79.5 points in Round 1, and Tombstone (Wild Hoggs Bucking Bulls) for 85.5 points in Round 2.
The home province hopeful, however, was no match for Sure Shot (Skori Bucking Bulls) sent airborne in 2.61 seconds in the final round.
Roy rose one position in the national standings from No. 7 to No. 6 as he chases his unprecedented fourth national title. He trails No. 1 Buttar by 81 points.
Rounding out the Top 5 in fifth was Chad Hartman (Lancer, Saskatchewan).
Hartman's Round 2-winning, 88-point score on Wild Time (Vold Rodeo) earned him 35 national points.
In the bull pen, Built Tough (Thompson Rodeo Livestock) was crowned the YETI "Built for the Wild" Bull of the Event. Bucking in the tour stop's accompanying 5/5 Bucking Battle Friday night, Built Tough was scored 44.5 points for his 4.94-second buckoff of Roy.
Following a one-week break, the 2022 PBR Canada season will conclude in Edmonton, Alberta for the PBR Canada National Finals, presented by Command Tubular Products, when the 2022 PBR Canada Champion will be crowned, earning the accompanying $50,000 bonus.
Action for the year-end event inside Rogers Place will get underway at 7:00 p.m. MT on Friday, November 11 and Saturday, November 12.
Stay tuned in to PBRCanada.com and follow the tour on Facebook (PBR Canada), Twitter (@PBRCanada), and Instagram (@PBRCanada) for the latest results, news, stats and more.
PBR Canada Cup Series, presented by Wrangler
PBR Saskatoon Classic, presented by Redhead Equipment and CASE IH
SaskTel Centre – Saskatoon, Saskatchewan
(Round 1-Round 2-Round 3-Event Aggregate-Event Points)
1. Lonnie West, 84-85.5-89.5-259.00-90.5 Points.
2. Dakota Buttar, 85-86-87-258.00-84.5 Points.
3. Silvano Alves, 0-87-85.5-172.50-61 Points.
4. Aaron Roy, 79.5-85.5-0-165.00-37.5 Points.
5. Chad Hartman, 0-88-0-88.00-35 Points.
6. Tyler Craig, 0-86-0-86.00-17.5 Points.
7. Blake Smith, 0-85-0-85.00-7 Points.
8. Nick Tetz, 0-84-0-84.00-4 Points.
9. Jake Maher, 0-83.5-0-83.50-1.5 Points.
(tie). Gage Gay, 0-83.5-0-83.50-1.5 Points.
11. Brock Radford, 0-83-0-83.00
(tie). Cauy Schmidt, 83-0-0-83.00-9 Points.
13. Tim Lipsett, 82-0-0-82.00-6 Points.
14. Griffin Smeltzer, 0-81.5-0-81.50
Coy Robbins, 0-0-0-0.00
Cody Coverchuk, 0-0-0-0.00
Jake Gardner, 0-0-0-0.00
Callum Miller, 0-0-0-0.00
Micheal Ostashek, 0-0-0-0.00
Ashton Sahli, 0-0-0-0.00
Weston Davidson, 0-0-0-0.00
Landon Schmidt, 0-0-0-0.00
Stefan Tonita, 0-0-0-0.00
Weston Hartman, 0-0-0-0.00
Osman Alvarez, 0-0-0-0.00
Cole Wagner, 0-0-0-0.00
Keaton Martz, 0-0-0-0.00
2022 PBR Canada National Standings
(Place, Rider, Events, Wins, Top 5's, Points, Total Winnings)
1. Dakota Buttar, 30, 4, 15, 380.00, $45,631.90
2. Nick Tetz, 28, 5, 10, 359.00, $46,743.61
3. Logan Biever, 37, 4, 16, 352.50, $46,064.95
4. Brock Radford, 29, 3, 13, 315.00, $39,694.78
5. Blake Smith, 25, 4, 10, 300.83, $30,856.78
6. Aaron Roy, 35, 1, 15, 299.00, $34,905.02
7. Lonnie West, 17, 2, 6, 278.50, $23,226.18
8. Coy Robbins, 21, 4, 10, 262.00, $33,525.50
9. Cody Coverchuk, 29, 1, 12, 261.00, $28,673.21
10. Jake Gardner, 12, 1, 2, 148.00, $12,068.01
11. Cauy Schmidt, 24, 1, 8, 131.66, $15,532.45
12. Jared Parsonage, 9, 0, 4, 130.33, $13,038.53
13. Chad Hartman, 33, 0, 5, 116.50, $9,306.60
14. Callum Miller, 16, 2, 4, 112.00, $13,454.22
14. Daylon Swearingen, 6, 2, 3, 112.00, $15,976.88
16. Zane Lambert, 13, 0, 5, 105.50, $13,121.43
17. Micheal Ostashek, 19, 1, 7, 104.33, $14,958.44
18. Dawson Shannon, 15, 0, 2, 90.50, $6,582.00
19. Griffin Smeltzer, 12, 1, 5, 87.66, $12,633.39
20. Ashton Sahli, 23, 1, 5, 80.50, $17,089.00
21. Garrett Green, 16, 0, 7, 68.50, $9,274.23
22. Silvano Alves, 1, 0, 1, 61.00, $3,958.33
23. Tyler Craig, 20, 1, 2, 54.00, $6,742.45
24. Todd Chotowetz, 12, 0, 1, 47.66, $4,367.89
25. Weston Davidson, 19, 1, 2, 41.50, $5,183.94
26. Dusty Golden, 2, 1, 2, 36.00, $4,507.79
27. Wyatt Gleeson, 5, 1, 2, 34.00, $4,173.26
28. Marcos Gloria, 10, 1, 1, 30.00, $3,927.54
29. Dakota Louis, 2, 1, 1, 27.50, $6,291.28
30. Tim Lipsett, 7, 1, 1, 21.00, $3,000.00
31. Landon Schmidt, 11, 0, 1, 17.00, $2,442.69
32. Stefan Tonita, 19, 0, 1, 15.00, $2,241.30
33. Jordan Hansen, 5, 0, 1, 11.00, $2,206.69
34. Tyson Thue, 4, 0, 2, 8.00, $1,205.94
34. Tristan O'Neal, 1, 0, 0, 8.00, $420.00
36. Jake Maher, 22, 0, 1, 7.50, $945.74
37. Karson Turel, 3, 0, 1, 6.50, $982.81
38. Keyshawn Whitehorse, 3, 0, 1, 6.00, $1,901.79
39. Fabian Dueck, 4, 0, 1, 5.50, $701.76
40. Tanner Eno, 7, 0, 0, 1.50, $215.65
40. Nicholas Giles, 3, 0, 0, 1.50, $260.31
40. Gage Gay, 1, 0, 0, 1.50, $0.00