Nick Tetz Crowned 2022 PBR Canada Champion
By: Kacie Albert Saturday, November 12, 2022 @ 11:50 PM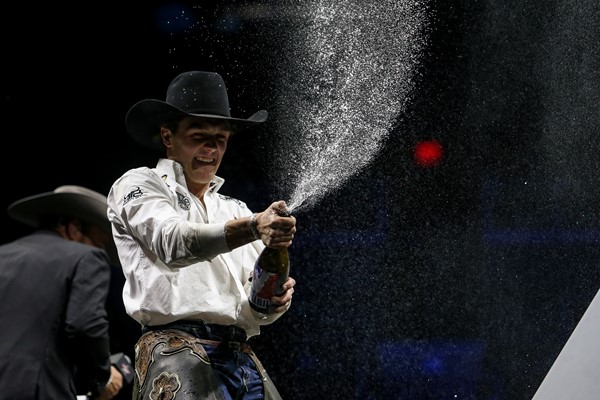 EDMONTON, Alta. – Concluding what was the fiercest title race in PBR (Professional Bull Riders) Canada history, coming down to the final outs of the year, Nick Tetz (Calgary, Alberta) delivered a come-from-behind push at the PBR Canada National Finals, presented by Command Tubular Products, in Edmonton, Alberta, to be crowned the 2022 PBR Canada Champion and earn the accompanying $50,000 bonus.
Tetz began the fourth PBR Canada National Finals of his career ranked No. 2 in the nation, 21 points behind then No. 1 Dakota Buttar (Eatonia, Saskatchewan)
When the action got underway inside Rogers Place, Tetz stumbled in Round 1, bucked off by Look Alive (Flying Four Bucking Bulls) in 5.19 seconds.
The young Albertan, however, was quick to rebound. Drafting a rematch with Langham Kid (Two Bit Bucking Bulls), Tetz won Round 2 when he was a near picture of perfection atop the powerful animal athlete, marked a commanding 88 points.
When the dust settled following the first two rounds, Tetz netted 20 national points to hone within 13.5 points of No. 1 Buttar.`
Buttar was able to maintain his position atop the rankings with his own 1-for-2 effort Friday evening.
The 2020 PBR Canada Champion was bested in Round 1, dispatched by Funkadelic (CS Bucking Bulls) in 4.3 seconds, but in Round 2 went the distance atop Time Well Spent (Thompson Rodeo Livestock) for 87 points to collect 12.5 national points.
However, it wasn't only a two-man race.
Then No. 4 Brock Radford (De Winton, Alberta) and No. 9 Coy Robbins (Camrose, Alberta) were flawless through the opening rounds to add further intensity to the race.
Radford concluded Rounds 1-2 as the event leader at the 2022 PBR Canada National Finals, climbing within 45 points of the No. 1 rank. He covered Irish Rebel (Wilson Rodeo) for a Round 1-best 88 points, and re-ride draw Deep Creek (Vold Rodeo) for 87 points.
Robbins kept his title hopes alive ahead of the final day of the season, riding Time's A Wasting (Thompson Rodeo Livestock) for 84.5 points in Round 1, and Out of The Blue (Vold Rodeo/Wyatt Bridge) for 84 points in Round 2. The two 8-second efforts garnered him 15 national points to close within 115.5 national points of the No. 1 rank.
As the competition continued with Round 3 on Championship Saturday, six men remained in contention for the 2022 PBR Canada Championship, including dark horses Blake Smith (Abbey, Saskatchewan) and Cody Coverchuk (Meadow Lake, Saskatchewan), ranked No. 6 and No. 7, respectively,
As No. 1 Buttar, No. 2 Tetz and No. 4 Radford all bucked off in Round 3, the pressure at the top grew as Smith, Coverchuk and Robbins all posted scores.
For Smith, he punched his ticket to the Championship Round compliments of an 86-point ride atop Eski Time (Wild Hoggs/Colin Eskeland) which netted him 7 national points. Coverchuk kept his dreams of consecutive titles intact when he bested Up Shift (Vold Rodeo) for 81 points to net 2 national points. Rounding out the trio, Robbins delivered his third ride in as many attempts inside Rogers Place when he conquered Jojo's Mojo (Lazy P Rodeo) for 86 points.
It all then came down to the championship round.
Up first, Smith was eliminated from the race when he bucked off Diamond Show (Vold Rodeo) in 5.61 seconds.
Buttar then had his chance at a second national championship dissipate when he was sent airborne by Langham Kid in a swift 2.65 seconds.
As the fourth man out in the final round, Tetz was in a must-ride position atop Brand New Guitar (Wild Hoggs Bucking Bulls).
Staying in perfect time with the animal athlete, Tetz reached the whistle as the electric crowd inside the home of the NHL's Edmonton Oilers erupted in raucous cheer. Marked 88 points, Tetz returned to the chutes in anticipation as three of the contenders had yet to ride.
While Coverchuk was awarded a re-ride atop his initial draw Happy Camper (Two Bit Bucking Bulls), he inevitably came down early aboard his new opponent Unkle Kranky (Vold Rodeo) in 2.8 seconds to conclude his season.
With just six outs remaining in the season, it was down to Tetz and the yet to ride Radford and Robbins.
Rebounding from a heart-breaking 6.02-second buckoff in Round 3, Radford covered Vertigo Spy (Vold Rodeo) for 83.5 points to conclude his season with a qualified ride.
Robbins then dominated Finning Lil Shorty (Flying Four Bucking Bulls) for 88 points to complete his perfect 4-for-4 sweep of the 2022 PBR Canada National Finals.
After the last bull bucked, Tetz' 3-for-4 outing left him fifth overall on the event leaderboard, earning him 71 national points, enough to hold off his fellow competitors and leap-frog regular-season No. 1 Buttar for the title of 2022 PBR Canada Champion. In addition to earning the year-end title, he was awarded a check for $60,875.
Tetz finished 26.5 points ahead of No. 2 Radford.
Radford's 3-for-4 showing at the final event of the season positioned him fourth on the event leaderboard, with the collective 88.5 national points he earned not enough to clinch him his first national title.
The reserved Albertan, who earned $14,843.75 in Edmonton, has now finished runner-up to the PBR Canada Championship three times in his career.
Buttar, who went just 1-for-4 in Edmonton to conclude the event 10th, finished the 2022 season No. 3 in Canada, 35.5 points back of No. 1 Tetz.
As one of three riders to go a perfect 4-for-4, Robbins' runner-up finish at the 2022 PBR Canada National Finals, which garnered him 113 national points and $26,171.88, allowed him to conclude the season a career-best No. 4 in the national standings. He was 55 points back of the No. 1 position.
At the 2022 PBR Canada National Finals, presented by Command Tubular Products, there was no rider more dominant than Jared Parsonage (Maple Creek, Saskatchewan).
Parsonage first put points on the board in the opening rounds riding Slingin Stones (Flying High Rodeo Co.) for 84.5 points in Round 1 and Jayded (Vold Rodeo) for 82.5 points in Round 2.
The 29-year-old, however, reached a new level of excellence on Championship Saturday.
He surged to the top of the event leaderboard when he won Round 3 via an 88.5-point ride on Hard Not To Get (Vold Rodeo).
With the first pick in the championship round bull draft, Parsonage elected to go head-to-head with Al Capone (Wild Hoggs/Sure Fire). In a decision which proved dividends, Parsonage logged the high-marked ride of the event, scored 89 points to clinch the PBR Canada National Finals event win.
The golden finish earned him 152 national points, propelling him from No. 12 to No. 9 in the national standings, while also earning him $39,531.25.
Cauy Schmidt (Coronation, Alberta) was crowned the 2022 PBR Canada Rookie of the Year. In addition to winning his career-first event in front of a hometown crowd at the Touring Pro Division stop in Coronation, he logged an accompanying seven Top 5 finishes. Schmidt concluded his first season in PBR Canada competition No. 14 in the national standings.
Phantom Fury (Wild Hoggs Bucking Bulls) was crowned both the Canadian Global Bull of the Year and YETI "Built For the Wild" Bull of the Canadian Finals.
Phantom Fury capped the season with a 44.5-point average, finishing 0.25 points ahead of runner-up bovine athlete Langham Kid (Two Bit Bucking Bulls).
The powerful animal athlete clinched the title when he delivered the high-marked out of the National Finals, awarded 45 points in the championship round when he tossed Chad Hartman (Lancer, Saskatchewan) in 6.23 seconds.
Nansen Vold was crowned the 2022 PBR Canada Stock Contractor of the Year for an unprecedented 9th time, including the past seven consecutive seasons. 
For the second straight year, the Czar Lake Bullarama in Czar Lake, Alberta, was vote the PBR Canada Event of the Year.
Griffin Smeltzer (Claresholm, Alberta) was awarded the Glen Keeley Award for the first time in his young career. This award goes to the Canadian bull rider earning the most world points during the season.
Fans can relive all the action from the 2022 PBR Canada National Finals, presented by Command Tubular Products, on TSN. For a complete broadcast schedule, visit PBRCanada.com/tsn-schedule.
Stay tuned in to PBRCanada.com and follow the tour on Facebook (PBR Canada), Twitter (@PBRCanada), and Instagram (@PBRCanada) for the latest results, news, stats and more.
PBR Canada Cup Series, presented by Wrangler
PBR Canada National Finals, presented by Command Tubular Products
Rogers Place – Edmonton, Alberta
(Round 1-Round 2-Round 3-Round 4-Event Aggregate-Event Points)
1. Jared Parsonage, 84.5-82.5-88.5-89-344.50-152 Points.
2. Coy Robbins, 84.5-84-86-88-342.50-113 Points.
3. Garrett Green, 73-84-86-88-331.00-87 Points.
4. Brock Radford, 88-87-0-83.5-258.50-88.5 Points.
5. Nick Tetz, 0-88-0-88-176.00-71 Points.
6. Jake Gardner, 0-81-86-0-167.00-37 Points.
7. Callum Miller, 0-81.5-85-0-166.50-25 Points.
8. Cody Coverchuk, 0-84-81-0-165.00-18 Points.
9. Chad Hartman, 83-0-79-0-162.00-11 Points.
10. Dakota Buttar, 0-87-0-0-87.00-14.5 Points.
11. Braith Nock, 0-0-86.5-0-86.50-15 Points.
12. Blake Smith, 0-0-86-0-86.00-7 Points.
13. Zane Lambert, 85.5-0-0-0-85.50-15 Points.
14. Tyler Craig, 81-0-0-0-81.00-4 Points.
15. Silvano Alves, 0-77.5-0-0-77.50
Aaron Roy, 0-0-0-0-0.00
Lonnie West, 0-0-0-0-0.00
Dawson Shannon, 0-0-0-0-0.00
Griffin Smeltzer, 0-0-0-0-0.00
Weston Davidson, 0-0-0-0-0.00
Jake Curr, 0-0-0-0-0.00
2022 PBR Canada National Standings
(Place, Rider, Events, Wins, Top 5's, Points, Total Winnings)
1. Nick Tetz, 29, 5, 11, 430.00, $107,618.61
2. Brock Radford, 30, 3, 14, 403.50, $54,538.53
3. Dakota Buttar, 31, 4, 15, 394.50, $47,975.65
4. Coy Robbins, 22, 4, 11, 375.00, $59,697.38
5. Logan Biever, 37, 4, 16, 352.50, $46,064.95
6. Blake Smith, 26, 4, 10, 307.83, $31,559.91
7. Aaron Roy, 37, 1, 16, 302.00, $35,772.02
8. Cody Coverchuk, 31, 2, 13, 297.00, $35,793.21
9. Jared Parsonage, 10, 1, 5, 282.33, $52,569.78
10. Lonnie West, 18, 2, 6, 278.50, $23,226.18
11. Jake Gardner, 13, 1, 2, 185.00, $16,271.14
12. Garrett Green, 17, 0, 8, 155.50, $25,289.85
13. Callum Miller, 17, 2, 4, 137.00, $16,079.22
14. Cauy Schmidt, 24, 1, 8, 131.66, $15,532.45
15. Chad Hartman, 35, 0, 5, 127.50, $9,306.60
16. Zane Lambert, 14, 0, 5, 120.50, $15,933.93
17. Daylon Swearingen, 6, 2, 3, 112.00, $15,976.88
18. Micheal Ostashek, 19, 1, 7, 104.33, $14,958.44
19. Dawson Shannon, 16, 0, 2, 90.50, $6,582.00
20. Griffin Smeltzer, 13, 1, 5, 87.66, $12,633.39
21. Ashton Sahli, 23, 1, 5, 80.50, $17,089.00
22. Tyler Craig, 22, 1, 3, 66.00, $8,909.95
23. Silvano Alves, 2, 0, 1, 61.00, $3,958.33
24. Todd Chotowetz, 12, 0, 1, 47.66, $4,367.89
25. Weston Davidson, 21, 1, 2, 41.50, $5,183.94
26. Dusty Golden, 2, 1, 2, 36.00, $4,507.79
27. Wyatt Gleeson, 5, 1, 2, 34.00, $4,173.26
28. Marcos Gloria, 10, 1, 1, 30.00, $3,927.54
29. Dakota Louis, 2, 1, 1, 27.50, $6,291.28
30. Tim Lipsett, 8, 1, 1, 21.00, $3,000.00
31. Landon Schmidt, 11, 0, 1, 17.00, $2,442.69
32. Stefan Tonita, 20, 0, 1, 15.00, $2,530.30
32. Braith Nock, 1, 0, 0, 15.00, $2,812.50
34. Jordan Hansen, 5, 0, 1, 11.00, $2,206.69
35. William Barrows, 2, 0, 1, 10.00, $3,612.50
36. Jake Maher, 23, 0, 1, 8.50, $1,379.24
37. Tyson Thue, 4, 0, 2, 8.00, $1,205.94
37. Tristan O'Neal, 1, 0, 0, 8.00, $420.00
39. Karson Turel, 4, 0, 1, 6.50, $982.81
40. Keyshawn Whitehorse, 3, 0, 1, 6.00, $1,901.79
41. Fabian Dueck, 4, 0, 1, 5.50, $701.76
42. Keaton Martz, 7, 0, 1, 4.00, $1,445.00
43. Reed Duncan, 3, 0, 0, 2.00, $578.00
44. Tanner Eno, 7, 0, 0, 1.50, $215.65
44. Nicholas Giles, 3, 0, 0, 1.50, $260.31
44. Gage Gay, 1, 0, 0, 1.50, $0.00