Cole Wagner Wins Career-First PBR Event at Canadian Touring Pro Division's Border City PBR in Lloydminster, Saskatchewan
By: Kacie Albert Tuesday, November 29, 2022 @ 9:05 AM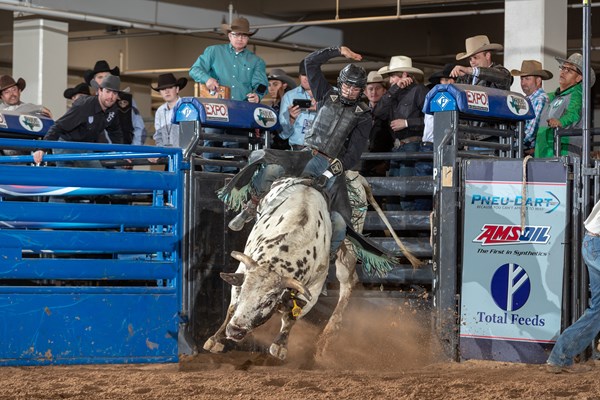 LLOYDMINSTER, Sask. – Cole Wagner (Valier, Montana) reached a crucial career milestone Saturday evening at the PBR (Professional Bull Riders) Canada Touring Pro Division event in Lloydminster, Saskatchewan. Going a perfect 2-for-2 at the Lloydminster Exhibition Grounds, Wagner won his career-first PBR event, victorious at the Border City PBR, presented by Scorpion Oilfield.
Marking his second event of the 2023 season, Wagner first squared off with Five Three Oh Nine (CS Bucking Bulls) in Round 1. Matching the bull jump-for-jump, the Montana man reached the whistle for a crucial 83 points.
Wagner then readied for his Round 2 draw tied for second on the event leaderboard.
Logging his second score in as many attempts, Wagner clinched the event win when he covered Without Warning (Thompson Rodeo Livestock) for a matching 83 points in the final round.
Compliments of the golden finish, Wagner rose to No. 3 in the national standings, inching within 11.5 points of the No. 1 rank.
Griffin Smeltzer (Claresholm, Alberta) remained No. 1 in the early race to be crowned the 2023 PBR Canada Champion courtesy of his seventh-place finish at the Border City PBR.
Going 1-for-2, Smeltzer rode Hawkeye (Skori Bucking Bulls) for 82.5 points in Round 1 to earn 10 national points.
The reigning Glen Keeley Award winner and Austin Gamblers rider now leads No. 2 Weston Davidson (Strongfield, Saskatchewan) by 4.5 points.
Davidson halved Smeltzer's after tying for fourth and earning 15.5 national points.
The home province rider was unmatched in Round 1 delivering the top score when he outlasted Smart Doney (Wild Hoggs Bucking Bulls) for 84 points.
Davidson, however, was unable to remain atop the leaderboard when he was tossed by Electric Guitar (Thompson Rodeo Livestock) in a quick 3.27 seconds.
Second was surging Aussie Jake Maher (Brisbane, Queensland, Australia).
Delivering a perfect outing in Lloydminster, Maher rode Cotton Mouth (Skori Bucking Bulls) for 82.75 points in Round 1, and True Grit (Skori Bucking Bulls) for 81 points in Round 2.
Maher collected 27 national points. He climbed to No. 4 in the national standings as he attempts to become the first Australian PBR Canada Champion in history. He trails the top spot by 21 points.
Three-time PBR Canada Champion Aaron Roy (Yellow Grass, Saskatchewan) was third, netting 23 national points.
Chasing his unprecedented fourth national title, Roy rode Pickle Rick (CS Bucking Bulls) for 79 points in Round 1 and Later Gator (Wild Hoggs/Colin Eskeland) for 78.5 points in Round 2.The stoic veteran is now tied for the No. 8 rank in the national standings. He is 25 points back of No. 1 Smeltzer.
Rounding out the Top 5, and tying for fourth with Davidson, was Kobe Whitford (Cut Bank, Montan).
Whitford rode Party Shocker (Wild Hoggs/Trevor Williams) for a Round 2 best 84 points to garner 15.5 national points.
In the bull pen, Smart As A Rock (Wild Hoggs Bucking Bulls) was crowned the Bull of the Event. The bovine athlete delivered the top score of the tour stop in Round 2, marked 44 points after upending Chad Neufeld (Rochester, Alberta) at the 2.41-second mark.
Stay tuned in to PBRCanada.com and follow the tour on Facebook (PBR Canada), Twitter (@PBRCanada), and Instagram (@PBRCanada) for the latest results, news, stats and more.
PBR Canada Touring Pro Division
Border City PBR, presented by Scorpion Oilfield
Lloydminster Exhibition Grounds – Lloydminster, Saskatchewan
Event Leaders (Round 1-Round 2-Event Aggregate-Event Points)
1. Cole Wagner, 83-83-166.00-36.5 Points.
2. Jake Maher [1], 82.75-81-163.75-27 Points.
3. Aaron Roy, 79-78.5-157.50-23 Points.
4. Weston Davidson, 84-0-84.00-15.5 Points.
(tie). Kobe Whitford, 0-84-84.00-15.5 Points.
6. Cody Coverchuk, 83-0-83.00-12.5 Points.
7. Griffin Smeltzer, 82.5-0-82.50-10 Points.
8. Stefan Tonita, 0-78.5-78.50-9 Points.
Jake Maher [2], 0-0-0.00
Carter Sahli, 0-0-0.00
Tyler Craig, 0-0-0.00
Landon Schmidt, 0-0-0.00
Osman Alvarez, 0-0-0.00
Tyson Salmon, 0-0-0.00
Cody Fraser, 0-0-0.00
Riley Sibbet, 0-0-0.00
Brahmer Gaehring, 0-0-0.00
Chad Neufeld, 0-0-0.00