Griffin Smeltzer Wins Clunie/Cooper Memorial PBR in Prince Albert, Saskatchewan
By: Kacie Albert Tuesday, May 31, 2022 @ 7:03 PM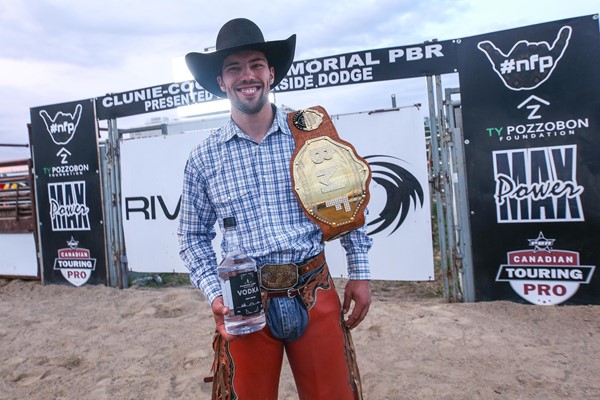 PRINCE ALBERT, Sask. – Compliments of a dominant effort on the second day of competition in Prince Albert, Saskatchewan, surging young gun Griffin Smeltzer (Claresholm, Alberta) won the Clunie/Cooper Memorial PBR, presented by Riverside Dodge, to surge to No. 2 in the race for the 2022 PBR Canada Championship and accompanying $50,000 bonus.
Just days after being signed to the Austin Gamblers via free agency, Smeltzer was electric as he made his 2022 season debut on home soil.
Smeltzer first converted in Round 1 when he covered James Bond (CS Bucking Bulls) for 76 points.
Positioned seventh on the event leaderboard entering the championship round, the 2022 Glen Keeley Award winner next readied to face Sure Shot (Skori Bucking Bulls).
In full control, Smeltzer matched the powerful athlete jump-for-jump en route to an event-best 87-point score, clinching the victory.
For his efforts, the Albertan sensation netted a critical 25 national points. Unranked prior to the event, Smeltzer surged to No. 2 in the national standings, now within a mere 5.5 points of No. 1 Coy Robbins (Camrose, Alberta).
Robbins also competed at the Clunie/Cooper Memorial PBR, presented by Riverside Dodge, finishing both seventh and eighth compliments of a double entry.
Registering both of his scores in Round 1 of the event, Robbins made the 8 atop Broken Trigger (Skori Bucking Bulls) for 82.5 points, and Spartacus (Wild Hoggs/Trevor Williams) for 80.5 points.
The 2017 PBR Canada Rookie of the Year left Prince Albert having earned a combined 4 national points.
Backed by a dominant showing on the first day of action at the Byrne Ranch, three-time PBR Canada Champion Aaron Roy (Yellow Grass, Saskatchewan) was second, netting 13 national points.
As the only other rider to go a perfect 2-for-2, Roy rode Toxic Traits (CS Bucking Bulls) for 78.5 points and Finning Nikki Sixx (Flying Four Bucking Bulls) for 70 points.
The veteran Canadian's silver showing elevated him three positions in the national standings from No. 8 to No. 5. He is now within a slim 9.5 points of No. 1 Robbins.
Third was Callum Miller (Warwick, Queensland).
Despite being bested by Free Fallin (Skori Bucking Bulls) in 4.62 seconds in Round 1, the Aussie contender returned determined in the final round, making the 8 atop Sure Shot for 86.5 points.
Miller earned 13 national points. He rose from unranked to No. 7 in the battle to be anointed the 2022 PBR Canada Champion.
The 27-year-old also finished 10th courtesy of his double entry, riding Look Alive (Flying Four Bucking Bulls) for 74.5 points.
Dakota Buttar (Kindersley, Saskatchewan) parlayed a Round 1 win into a fourth-place finish overall.
The 2020 PBR Canada Champion's 84-point score on Hanna Motors Rhythm & Blues (Skori Bucking Bulls) garnered him 11 national points.
Attempting to become the fourth multi-time PBR Canada Champion at season's end, Buttar is now tied for No. 12 in the national standings, 19.5 points behind the top position.
Rounding out the Top 5 in fifth was Garrett Green (Meeting Creek, Alberta).
Green, who did not compete in the final round after injuring his hand in the chutes in Round 1, rode Big Easy (Skori Bucking Bulls) for 83.5 points.
Despite not attempting his final bull, Green still collected 8 national points. He is now tied for the No. 8 rank in Canada, 18.5 points back of No. 1 Robbins.
In the bull pen, Ted (Wild Hoggs/Corey Chmelnyk) bucked supreme. Bucking in the championship round, Ted bested Smeltzer in his double-entry, sending him to the ground in a swift 1.94 seconds to earn an event-best 45-point bull score.  
The 2022 PBR Canada Season continues June 9-10 in Meadow Lake, Saskatchewan, for the Eagle Creek GM PBR Classic. Action at the Meadow Lake Stampede Grounds begins a 7:00 p.m. CST on both Thursday, June 9 and Friday, June 10.
Stay tuned in to PBRCanada.com and follow the tour on Facebook (PBR Canada), Twitter (@PBRCanada), and Instagram (@PBRCanada) for the latest results, news, stats and more.
PBR Canada Touring Pro Division
Clunie/Cooper Memorial PBR, presented by Riverside Dodge
Byrne Ranch – Prince Albert, Saskatchewan
(Round 1-Round 2-Event Aggregate-Event Points)
1. Griffin Smeltzer [2], 0-0-76-87-163.00-25 Points.
2. Aaron Roy [1], 0-0-78.5-70-148.50-13 Points.
3. Callum Miller [1], 0-0-0-86.5-86.50-13 Points.
4. Dakota Buttar [2], 0-0-84-0-84.00-11 Points.
5. Garrett Green, 0-0-83.5-0-83.50-8 Points.
6. Brock Radford [2], 0-0-83-0-83.00-5 Points.
7. Coy Robbins [2], 0-0-82.5-0-82.50-3 Points.
8. Coy Robbins [1], 0-0-80.5-0-80.50-1 Points.
9. Stefan Tonita [1], 0-0-75-0-75.00
10. Callum Miller [2], 0-0-74.5-0-74.50
Griffin Smeltzer [1], 0-0-0-0-0.00
Aaron Roy [2], 0-0-0-0-0.00
Nick Tetz [1], 0-0-0-0-0.00
Nick Tetz [2], 0-0-0-0-0.00
Cody Coverchuk [1], 0-0-0-0-0.00
Cody Coverchuk [2], 0-0-0-0-0.00
Zane Lambert [1], 0-0-0-0-0.00
Zane Lambert [2], 0-0-0-0-0.00
Logan Biever [1], 0-0-0-0-0.00
Logan Biever [2], 0-0-0-0-0.00
Dakota Buttar [1], 0-0-0-0-0.00
Brock Radford [1], 0-0-0-0-0.00
Mike Ostashek [1], 0-0-0-0-0.00
Mike Ostashek [2], 0-0-0-0-0.00
Ashton Sahli, 0-0-0-0-0.00
Tanner Eno, 0-0-0-0-0.00
Tim Lipsett, 0-0-0-0-0.00
Tyler Craig, 0-0-0-0-0.00
Chad Hartman [1], 0-0-0-0-0.00
Chad Hartman [2], 0-0-0-0-0.00
Dawson Shannon, 0-0-0-0-0.00
Weston Davidson [1], 0-0-0-0-0.00
Weston Davidson [2], 0-0-0-0-0.00
Nicholas Klinck, 0-0-0-0-0.00
Ethan Schultz, 0-0-0-0-0.00
Wade Marshall [1], 0-0-0-0-0.00
Wade Marshall [2], 0-0-0-0-0.00
Chance Switzer [1], 0-0-0-0-0.00
Chance Switzer [2], 0-0-0-0-0.00
Tyson Salmon, 0-0-0-0-0.00
Tanner Skene [1], 0-0-0-0-0.00
Tanner Skene [2], 0-0-0-0-0.00
Elijah Gordon [1], 0-0-0-0-0.00
Elijah Gordon [2], 0-0-0-0-0.00
Jett Lambert [1], 0-0-0-0-0.00
Jett Lambert [2], 0-0-0-0-0.00
Stefan Tonita [2], 0-0-0-0-0.00
Clay Gordon [1], 0-0-0-0-0.00
Clay Gordon [2], 0-0-0-0-0.00
Cole Hartman [1], 0-0-0-0-0.00
Cole Hartman [2], 0-0-0-0-0.00