Coy Robbins Wins Touring Pro Division Event in Camrose to Surge to No. 1 Rank in the Race for the 2022 PBR Canada Championship
By: Kacie Albert Wednesday, May 18, 2022 @ 4:11 PM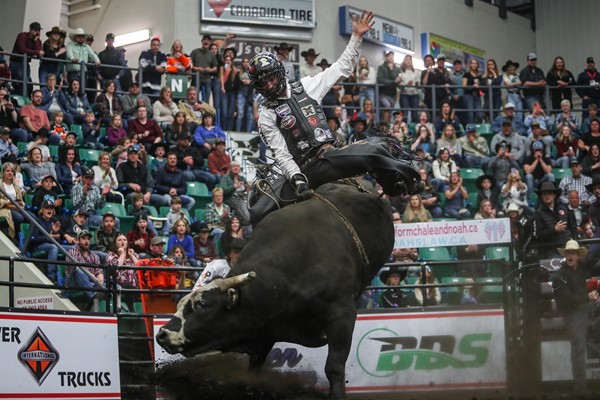 CAMROSE, Alta. – As the 2022 PBR (Professional Bull Riders) Canada season continued Saturday evening in Camrose, Alberta, hometown favorite Coy Robbins (Camrose, Alberta) reached a critical career milestone. Going a flawless 2-for-2, Robbins won his career-first event, victorious at the Rose City Invitational, presented by BDS, surging to the No. 1 rank in the race for the 2022 PBR Canada Championship and accompanying $50,000 bonus.
Robbins was quick to strike in Round 1. He delivered the seventh best score when he reached the requisite 8 atop Thor's Hammer (Wild Hoggs Bucking Bulls) for 80.5 points.
The 22-year-old sensation then clinched the golden finish when he delivered the top score of the championship round, covering Hanna Motors Winston Bruce (Skori Bucking Bulls) for 86.5 points.
For his efforts, Robbins collected 25 national points, catapulting to the No. 1 position in the national standings. He now leads No. 2 Marcos Gloria (Central de Minas, Brazil) by a slim 1.5 points.
As the only other rider to be flawless inside Encana Arena, Nick Tetz (Calgary, Alberta) was second, netting 17 national points.
In Round 1 Tetz converted atop Time Marches On (Thompson Rodeo Livestock) for 85 points, and then went the distance aboard Stewart (X6 Ranch Bucking Cattle) in the championship round.
Tetz is now No. 4 in the national standings, 8.5 points behind No. 1 Robbins, as he challenges for his first PBR Canada Championship in 2022.
Zane Lambert (Ponoka, Alberta) and Logan Biever (Claresholm, Alberta) tied for third compliments of their Round 1-winning scores.
Both marked 86.5 points, Lambert rode Time Well Spent (Thompson Rodeo Livestock), while Biever bested Ain't About Fame (Thompson Rodeo Livestock).
Two-time Canadian Champion Lambert and Biever both left Camrose having earned 12 national points and are tied for No. 5 in the standings. The trail the top position by 14.5 points.
Rounding out the Top 5 in fifth was Brock Radford (De Winton, Alberta).
Radford rode Black Jack (Skori Bucking Bulls) for 85.5 points to earn 6 points in the race for the year's national title.
In the bull pen, Ted (Wild Hoggs/Corey Chmelnyk) bucked supreme. He delivered the top bull score of the event, a 44.5-point effort, in the championship round after upending Ashton Sahli (Red Deer, Alberta) in 3.97 seconds.
The 2022 PBR Canada season continues May 27-28 at the Byrne Ranch in Prince Albert, Saskatchewan, for the Clunie/Cooper Memorial PBR.
Stay tuned in to PBRCanada.com and follow the tour on Facebook (PBR Canada), Twitter (@PBRCanada), and Instagram (@PBRCanada) for the latest results, news, stats and more.
PBR Canada Touring Pro Division
Rose City Invitational, presented by BDS
Encana Arena – Camrose, Alberta
(Round 1-Round 2-Event Aggregate-Event Points)
1. Coy Robbins, 80.5-86.5-167.00-25 Points.
2. Nick Tetz [2], 85-81-166.00-17 Points.
3. Zane Lambert, 86.5-0-86.50-12 Points.
(tie). Logan Biever, 86.5-0-86.50-12 Points.
5. Brock Radford [1], 85.5-0-85.50-6 Points.
6. Ashton Sahli, 83.5-0-83.50-3 Points.
7. Nick Tetz [1], 82.5-0-82.50-1 Points.
8. Cody Coverchuk, 76.5-0-76.50
Aaron Roy, 0-0-0.00
Micheal Ostashek, 0-0-0.00
Brock Radford [2], 0-0-0.00
Garrett Green, 0-0-0.00
Tanner Eno, 0-0-0.00
Lonnie West, 0-0-0.00
Callum Miller, 0-0-0.00
Todd Chotowetz, 0-0-0.00
Tyler Craig, 0-0-0.00
Chad Hartman, 0-0-0.00
Dawson Shannon, 0-0-0.00
Weston Davidson, 0-0-0.00
Nicholas Klinck, 0-0-0.00
Ethan Schultz, 0-0-0.00
Chance Switzer, 0-0-0.00
Landon Schmidt, 0-0-0.00
Cauy Schmidt, 0-0-0.00