Blake Smith Finishes Third at PBR Pendleton Whisky Velocity Tour Event in Grand Forks, North Dakota
By: Kacie Albert Sunday, May 1, 2022 @ 9:37 AM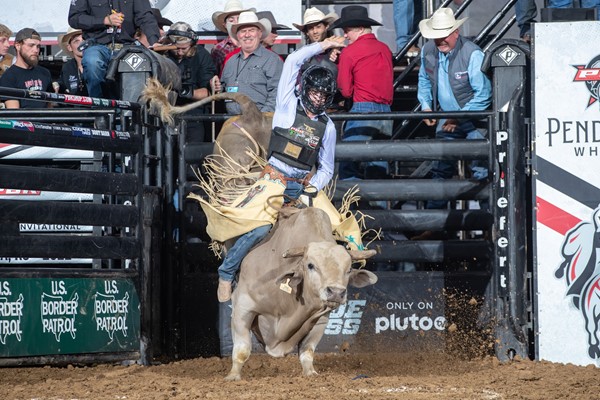 GRAND FORKS, N.D. – As the regular season for the 2022 PBR (Professional Bull Riders) Pendleton Whisky Velocity Tour came to a climactic finish Saturday evening in Grand Forks, North Dakota, two Canadians delivered crucial Top 5 efforts at the PBR Boot Barn Grand Forks Chute Out at the Alerus Center to gain crucial ground in the expansion series' standings. While Blake Smith (Abbey, Saskatchewan) led the duo, finishing third, red-hot Griffin Smeltzer (Claresholm, Alberta) tied for fifth to surge to No. 1 in the race for the 2022 PBR Pendleton Whisky Velocity Tour Championship.
The 2022 PBR Pendleton Whisky Velocity Tour will conclude next weekend in Corpus Christi, Texas. Serving as the launch-event for the iconic Buc Days festival, the Velocity Tour Finals will be held May 6-7 at American Bank Center Arena.
Smith was electric as the competition in Grand Forks got underway. Conquering No Doubt (Richard & Teri Braun/Jenkins Cattle) for 87 points, Smith advanced to the championship round atop the event leaderboard.
As the last man to leave the chutes, Smith was unable to conclude the event with a qualified ride. He was bested by Whip (S.A.W. Bucking Bulls) in 3.04 seconds.
Compliments of his bronze effort, Smith earned a critical 17 world points. He is now tied for No. 23 in the Velocity Tour standings, within 30.5 points of the No. 1 rank.
Fresh off his event win last weekend in Wichita, Smeltzer went 1-for-2 to tie for fifth, garnering 5 world points.
In Round 1, Smith reached the requisite 8 for 86 points atop Wild Bill (Richardson Land & Cattle Co.). Smith, however, proved no match for Chainsaw (Just for Kicks/J-M) in the final round, sent to the ground in 2.31 seconds.
The Top 5 finish allowed Smeltzer to surge to the No. 1 rank in the Velocity Tour standings. Readying to make his PBR Pendleton Whisky Velocity Tour Finals debut, Smeltzer leads No. 2 Brandon Davis (Cabot, Arkansas) by 1.5 points.
Twenty-two-year-old Grayson Cole (New Ringgold, Pennsylvania) delivered an impeccable performance to win the one-night PBR event at the Alerus Center.
Cole was paired with Hard & Often (S.A.W. Bucking Bulls) in Round 1, covering the powerful animal athlete for 86 points. The Pennsylvanian cowboy then took on Bolo (Bucking Crazy Bucking Bulls/Richardson) in the championship round, totaling an 88-point score and overtaking the event lead.
Cole earned 39 world points for his efforts, improving a whopping 26 positions in the world standings from No. 92 to No. 66.
Second was Cody Casper (Newport, Washington), earning 23 world points.
Casper made the 8 aboard Little Vickers (Joe Anderson) for 84 points in Round 1.
He then earned an impressive 85.5-point score when paired with Jailhouse Cat (Flying T Bucking Bulls / JR Phillips) in the championship round.
Trace Brown (Stephenville, Texas) parlayed an 86.5-point ride atop Hawaiian Punch (Frenzel / King) in Round 1 into a fourth-place finish. He collected 10 world points.
Rounding out the Top 5, and tying for fifth alongside Smeltzer, was Cladson Rodolfo (Pilar do Sul, Brazil) and Mason Moody (Letcher, South Dakota), also delivering matching 86-point rides to earn 5 world points.
Rodolfo rode Bean (Sho-Me Rodeo / T&G) in Round 1, while Moody rebounded from an opening round buckoff when he outlasted Jake Brake (Cannon Cattle Co) in the championship round.
The PBR Pendleton Whisky Velocity Tour's Grand Forks Boot Barn Chute Out was also a stop on the 2022 Million Dollar Bull Team Challenge (MDBTC). Richardson Land & Cattle Company showcased their bovine talent and took home a wildcard win, securing a position at the 2022 MDBTC Tour Finals.
PBR Pendleton Whisky Velocity Tour
PBR Boot Barn Grand Forks Chute Out
Alerus Center – Grand Forks, North Dakota
Event Leaders (Round 1-Round 2-Event Aggregate-Event Points)
1. Grayson Cole, 86-88-174.00-39 Points.
2. Cody Casper [1], 84-85.5-169.50-23 Points.
3. Blake Smith, 87-0-87.00-17 Points.
4. Trace Brown, 86.5-0-86.50-10 Points.
5. Griffin Smeltzer, 86-0-86.00-5 Points.
(tie). Cladson Rodolfo, 86-0-86.00-5 Points.
(tie). Mason Moody, 0-86-86.00-7 Points.
8. Silvano Alves, 85.5-0-85.50-1 Points.
9. Patterson Starcher, 85-0-85.00-1 Points.
10. Rafael Jose de Brito, 84-0-84.00
Dakota Louis, 0-0-0.00
Conner Halverson, 0-0-0.00
Alex Cardozo, 0-0-0.00
Alisson De Souza, 0-0-0.00
Taylor Toves, 0-0-0.00
Tye Chandler, 0-0-0.00
Dalton Rudman, 0-0-0.00
Hunter Ball, 0-0-0.00
Dustin Martinez, 0-0-0.00
Dakota Eagleburger, 0-0-0.00
Venn Johns, 0-0-0.00
Kade Alberty, 0-0-0.00
Thor Hoefer II, 0-0-0.00
Gage Gay, 0-0-0.00
Briggs Madsen, 0-0-0.00
Dalton Krantz, 0-0-0.00
Cody Casper [2], 0-0-0.00
Dallee Mason, 0-0-0.00
Zach Miles, 0-0-0.00
Dakota Warnken, 0-0-0.00
Chase Wimer, 0-0-0.00
Chance Schott, 0-0-0.00
Caleb McCaslin, 0-0-0.00
Victor Soares, 0-0-0.00
Devin Hutchinson, 0-0-0.00
Ethan Jensen, 0-0-0.00
Zach Laney, 0-0-0.00
Weston Hartman, 0-0-0.00