PBR Canada Inks Dan Post Boots as the Division's Official Boot
By: Kacie Albert Thursday, June 30, 2022 @ 1:17 PM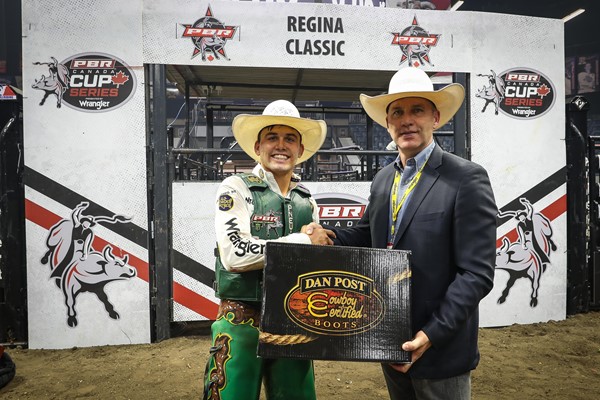 SASKATOON, Sask. (June 30, 2022) – PBR (Professional Bull Riders) Canada today announced the addition of Dan Post Boots as the Official Boot of the elite Cup Series, presented by Wrangler, for the 2022 season.
As part of the new-forged partnership, Dan Post Boots will have visibility in arena for every PBR Canada Cup Series, presented by Wrangler event, including chute stickers, arena banners and video board inclusion of both their brand logo and commercial.  In 2022, the Canadian tour is anticipated to hold nine events across Alberta, British Columbia, Manitoba, and Saskatchewan, culminating in a championship in Edmonton.
"Once our friends at Lammle's Western Wear announced they were joining the elite Cup Series, we knew this was an opportunity we didn't want to miss," said Dan Post Boot Company President Ken Moore. "It was an easy decision to join PBR Canada, and as the official boot sponsor. We feel it's an honor to serve as 'the footprint' for the 2022-23 season." 
"As we continue to expand bull riding across Canada, the PBR couldn't be more excited to welcome Dan Post Boots to our growing portfolio of brand partners," said PBR Canada General Manager Jason Davidson. "Dan Post Boots are known for their comfort and state-of-the-art craftsmanship, two qualities PBR Canada holds in high regard as we continue to develop a family-friendly, world-class sporting event that for fans across the nation."
Dan Post Boots will also be featured in a custom-created audience promotion at every Cup Series event and receive a winner's circle photo opportunity with each tour stop victor.
Comfort from the first step has been Dan Post's driving effort since its inception in the 1960s. The iconic western footwear brand was the first to design a boot with handcrafted cushion comfort in mind, because the last thing anyone, especially cowboys and bull riders should have to worry about is breaking in their boots. After years of perfecting its method, the company's 160-step process from design to production ensures each boot offers a superior fit, an artisan design, and expert quality. 
The elite PBR Canada Cup Series, presented by Wrangler, televised on the TSN family of channels, features Canada's top bull riders, alongside some of the PBR's top international athletes, squaring off against the rankest bucking bulls in North America.
In 2022, which marks the seventh year of operation for the premier Cup Series, the tour is anticipated to hold nine events across Alberta, British Columbia, Manitoba, and Saskatchewan. The season will come to a climatic end in Edmonton, Alberta at Rogers Place for the PBR Canada National Finals where the 2022 PBR Canada Champion will be crowned and earn the accompanying $50,000 bonus.
Stay tuned to PBRCanada.com for the latest event and broadcast schedules, and follow the tour on Facebook (PBR Canada), Twitter (@PBRCanada), and Instagram (@PBRCanada) for results, news, stats and more.