Lonnie West Wins Canadian Touring Pro Division's Eagle Creek GM PBR Classic to Crack Top 10 in the National Standings
By: Kacie Albert Saturday, June 11, 2022 @ 1:12 PM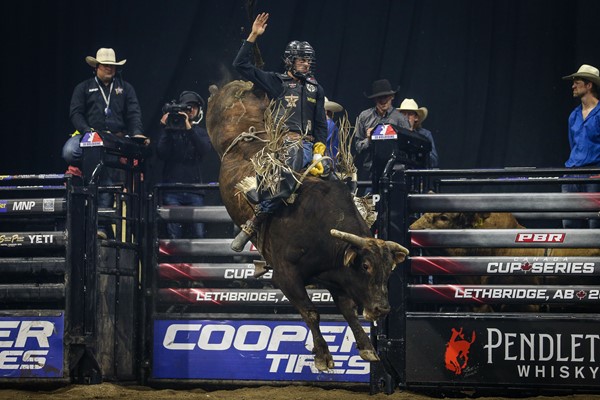 MEADOW LAKE, Sask. – On the eve of the season-launch for the elite PBR (Professional Bull Riders) Canada Cup Series, presented by Wrangler, Alberta sensation Lonnie West (Cadogan, Alberta) struck gold, delivering a near perfect 1-for-2 showing at the developmental Touring Pro Division event in Meadow Lake, Saskatchewan, to win the Eagle Creek GM PBR Classic.
West delivered his lone score of the event in the opening round of action at the Meadow Lake Stampede Grounds, covering New Tattoo (Wild Hoggs Bucking Bulls) for 84 points.
Courtesy of his golden finish, West earned a crucial 25 national points.
Unranked prior to the event, West surged to No. 7 in the fierce race to be crowned the 2022 PBR Canada Champion and earn the accompanying $50,000 bonus. He is now within a mere 24 points of standings leader Blake Smith (Abbey, Saskatchewan).
Second was 2020 PBR Canada Champion Dakota Buttar (Kindersley, Saskatchewan).
Buttar, who also earned the silver finish at the PBR Canada Touring Pro Division event in Meadow Lake on Thursday evening, was a picture of perfection atop Salty Dog (Eno Bucking Bulls). He reached the requisite 8 for 83 points.
Garnering 15 national points in his home province, Buttar rose from No. 5 to No. 2 in the standings. He is now within a slim 6 points of No. 1 Smith.
Should Buttar earn the 2022 PBR Canada Championship, he would join an exclusive group of riders to have won the Canadian title multiple times. Only three riders in history of won the PBR Canada Championship multiple times, including three-time title holder Aaron Roy (Yellow Grass, Saskatchewan) and two-time Champions Zane Lambert (Ponoka, Alberta) and Cody Coverchuk (Meadow Lake, Saskatchewan).
Two-time and reigning PBR Canada Champion Coverchuk rounded out the Top 3 in third, earning 11 national points.
Coverchuk rode Jail Break (Wilson Rodeo) for 79 points in Round 1 to secure the podium finish.
Attempting to tie Roy for most national titles won by one rider, Coverchuk is now No. 8 in the national standings, having risen one position. He trails the top rank by 26 national points.
The 2022 PBR Canada Season continues June 11 in Red Deer, Alberta, for the first event of the 2022 season for the elite Cup Series, presented by Wrangler. Action for the PBR Red Deer Classic, presented by Tsunami Water Solutions, at Peavey Mart Centrium, gets underway at 7:00 p.m. MT.
Stay tuned in to PBRCanada.com and follow the tour on Facebook (PBR Canada), Twitter (@PBRCanada), and Instagram (@PBRCanada) for the latest results, news, stats and more.
PBR Canada Touring Pro Division
Eagle Creek GM PBR Classic
Meadow Lake Stampede Grounds – Meadow Lake, Saskatchewan
(Round 1-Round 2-Event Aggregate-Event Points)
1. Lonnie West, 84-0-84-25
2. Dakota Buttar, 83-0-83-15
3. Cody Coverchuk, 79-0-79-11
Jake Maher, 0-0-0.00-0
Tanner Skene, 0-0-0.00-0
Marcos Gloria, 0-0-0.00-0
Logan Biever, 0-0-0.00-0
Brian Hervey, 0-0-0.00-0