Flawless Jake Gardner Wins Season-Launch PBR Canada Cup Series, Presented by Wrangler, Event in Red Deer, Alberta
By: Kacie Albert Sunday, June 12, 2022 @ 12:59 AM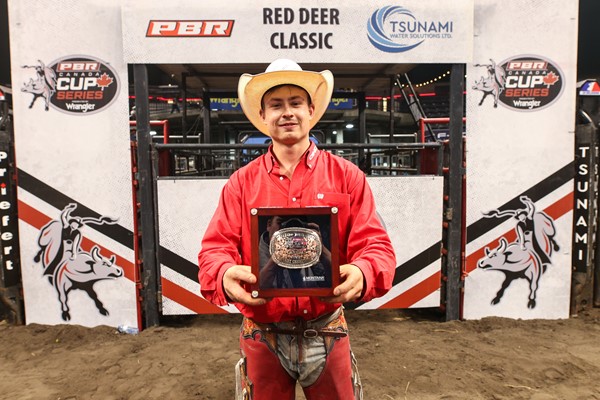 RED DEER, Alta. – As action for the 2022 PBR (Professional Bull Riders) Canada Cup Series, presented by Wrangler, got underway Saturday evening in front of a raucous Red Deer, Alberta, crowd, no rider was more dominant than Jake Gardner (Fort St. John, British Columbia). Compliments of a perfect 2-for-2 effort, Gardner won the PBR Red Deer Classic, presented by Tsunami Water Solutions, surging from unranked to No. 2 in the race for the 2022 PBR Canada Championship and accompanying $50,000 bonus.
In Round 1, Gardner first went head-to-head against Tickety Boo (Chase Kesler Bucking Bulls) inside the Peavey Mart Centrium. Matching the striking animal athlete jump-for-jump, Gardner was marked 83.5 points, punching his ticket to the championship round.
As the penultimate man to leave the chutes, the Prince of the Peace Country was poised as he readied to climb atop Alberta Springs (Vold Rodeo). In true cowboy fashion, Gardner gritted his way to the 8-second whistle, despite almost being upended seconds into the ride, earning an 86.5-point score to clinch the victory.
Gardner's golden finish earned him a crucial 74 national points.
While he began the first-ever Cup Series event in Red Deer unranked, he is now the No. 2 rider in the national standings, a mere 6 points behind the No. 1 position.
As the only other rider to go a perfect 2-for-2, Lonnie West (Cadogan, Alberta) was second, collecting 55 national points to overtake the No. 1 rank in the Canadian standings.
Fresh off his event win the night prior on the developmental Touring Pro Division in Meadow Lake, Saskatchewan, West kept his momentum rolling in Round 1 from Red Deer when he converted aboard Warning Shot (Outlaw Buckers Rodeo Corp.) for 81.5 points.
West then remained flawless in the championship round when he covered Hanna Motors Winston Bruce (Skori Bucking Bulls) for 86 points.
Dawson Shannon (Drayton Valley, Alberta) was third.
Despite being bested in Round 1 by Throwin' Stones (Flying High Rodeo Co.) in 4.67 seconds, Shannon was one of six riders to advance to the final round on buck off time.
Making the most of his second chance, Shannon delivered the high-marked ride of the PBR Red Deer Classic, presented by Tsunami Water Solutions, when he matched up with Unkle Kranky (Vold Rodeo) for an 87-point score.
Shannon left his home province event having earned 45 national points and is now the No. 5 contender in the heated battle for the 2022 PBR Canada Championship. He trails No. 1 West by 35 points.
Seeking further history this season, three-time PBR Canada Champion Aaron Roy (Yellow Grass, Saskatchewan) was fourth.
Should Roy win his unprecedented fourth national title in 2022 he would further cement himself as the winningest bull rider in PBR Canada history. Roy is one of just three multi-time PBR Canada Champions, leading two-time title holders Cody Coverchuk (Meadow Lake, Saskatchewan) and Zane Lambert (Ponoka, Alberta).
Roy's Top-5 finish was headlined by his Round 1-winning, 84-point ride aboard Housefire (Flying High Rodeo Co.).
The stoic Saskatchewan native, however, was upset by Timber Jam (Vold Rodeo/Robinson) in the championship round, bucked off in 4.68 seconds.
Netting 35 national points, the veteran contender surged six positions in the national standings from No. 9 to No. 3, catapulting Roy within 24 points of the No. 1 rank.
Rounding out the leaderboard was Micheal Ostashek (Edson, Alberta) in fifth.
His 83-point ride atop Alberta Prime Union Black (Chase Kesler Bucking Bulls) in Round 1 earned him 19 national points.
Ostashek is now No. 11 in the national standings.
In the bull pen, Muzzle Blast (X6 Ranch Bucking Battle) bucked a cut above the rest, anointed the YETI "Built for the Wild" Bull of the Event. Competing in the championship round, Muzzle Blast delivered his tour stop-best 44.5-point bull score when he dispatched Marcos Gloria (Central de Minas, Brazil) in a quick 2.4 seconds.
The 2022 PBR Canada Sup Series, presented by Wrangler, will next travel to Brandon, Manitoba, and Westoba Place for the PBR Mazergroup Chute Out on June 18. Action will get underway at 7 p.m. CDT.   
Stay tuned in to PBRCanada.com and follow the tour on Facebook (PBR Canada), Twitter (@PBRCanada), and Instagram (@PBRCanada) for the latest results, news, stats and more.
PBR Canada Cup Series, presented by Wrangler
PBR Red Deer Classic, presented by Tsunami Water Solutions
Peavey Mart Centrium – Red Deer, Alberta
(Round 1-Round 2-Event Aggregate-Event Points)
1. Jake Gardner, 83.5-86.5-170.00-74 Points.
2. Lonnie West, 81.5-86-167.50-55 Points.
3. Dawson Shannon, 0-87-87.00-45 Points.
4. Aaron Roy, 84-0-84.00-35 Points.
5. Micheal Ostashek, 83-0-83.00-19 Points.
Blake Smith, 0-0-0.00
Griffin Smeltzer, 0-0-0.00
Nick Tetz, 0-0-0.00
Dakota Buttar, 0-0-0.00
Marcos Gloria, 0-0-0.00
Callum Miller, 0-0-0.00
Cody Coverchuk, 0-0-0.00
Zane Lambert, 0-0-0.00
Garrett Green, 0-0-0.00
Logan Biever, 0-0-0.00
Ashton Sahli, 0-0-0.00
Jared Parsonage, 0-0-0.00
Tyler Craig, 0-0-0.00
Chad Hartman, 0-0-0.00
Nicholas Klinck, 0-0-0.00
Landon Schmidt, 0-0-0.00
Jake Maher, 0-0-0.00
Cauy Schmidt, 0-0-0.00
2022 PBR Canada National Standings
(Place, Rider, Events, Wins, Top 5's, Points, Total Winnings)
1. Lonnie West, 4, 1, 2, 80.00, $7,381.90
2. Jake Gardner, 1, 1, 1, 74.00, $7,052.00
3. Aaron Roy, 5, 0, 3, 56.00, $6,500.20
4. Blake Smith, 3, 2, 2, 49.00, $6,265.78
5. Dawson Shannon, 3, 0, 1, 45.00, $3,652.00
6. Dakota Buttar, 5, 0, 3, 43.00, $5,629.13
7. Coy Robbins, 5, 1, 2, 36.50, $6,371.18
8. Griffin Smeltzer, 4, 1, 2, 31.00, $4,626.08
8. Nick Tetz, 6, 0, 2, 31.00, $5,379.44
10. Marcos Gloria, 4, 1, 1, 27.00, $3,286.23
11. Micheal Ostashek, 5, 0, 2, 25.00, $2,414.16
12. Cody Coverchuk, 7, 0, 2, 23.00, $3,028.55
13. Callum Miller, 6, 0, 1, 15.00, $2,191.43
14. Zane Lambert, 4, 0, 1, 12.00, $2,082.50
14. Garrett Green, 5, 0, 1, 12.00, $1,663.37
14. Logan Biever, 6, 0, 1, 12.00, $2,082.50
17. Brock Radford, 4, 0, 1, 11.00, $1,815.43
18. Ashton Sahli, 5, 0, 0, 3.00, $416.50
19. Tanner Eno, 4, 0, 0, 1.50, $215.65