Alberta Sensation Lonnie West Wins PBR Challenger Series Event in Great Falls, Montana
By: Kacie Albert Sunday, June 5, 2022 @ 12:02 PM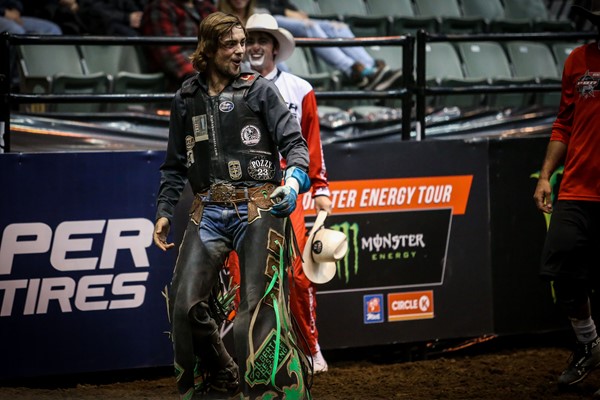 GREAT FALLS, Mont. – Competing at just his third event of the 2022 season, Alberta sensation Lonnie West (Cadogan, Alberta) reached a career milestone Saturday evening, dominating at the Dusty Gliko Bull Riding Challenge in Great Falls, Montana, to win his career-first PBR (Professional Bull Riders) Challenger Series event.
In Round 1, West was matched up with Ridin' Dirty (Clay Struve/Dakota Rodeo/Chad Berger). Matching the powerful animal athlete jump-for-jump, West made the requisite 8 for an event-best 85 points.
While West was bucked off in the final round, dispatched by Off Campus (Dakota Rodeo/Brian & Ashley Pintar/Clay Struve/Chad Berger) in 2.28 seconds, his opening round effort proved enough to clinch the golden finish.
West left Montana having earned 15 Challenger Series points and is now tied for No. 7 in the tour standings.
Fellow Canuck Griffin Smeltzer (Claresholm, Alberta) also registered a Top 5 finish in Great Falls, riding to a fourth-place result and garnering 4 Challenger Series points.
The newly signed Austin Gamblers rider's showing was headlined by a third-place effort in Round 1. He covered Space Force (Heald Pro Bulls/Clay Struve/Dakota Rodeo/Chad Berger) for 81.5 points.
Brock Radford (De Winton, Alberta) and Blake Smith (Abbey, Saskatchewan) also made the journey to Montana, however failed to find success.
Radford went 0-for-2, bucked off by Sun Dog (Clay Struve/Dakota Rodeo/Chad Berger) in 7.82 seconds and Fantasy (Dakota Rodeo/Chad Berger/Craig Smith) in 7.44 seconds, while Smith went 0-for-1, upset by Collateral Damage (Bird Bucking Bulls) in 2.38 seconds.
Second was Trace Brown (Stephenville, Texas).
Brown secured the silver finish, and 8 Challenger Series points, compliments of his top-scored ride in the championship round. Following a 2.5-second buckoff dealt to him in Round 1 by Melanie's Dream (Diamond Willow/Clay Struve/Dakota Rodeo/Chad Berger), Brown rebounded when he made the 8 atop Delbert Sr. (Clay Struve/Dakota Rodeo/Chad Berger/Paula Gregory) for 84.5 points.
Dalton Rudman (Wellington, Utah) parlayed an 83-point ride on Kyno (Elmer Blackbird/Clay Struve/Dakota Rodeo/Chad Berger) in Round 1 into a third-place finish.
The Utah native netted 7 Challenger Series points.
Rounding out the Top 5 in fifth was Gage Gay (Staley, North Carolina).
Gay rode Lion of Judah (Triplett Bucking Bulls) for 79 points to collect 3 Challenger Series points.
Stay tuned in to PBRCanada.com and follow the tour on Facebook (PBR Canada), Twitter (@PBRCanada), and Instagram (@PBRCanada) for the latest results, news, stats and more.
PBR Challenger Series
Dusty Gliko Bull Riding Challenge
Montana State Expo Park Grandstands – Great Falls, Montana
Event Leaders (Round 1-Round 2-Event Aggregate-Event Points)
1. Lonnie West, 85-0-85.00-15 Points.
2. Trace Brown, 0-84.5-84.50-8 Points.
3. Dalton Rudman, 83-0-83.00-7 Points.
4. Griffin Smeltzer, 81.5-0-81.50-4 Points.
5. Gage Gay, 79-0-79.00-3 Points.
Bo T Vocu, 0-0-0.00
Bill Henry, 0-0-0.00
Jory Markiss [1], 0-0-0.00
Jory Markiss [2], 0-0-0.00
Dakota Louis, 0-0-0.00
Gerald Eash, 0-0-0.00
Brock Radford, 0-0-0.00
Cody Brewer, 0-0-0.00
Tye Chandler, 0-0-0.00
Beau Nordahl, 0-0-0.00
Weston Hartman, 0-0-0.00
Garrett Remington, 0-0-0.00
Tristan O'Neal, 0-0-0.00
Cole Wagner, 0-0-0.00
Conner Halverson, 0-0-0.00
Joseph Vazquez, 0-0-0.00
Blake Smith, 0-0-0.00
Jason Bold, 0-0-0.00