Young Gun Dusty Golden Wins Career-First PBR Event at Coyote Flats PBR in Picture Butte, Alberta
By: Kacie Albert Sunday, July 10, 2022 @ 9:41 PM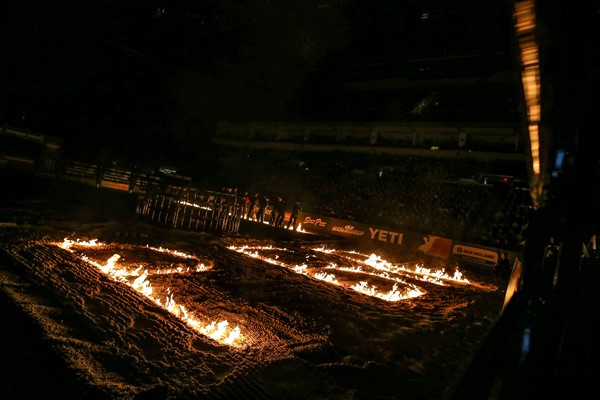 PICTURE BUTTE, Alta. – In his career-first PBR (Professional Bull Riders) event, young gun Dusty Golden (Mayerthorpe, Alberta) showed up and showed out, both winning and finishing third at the Touring Pro Division's Coyote Flats PBR to surge from unranked to No. 17 in the intense battle to be crowned the season's PBR Canada Champion.
Golden's victorious effort was headlined by the highest-marked ride of the event. Despite bucking off Crying Over You (Two Bit Bucking Bulls) in 4.34 seconds in Round 1, Golden rebounded in winning fashion in Round 2.
Matched up with Back Cracker (Vold Rodeo), Golden covered the powerful animal athlete for an impressive 88.5 points to clinch the victory.
Courtesy of a double entry, Golden also finished third. His second podium finish in Picture Butte, Alberta, was earned compliments of an 87-point score atop Red Rust (Vold Rodeo) in the second round.
Golden earned a combined 36 national points, catapulting from unranked to No. 17 in the race for the 2022 PBR Canada Championship and accompanying $50,000 bonus. The young gun is now within 144.33 points of the No. 1 standing.
Top-ranked Blake Smith (Abbey, Saskatchewan) extended his lead atop the Canadian standings after finishing second at the Coyotes Flats PBR.
The Austin Gamblers rider garnered 15 national points after he rode Canadian Miracle (Wild Hoggs Bucking Bulls) for 87.5 points in Round 2.
Smith now leads No. 2 Lonnie West (Cadogan, Alberta) by 40.33 points.
Fourth was Australian sensation Jake Maher (Brisbane, Queensland, Australia).
Despite bucking off Silent Bob (Two Bit Bucking Bulls) in 4.12 seconds in Round 1, Maher converted in Round 2, riding Thor's Hammer (Wild Hoggs Bucking Bulls) for 86.5 points.
Maher earned 6 national points, rising from unranked to No. 28 in Canada as he attempts to become the first Australian to claim the nation's championship this November in Edmonton, Alberta.
Rounding out the Top 5 in fifth was Tyler Craig (Crossfield, Alberta).
As the lone rider to cover in Round 1, Craig reached the requisite 8 atop Tractorlands Freakshow (Wild Hoggs Bucking Bulls) for 85.5 points.
Craig left his home province event having earned 10 national points, rising from No. 27 to No. 24 in the Canadian standings.
In the bull pen, Pedro (Eno Bucking Bulls) dominated, crowned the Bull of the Event. Bucking in Round 1, Pedro bested Golden in 2.28 seconds to earn a 45-point bull score.
The 2022 PBR Canada season will continue July 13 in Kinsella, Alberta, for the Kinsella Graveldome Bullarama. Action at the Graveldome will begin at 7:00 p.m. MDT.
Stay tuned in to PBRCanada.com and follow the tour on Facebook (PBR Canada), Twitter (@PBRCanada), and Instagram (@PBRCanada) for the latest results, news, stats and more.
PBR Canada Touring Pro Division
Coyote Flats PBR
Coyote Flats – Picture Butte, Alberta
(Round 1-Round 2-Event Aggregate-Event Points)
1. Dusty Golden [2], 0-88.5-88.5-25
2. Blake Smith, 0-87.5-87.5-15
3. Dusty Golden, 0-87-87-11
4. Jake Maher, 0-86.5-86.5-6
5. Tyler Craig, 85.5-0-85.5-10
Tyson Sisson [2], 0-0-0.00-0
Logan Biever, 0-0-0.00-0
Jake Maher [2], 0-0-0.00-0
Nick Tetz, 0-0-0.00-0
Micheal Ostashek, 0-0-0.00-0
Cauy Schmidt, 0-0-0.00-0
Darrion Ference, 0-0-0.00-0
Denver Sisson, 0-0-0.00-0