Missouri Thunder's Callum Miller Wins PBR Canada Touring Pro Division Event in Lacombe, Alberta
By: Kacie Albert Sunday, July 31, 2022 @ 2:27 PM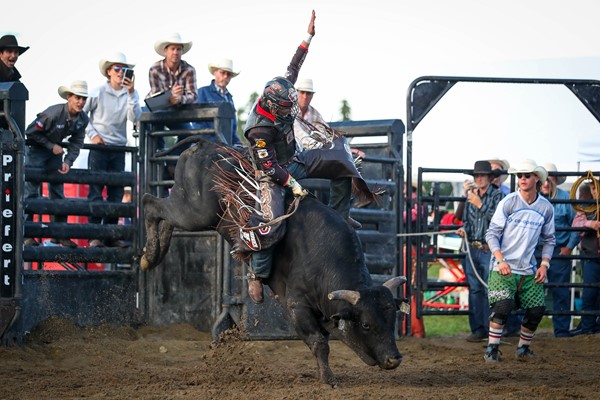 LACOMBE, Alta. – Backed by the high-marked ride of the event, Callum Miller (Warwick, Queensland, Australia) won the PBR (Professional Bull Riders) Canada Touring Pro Division's Lacombe Pro Bull Riding, rising to No. 18 in the heated battle to be crowned the 2022 PBR Canada Champion and earn the accompanying $50,00 bonus.
Going 1-for-2, the Missouri Thunder rider was unmatched in the second round of competition.
Matched up with Lil' Hooch (Flying High Rodeo Co.), the Australian sensation matched the bull jump-for-jump en route to an event-winning 88 points.
Attempting to become the first Aussie to win the title of PBR Canada Champion this November in Edmonton, Alberta, Miller earned a crucial 25 national points. He remained No. 17 in the standings, now within 134 points of No. 1 Brock Radford (De Winton, Alberta).
Radford furthered his stronghold on the No. 1 position compliments of a seventh-place finish which netted him 6 national points.
The Albertan sensation registered his ride in Round 1, delivering the second-best score when he covered Bull Dozer (Skori Bucking Bulls) for 82.5 points.
Radford now leads No. 2 Blake Smith (Abbey, Saskatchewan) by 18.67 points.
Two-time PBR Canada Champion Zane Lambert (Ponoka, Alberta) was second, collecting 15 national points.
Converting in the second round of action, Lambert rode Smooth Off (Shay Marks) for 86 points to earn the silver finish.
Lambert, who is attempting to tie Aaron Roy (Yellow Grass, Saskatchewan) for most national titles held by one rider at season's end, rose three positions in the Canadian standings from No. 14 to No. 11.
The veteran rider now trails No. 1 Radford by a mere 93.5 points.
Roy also delivered a qualified ride in Lacombe to finish sixth. He reached the whistle atop Big Easy (Skori Bucking Bulls) for 83.5 points in Round 2 to net 3 national points.
Seeking an unprecedented fourth national title in 2022, Roy remained No. 7 in the PBR Canada national standings, now 68 points back of No. 1 Radford.
Garrett Green (Meeting Creek, Alberta) and Griffin Smeltzer (Claresholm, Alberta), tied for third after registering matching 85-point rides.
Green covered Black Jack (Skori Bucking Bulls) in Round 2 to collect 9 national points. Green gained three positions in the Canadian standings, climbing from No. 26 to No. 23.
For the Austin Gamblers' Smeltzer, he topped the field in Round 1 when he rode Sicario (Flying High Rodeo Co.).
Smeltzer left his home province event having earned 13 national points.
He surged from No. 20 to No. 18 in the rankings, now just 155 points back of the top position.
Rounding out the Top 5 in fifth was Michael Ostashek (Edson, Alberta).
He rode Cowboy (Eno Bucking Bulls) for 84.5 points to garner 5 Canadian points.
The 2022 PBR Canada season continues Thursday, August 4 with the Touring Pro Division's Celebration for the Two Bit Nation Action at the Two Bit Ranch begins at 7:00 p.m. MT.
Stay tuned in to PBRCanada.com and follow the tour on Facebook (PBR Canada), Twitter (@PBRCanada), and Instagram (@PBRCanada) for the latest results, news, stats and more.
PBR Canada Touring Pro Division
Lacombe Pro Bull Riding
Lacombe and District Ag Society – Lacombe, Alberta
(Round 1-Round 2-Event Aggregate-Event Points)
1. Callum Miller, 0-88-88-25
2. Zane Lambert, 0-86-86-15
3. Garrett Green, 0-85-85-9
(tie) Griffin Smeltzer, 85-0-85-13
5. Michael Ostashek, 0-84.5-84.5-5
6. Aaron Roy, 0-83.5-83.5-3
7. Brock Radford, 82.5-0-82.5-6
Logan Biever, 0-0-0.00-0
Dawson Shannon, 0-0-0.00-0
Blake Smith, 0-0-0.00-0
Osman Alvarez, 0-0-0.00-0
Brian Hervey, 0-0-0.00-0
Tyler Craig, 0-0-0.00-0
Tyson Salmon, 0-0-0.00-0
Jake Maher, 0-0-0.00-0