Flawless Nick Tetz Wins Kinsella Graveldome Bullarama
By: Kacie Albert Thursday, July 14, 2022 @ 9:06 AM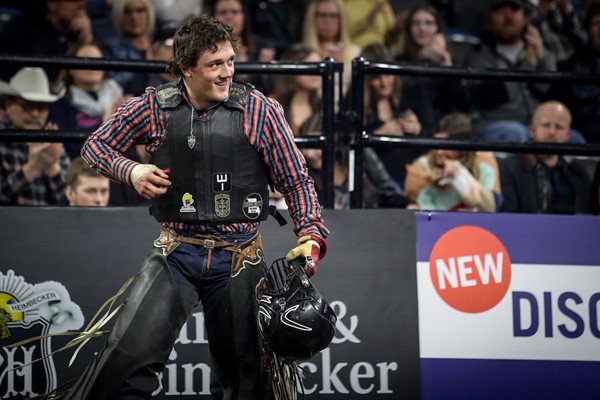 KINSELLA, Alta. – Backed by a flawless 2-for-2 showing, Nick Tetz (Calgary, Alberta) earned his second PBR (Professional Bull Riders) Canada Touring Pro Division event win of the season Wednesday evening, victorious at the Kinsella Graveldome Bullarama to crack the Top 10 in the feverish race to be crowned the 2022 PBR Canada Champion.
In Round 1, the 2018 PBR Canada Rookie of the Year first put points of the board when he rode Rusty Rivets (Wild Hoggs Bucking Bulls) for 84.5 points.
Tetz then faced Finning Lil Shorty (Flying Four Bucking Bulls) in the championship round. Once again reaching the requisite 8, Tetz was scored 87.5 points to win the round and clinch the event victory.
The home province hopeful garnered 27 points for the golden finish, rising from No. 11 to No. 8 in the Canadian national standings. Tetz is now within 84.33 points of No. 1 Blake Smith (Abbey, Saskatchewan).
As the only other rider to be perfect in Kinsella, Ashton Sahli (Red Deer, Alberta) was second, collecting 18.5 national points.
After topping the field in the opening round, dominating Black Jack (Skori Bucking Bulls) for 86 points, Sahli kept his unblemished record in tact when he bested Bob Rock (Skori Bucking Bulls) for 85 points in the final round.
Sahli climbed one position in the Canadian rankings from No. 14 to No. 13. He is now a mere 116.83 points behind the No. 1 position.
Micheal Ostashek (Edson, Alberta) was third.
The Albertan's 86.5-point ride aboard Time Well Spent (Thompson Rodeo Livestock) in the championship round garnered him 13 national points.
Ostashek remained No. 12 in Canada but inched within 108 points of No. 1 Smith.
Fourth was Cauy Schmidt (Coronation, Alberta).
The 19-year-old young gun tied for the Round 1 win alongside Sahli, registering his 86-point score atop Blue North (Two Bit Bucking Bulls).
After beginning the event unranked, Schmidt is now No. 27 in Canada.
Rounding out the Top 5 in fifth was Fabian Dueck (Loma Plata, Paraguay).
Dueck netted 5.5 national points courtesy of his 85-point ride on Hat Trick (Vold Rodeo) in the final round.
The 2022 PBR Canada season will continue July 20 when the elite Cup Series, presented by Wrangler, returns to Kelowna, British Columbia, for the PBR Okanagan Challenge. Action at Prospera Place will begin at 7:00 p.m. PT.
Stay tuned in to PBRCanada.com and follow the tour on Facebook (PBR Canada), Twitter (@PBRCanada), and Instagram (@PBRCanada) for the latest results, news, stats and more.
PBR Canada Touring Pro Division
Kinsella Graveldome Bullarama
Graveldome – Kinsella, Alberta
(Round 1-Round 2-Event Aggregate-Event Points)
1. Nick Tetz [2], 84.5-87.5-172-27
2. Ashton Sahli [2], 86-85-171-18.5
3. Micheal Ostashek, 0-86.5-86.5-13
4. Cauy Schmidt, 86-0-86-10
5. Fabian Dueck, 0-85-85-5.5
6. Tyler Craig, 84.5-0-84.5-3.5
(tie) Jordan Hansen, 84.5-0-84.5-3.5
8. Brock Radford, 84-0-84-0
9. Jake Maher [2], 82-0-82-0
10. Aaron Roy, 81.5-0-81.5-0
Stefan Tonita [2], 0-0-0.00-0
Blake Smith, 0-0-0.00-0
Ashton Sahli, 0-0-0.00-0
Nicholas Giles [2], 0-0-0.00-0
Blake Smith [2], 0-0-0.00-0
Logan Biever, 0-0-0.00-0
Chance Switzer, 0-0-0.00-0
Stefan Tonita, 0-0-0.00-0
Nicholas Giles, 0-0-0.00-0
Landon Schmidt, 0-0-0.00-0
Jake Maher, 0-0-0.00-0
Chad Hartman, 0-0-0.00-0
Nick Tetz, 0-0-0.00-0
Keaton Martz, 0-0-0.00-0
Brian Hervey, 0-0-0.00-0
Keaton Martz [2], 0-0-0.00-0
Chad Hartman [2], 0-0-0.00-0
Cauy Schmidt [2], 0-0-0.00-0