Flawless Logan Biever Wins Ponoka Stampede Wild West PBR
By: Kacie Albert Sunday, July 3, 2022 @ 7:01 PM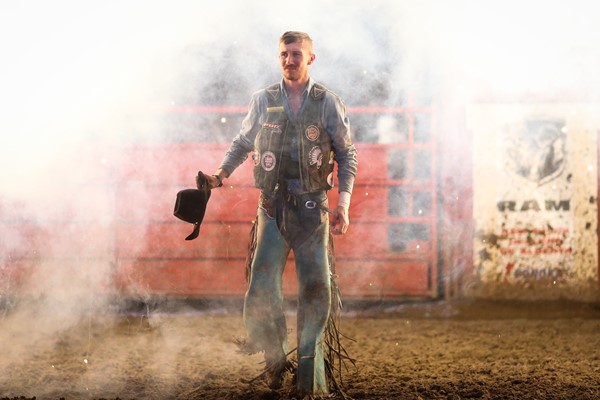 PONOKA, Alta. – Competing in front of a home province crowd Saturday evening in Ponoka, Alberta, Logan Biever (Claresholm, Alberta) delivered a flawless 2-for-2 performance to win the PBR (Professional Bull Riders) Canada Touring Pro Division's Ponoka Stampede Wild West PBR.
Biever was quick to convert in the opening round of competition.
Drawing Spooky Lukie (Two Bit Bucking Bulls), Biever reached the requisite 8, earning an 85.5-point score and punching his ticket to the championship round second on the event leaderboard.
In the championship round, Biever next readied to go head-to-head with Heckya.ca (Wilson Rodeo).
Matching the powerful animal athlete jump-for-jump, Biever was marked 83 points, winning the round and clinching the event victory.
Biever left the Ponoka Stampede Grounds having earned a crucial 30 national points. Solidifying his No. 3 rank in the heated battle to be crowned the 2022 PBR Canada Champion, Biever climbed within a mere 25 points of No. 1 Blake Smith (Abbey, Saskatchewan).
Smith also competed in Ponoka, going 1-for-2 to finish fourth and net 6 national points.
The Austin Gamblers rider rode Force Field (X6 Ranch Bucking Cattle/Legend Rodeo Stock) for 84 points in Round 1, before being upended by Out of the Blue (Vold Rodeo/Wyatt Bridge) in a quick 2.65 seconds in the final round.
Fresh off his event win in Cluny, Alberta, two-time and reigning PBR Canada Champion Cody Coverchuk (Meadow Lake, Saskatchewan) was third.
The Texas Rattlers contender delivered his lone score of the tour stop in the opening round of action, dominating Feeling Spicy (Wild Hoggs Bucking Bulls) for 85 points.
In the championship round, Coverchuk fell just short of his second event win in as many days when he was brought down by Beer Buzz (Wilson Rodeo) in a heartbreaking 7.28 seconds.
Coverchuk's podium finish garnered him 11 national points, elevating him from No. 8 to No. 5 in the standings. He is now within 73 points of the top rank.
Should Coverchuk defend is title this November, not only would he tie three-time Champion Aaron Roy (Yellow Grass, Saskatchewan) for most Canadian Championships won by one rider, but Coverchuk would also become the first rider to win the honor in consecutive seasons.
Dakota Buttar (Eatonia, Saskatchewan) parlayed a Round 1 win into a second-place finish in the overall event.
The 2020 PBR Canada Champion delivered the top score of the tour stop when he rode Langham Kid (Two Bit Bucking Bulls) for 87 points in the opening round.
Buttar's silver showing earned him 17 national points. He rose from No. 11 to No. 10 in the battle for they year's national title, climbing within 102 points of No. 1 Smith.
Should Buttar continue his climb and be crowned the 2022 PBR Canada Champion he would become just the fourth multi-time national title holder in organizational history, joining Roy, Coverchuk, and two-time Champion Zane Lambert (Ponoka, Alberta).
Rounding out the Top 5 in fifth was Wyatt Gleeson (Sundre, Alberta).
Gleeson covered Hou's Sippin (Vold Rodeo) for 80.5 points to collect 4 national points.
In the bull pen, Phantom Fury (Wild Hoggs Bucking Bulls) was unmatched. Bucking in the championship round, Phantom Fury was anointed the Bull of the Event after being marked 44.5 points for his 2.91-second buckoff of three-time PBR Canada Champion Roy.
The 2022 PBR Canada season will continue July 5-8 in Calgary, Alberta, for the Cody Snyder Charity Bullbustin'. Action at Grey Eagle Resort & Casino will begin nightly at 7:00 p.m. MDT.
Stay tuned in to PBRCanada.com and follow the tour on Facebook (PBR Canada), Twitter (@PBRCanada), and Instagram (@PBRCanada) for the latest results, news, stats and more.
PBR Canada Touring Pro Division
Ponoka Stampede Wild West PBR
Ponoka Stampede Grounds – Ponoka, Alberta
(Round 1-Round 2-Event Aggregate-Event Points)
1. Logan Biever, 85.5-83-168.50-30 Points.
2. Dakota Buttar, 87-0-87.00-17 Points.
3. Cody Coverchuk, 85-0-85.00-11 Points.
4. Blake Smith, 84-0-84.00-6 Points.
5. Wyatt Gleeson, 80.5-0-80.50-4 Points.
6. Stefan Tonita, 77.5-0-77.50-2 Points.
Aaron Roy, 0-0-0.00
Brock Radford, 0-0-0.00
Dawson Shannon, 0-0-0.00
Coy Robbins, 0-0-0.00
Zane Lambert, 0-0-0.00
Griffin Smeltzer, 0-0-0.00
Nick Tetz, 0-0-0.00
Chad Hartman, 0-0-0.00
Ashton Sahli, 0-0-0.00
Weston Davidson, 0-0-0.00
Dakota Louis, 0-0-0.00
Thor Hoefer II, 0-0-0.00
Cody Casper, 0-0-0.00
Brian Hervey, 0-0-0.00
Nicholas Klinck, 0-0-0.00
Osman Alvarez, 0-0-0.00
Landon Schmidt, 0-0-0.00
Jake Maher, 0-0-0.00