Dakota Louis Wins Opening Night of Competition for Cody Snyder Charity Bullbustin'
By: Kacie Albert Wednesday, July 6, 2022 @ 11:01 AM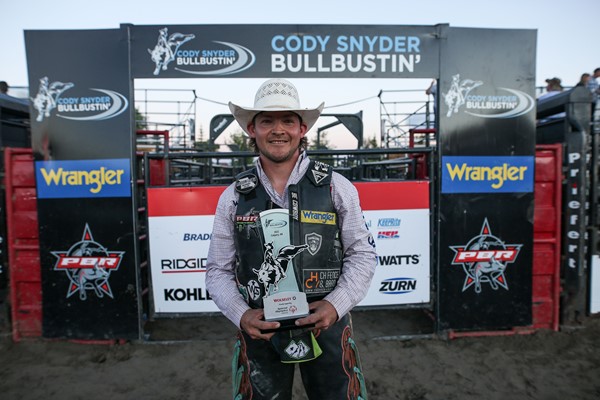 CALGARY, Alta. – As action got underway for the first of four Cody Snyder Charity Bullbustin' PBR (Professional Bull Riders) Canada Touring Pro Division events Tuesday evening, there was no rider more dominant than Dakota Louis (Browning, Montana). Compliments of a perfect 2-for-2 showing, the Austin Gamblers contender won the tour stop to surge from unranked to No. 18 in the heated battle to be crowned the 2022 PBR Canada Champion and earn the accompanying $50,000 bonus.
In Round 1, Louis was sensational as he took on re-ride opponent Red Carpet (Vold Rodeo). Reaching the requisite 8, the Montana native was scored 85.5 points, tying for the third best score of the round.
Louis next went head-to-head with Slip Slap (Vold Rodeo/Prescott). In perfect time with his animal athlete counterpart, Louis delivered the highest marked ride of the event, scored 89 points to clinch the event win.
For his golden finish, Louis earned 27.5 national points.
Unranked prior to the event, Louis surged to No. 18 in the standings, now within 134.5 points of teammate and Canadian No. 1 Blake Smith (Abbey, Saskatchewan).
Smith also competed during the opening night of action a Grey Eagle Resort & Casino, but was unable to convert, bucked off by Black Jack (Skori Bucking Bulls). The young Saskatchewan rider remained No. 1 in the nation, still 24.5 points ahead of No. 2 Lonnie West (Cadogan, Alberta).
In addition to Louis and Smith, riders for the PBR Team Series showed up in force to the Cody Snyder Charity Bullbustin'.
Signed by the Texas Rattlers as a free agent, two-time and reigning PBR Canada Champion Cody Coverchuk (Meadow Lake, Saskatchewan) tied for twelfth. Coverchuk earned his score in Round 1, marked 79.5 points atop Misstep (Vold Rodeo/R Saga Ranch).
Coverchuk's Top 15 finish did not earn him any additional national points. He slipped to No. 7 in the standings, just 73 points removed from the No. 1 rank.
Seeking history in 2022, should Coverchuk defend his Canadian title in November, he would become the first rider in history to win the honor in consecutive seasons. Coverchuk would also tie three-time title holder Aaron Roy (Yellow Grass, Saskatchewan) for most PBR Canada Championships earned by one rider.
Carolina Cowboys riders Cody Casper (Newport, Washington) and Daylon Swearingen (Piffard, New York) tied for eighth after delivering matching 83-point rides in Round 1.
Casper rode Dealing After Midnight (Thompson Rodeo Livestock), while reigning PBR World Champion Swearingen bested Times A Tickin (Thompson Rodeo Livestock).
Returning to the top of the leaderboard, Jared Parsonage (Maple Creek, Saskatchewan) was second, netting 17 national points.
Parsonage first rode Red Jam (Vold Rodeo/Robinson) for 86 points in Round 1, before covering By The Batch (Vold Rodeo) for 87.5 points in the final round.
The Saskatchewan man gained three positions in the national standings, climbing from No. 8 to No. 5. Parsonage now trails No. 1 Smith by 64.5 points.
Ashton Sahli (Red Deer, Alberta) delivered his own 2-for-2 finish to conclude the event third.
Sahli was unrivaled in Round 1, delivering the top score when he rode Liquor Shakes (Vold Rodeo) for 86.5 points.
Positioned atop the leaderboard, Sahli earned a re-ride opportunity in the championship round, drawing Casper (Vold Rodeo/Rafter G Cattle Co.). While Sahli earned a score, marked 86 points, it was not enough to cement the win.
For his podium finish, Sahli collected 16 national points. He is now tied for No. 20 in the national standings, 143 points behind the No. 1 position.
Veteran rider Roy was fourth.
In Round 1, Roy rode Snooze Button (Vold Rodeo) for 84 points, tied for the fifth-best score. Roy then climbed the standings when he punctuated his performance with an 88-point ride on Built Tough (Thompson Rodeo Livestock) in the championship round. 
Roy left Grey Eagle Resort & Casino having earned 8.5 national points. 
Seeking his unprecedented fourth national championship in 2022, Roy remained No. 4 in the Canadian standings, rising within 54 points of No. 1 Smith.
Rounding out the Top 5 in fifth was Brock Radford (De Winton, Alberta), netting 7 national points.
As the final contender to be a perfect 2-for-2, Radford covered Salty Dog (Eno Bucking Bulls) for 83.5 points in Round 1, and Hanna Motors Rhythm & Blues (Skori Bucking Bulls) for 88 points in the championship round.
Radford remained No. 6 in Canada and is now 71 points behind the top spot.  
The 2022 PBR Canada season will continue July 6-8 in Calgary, Alberta, for the Cody Snyder Charity Bullbustin'. Action at Grey Eagle Resort & Casino will begin nightly at 7:00 p.m. MDT.
Stay tuned in to PBRCanada.com and follow the tour on Facebook (PBR Canada), Twitter (@PBRCanada), and Instagram (@PBRCanada) for the latest results, news, stats and more.
PBR Canada Touring Pro Division
Cody Snyder Charity Bullbustin'
Grey Eagle Resort & Casino – Calgary, Alberta
(Round 1-Round 2-Event Aggregate-Event Points)
1. Dakota Louis, 85.5-89-174.50-27.5 Points.
2. Jared Parsonage, 86-87.5-173.50-17 Points.
3. Ashton Sahli, 86.5-86-172.50-16 Points.
4. Aaron Roy, 84-88-172.00-8.5 Points.
5. Brock Radford, 83.5-88-171.50-7 Points.
6. Dakota Buttar, 85.5-0-85.50-4.5 Points.
7. Todd Chotowetz, 84-0-84.00-1.5 Points.
8. Daylon Swearingen, 83-0-83.00
(tie). Cody Casper, 83-0-83.00
10. Chad Hartman, 82-0-82.00
11. Logan Biever, 80.5-0-80.50
12. Cody Coverchuk, 79.5-0-79.50
(tie). Jordan Hansen, 79.5-0-79.50
14. Lonnie West, 72-0-72.00
Blake Smith, 0-0-0.00
Jake Gardner, 0-0-0.00
Dawson Shannon, 0-0-0.00
Nick Tetz, 0-0-0.00
Micheal Ostashek, 0-0-0.00
Marcos Gloria, 0-0-0.00
Tyler Craig, 0-0-0.00
Cole Young, 0-0-0.00
Thor Hoefer II, 0-0-0.00
Keyshawn Whitehorse, 0-0-0.00
Osman Alvarez, 0-0-0.00
Jake Maher, 0-0-0.00