Dakota Buttar Wins Manor Fun Daze PBR to Surge to No. 3 in the Race to be Crowned the 2022 PBR Canada Champion
By: Kacie Albert Sunday, July 24, 2022 @ 5:33 PM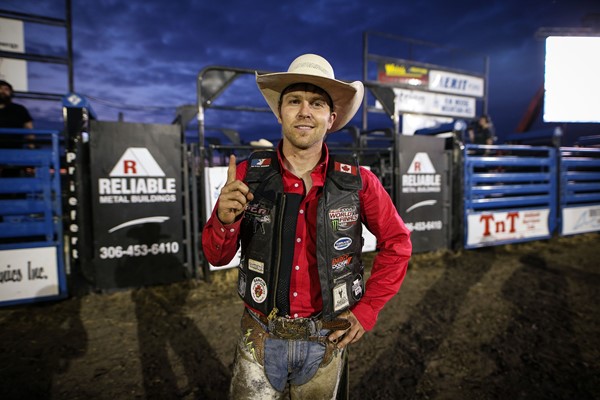 MANOR, Sask. – As the intense slate of summer PBR (Professional Bull Riders) Canada Touring Pro Division events continued Saturday evening in Manor, Saskatchewan, Dakota Buttar (Eatonia, Saskatchewan) inched closed to etching his name in the record books. Attempting to become just the fourth multi-time Canadian Champion in history in 2022, Buttar won the Manor Fun Daze PBR, surging to No. 3 in the national standings.
In Round 1, Buttar was one of four contenders to deliver a qualified ride. Covering Night Blood (Vold Rodeo/Robinson) for 82 points, Buttar set his sights on Round 2 second on the event leaderboard.
The reserved Saskatchewan contender then faced off against Bat Chute Crazy (Outlaw Buckers Rodeo Corp.). Once again reaching the requisite 8, Buttar clinched the victory with an 82.5-poitn score.
Buttar's golden finish garnered him 28 national points. He rose from No. 5 to No. 3 in the national standings, climbing within 34.5 points of No. 1 Brock Radford (De Winton, Alberta).
Should 2020 PBR Canada Champion Buttar continue his climb up the standings and earn the 2022 title this November in Edmonton, Alberta, he would join three-time Champion Aaron Roy (Yellow Grass, Saskatchewan) and two-time title holders Zane Lambert (Ponoka, Alberta) and Cody Coverchuk (Meadow Lake, Saskatchewan) as the fourth multi-time PBR Canada Champion in history.
Seeking his unprecedented fourth title, Roy was fourth, netting 7 national points.
Roy's Top 5 finish was headlined by an 81-point ride aboard Overhaul (Flying Four Bucking Bulls) in Round 1.
The veteran rider remained No. 7 in the national standings, now 74 points removed from the top position.
Round 2 winner Coy Robbins (Camrose, Alberta) was second.
After a buckoff in the opening round dealt to him by Freaked Out (Lazy S Bucking Bulls), Robbins was quick to rebound for the second round of competition.
Robbins was in perfect time with Gamebred (CS Bucking Bulls), marked an event-best 85 points.
The 2017 PBR Canada Rookie of the Year rose one position in the rankings from No. 16 to No. 15, climbing within a mere 27.33 points of the Top 10.
As the only other rider to deliver a score, Nick Tetz (Calgary, Alberta) was third.
Tetz' bronze effort included an 83.5-point, Round 1-wining ride aboard Down Crown (Vold Rodeo/Prescott).
Garnering 15 national points, Tetz cracked the Top 5 in the heated race to be anointed the 2022 PBR Canada Champion, rising from No. 6 to No. 4. Tetz is now just 52 points back of No. 1 Radford.
The 2022 PBR Canada season will continue July 27 when the Touring Pro Division bucks into North Battleford, Saskatchewan, for the 7th Annual McDonalds PBR Classic. Action at the North Battleford Access Communications Centre will begin at 7:00 p.m. CST.
Stay tuned in to PBRCanada.com and follow the tour on Facebook (PBR Canada), Twitter (@PBRCanada), and Instagram (@PBRCanada) for the latest results, news, stats and more.
PBR Canada Touring Pro Division
Manor Fun Daze PBR
Manor Fairgrounds – Manor, Saskatchewan
(Round 1-Round 2-Event Aggregate-Event Points)
1. Dakota Buttar, 82-82.5-164.5-28
2. Coy Robbins, 0-85-85-17
3. Nick Tetz, 83.5-0-83.5-15
4. Aaron Roy, 81-0-81-7
Tyson Salmon, 0-0-0.00-0
Chance Switzer, 0-0-0.00-0
Cody Braithwaite, 0-0-0.00-0
Brock Radford, 0-0-0.00-0
Karson Turel, 0-0-0.00-0
Chris Graham, 0-0-0.00-0
Cody Fitzpatrick, 0-0-0.00-0
Stefan Tonita, 0-0-0.00-0
Logan Biever, 0-0-0.00-0
Chad Hartman, 0-0-0.00-0