Dakota Buttar, Shane Proctor Crowned 2022 Calgary Stampede Bull Riding Co-Champions
By: Kacie Albert Monday, July 18, 2022 @ 9:30 AM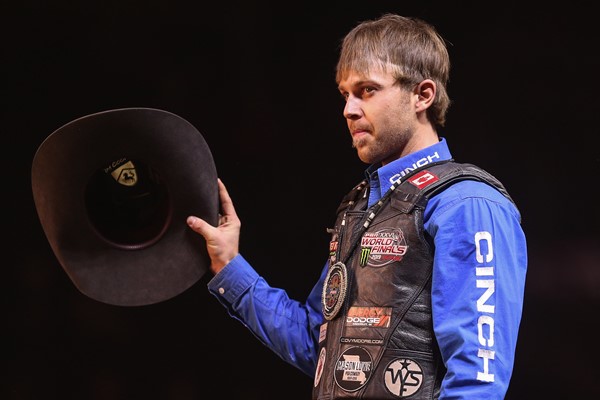 CALGARY, Alta. – As the 2022 Calgary Stampede wound to a climactic close Sunday afternoon, it wasn't one, but rather two bull riders who took to the stage, crowned Bull Riding Co-Champions of the Greatest Outdoor Show on Earth.
Compliments of matching 88.5-point rides, 2020 PBR Canada Champion Dakota Buttar and Shane Proctor tied for the event win at the prestigious annual rodeo. For Buttar, it was his first victory at the Calgary Stampede, while for Proctor it was his second, first claiming the title, and then $100,000 bonus, in 2011.
"Shane's a good guy — I've looked up to him for a long time," Buttar told the Calgary Sun's Laurence Heinen. "It was a tie, but I didn't know if they were going to break it or not. It was just a waiting game, and we were sitting there nervous."
And just as the sight of two riders hoisting the $50,000 discipline champion check was an unusual sight, so to was there pathway to that moment.
When Championship Sunday got underway, Buttar and Proctor were joined in the round of 10 alongside fellow PBR regulars Jared Parsonage, Clayton Sellars and Cody Coverchuk, in addition to Alan de Souza, Reid Oftedhal, Maverick Potter, Creek Young and Trey Kimzey.
Proctor was a dominant force, delivering the top score when he covered Afraid To Nod for 90 points, with Buttar close behind in second courtesy of his 85.5-point score atop Jayded.
With two spots still available in the final round, Parsonage advanced via his 84.5-point effort aboard Positively Banging and Souza clinched the last position after he covered State Law for 79.5 points.
The slate was then wiped clean, and each of the four riders drew one final bull – or so they thought. After Proctor, Buttar, Parsonage and Souza all bucked off their initial opponents, the lineup was reset, with each rider readying to take on another bovine athlete opponent.
Proctor set an early tone for the final round of Showdown Sunday, posting an 88.5-point score on 2 Guns.
Rising to the occasion, Buttar matched the marks after delivering a wild ride aboard Lil Hootch.
"I knew what I wanted to do, and I knew what I had to do to get the result," Buttar added in his interview with the Calgary Sun. "I was just taking breaths and staying focused on the task at hand."
And despite Souza also posting a score, 82.5 points on Armed & Dangerous, it was not enough to match those posted by Buttar and Proctor.
"It's fun splitting it with Dakota," Proctor told the Calgary Sun's Heinen. "We got to have a showdown, and it was fun. We're not the young guys in the locker room, so it's kind of fun — a lot of them guys are 21 or 22, and we're a lot older."
Stay tuned in to PBRCanada.com and follow the tour on Facebook (PBR Canada), Twitter (@PBRCanada), and Instagram (@PBRCanada) for the latest results, news, stats and more.