Brock Radford Wins Elite Cup Series Event in Kelowna, British Columbia to Overtake No. 1 Rank in the Intense 2022 PBR Canada Championship Race
By: Kacie Albert Thursday, July 21, 2022 @ 1:32 AM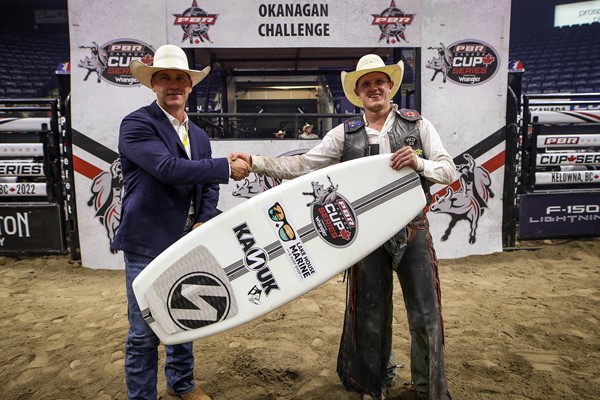 KELOWNA, B.C. – As the elite PBR (Professional Bull Riders Canada) Canada Cup Series, presented by Wrangler, returned to Kelowna, British Columbia, and Prospera Place for the first time in four years Wednesday evening, there was no rider more dominant than Brock Radford (De Winton, Alberta). As the lone rider to go a perfect 2-for-2, the surging Albertan won the PBR Okanagan Challenge, presented by T-Rex Excavating, overtaking the No. 1 rank in the feverish 2022 PBR Canada Championship battle and catapulting 12.67 points out front of new No. 2 Blake Smith (Abbey, Saskatchewan).
Radford, who won the first-ever PBR Canada event in Kelowna in 2017, traveled to the British Columbia this season amidst a hot streak, registering three consecutive Top 10 finishes in his most recent outings.
Continuing his momentum, Radford first struck in Round 1 when he delivered the second-best score, marked 85.5 points atop Trapped (Vold Rodeo/Prescott).
With the second pick in the Round 2 bull draft, Radford used his early selection to architect a matchup with Irish Rebel (Wilson Rodeo), a decision which would prove dividends.
As the penultimate man to leave the chutes, Radford was poised as he climbed aboard the powerful animal athlete.
The 27-year-old remained centered as the chute gate burst open, matching the bull jump-for-jump en route to the requisite 8.
With the crowd erupting in cheer, Radford was awarded an event-best 88.5 points to clinch the victory.
Radford's golden finish garnered him a crucial 77 national points. After beginning the tour stop No. 4 in Canada, Radford surged to the No. 1 position, now 12.67 points ahead of No. 2 Smith.
Smith also competed in Kelowna, however, was shutout.
The Austin Gamblers rider was bucked off by Just A Vertigo (Vold Rodeo) in 3.07 seconds in Round 1, and by Spotted Nails (Vold Rodeo/Robinson) in 5.69 seconds in Round 2.
Fresh off his victory at the 2022 Calgary Stampede, Dakota Buttar (Eatonia, Saskatchewan) was second in Kelowna, netting 52 national points.
While Buttar was bested in Round 1, dispatched by Hat Trick (Vold Rodeo/Wyatt Bridge) in 6.5 seconds, the reserved contender was quick to rebound in Round 2.
Knowing he needed a big score to keep his hopes of victory alive, Buttar drafted Blue Magic (Outlaw Buckers Rodeo Corp.). A daunting opponent, Blue Magic entered the matchup having never been ridden in his four career outs.
Remaining laser focused, Buttar snapped the bull's unridden streak, conquering Blue Magic for 88 points to surge to second on the event leaderboard.
Buttar's silver finish allowed him to crack the Top 5 in the national standings. Now No. 5 in Canada, Buttar is within a mere 62.5 points of No. 1 Radford.
Two-time PBR Canada Champion Zane Lambert (Ponoka, Alberta) was third.
The charismatic veteran was unmatched in Round 1, delivering the top score when he rode Afraid To Nod (Outlaw Buckers Rodeo Corp.) for 86.5 points.
Lambert, however, was unable to remain perfect in Kelowna, tossed by Hard Not To Get (Vold Rodeo) in 4.43 seconds during the final out of the PBR Okanagan Challenge, presented by T-Rex Excavating.
For his efforts, Lambert collected 45 national points.
Attempting to tie Aaron Roy (Yellow Grass, Saskatchewan) for most national titles won by one rider in Canadian history in 2022, Lambert is now ranked No. 13 in the title race, 113.5 points outside of the top spot.
Dawson Shannon (Drayton Valley, Alberta) was fourth, netting 29 national points.
On the spurs of a 5.47-second buckoff dealt to him by Lil' Hooch (Flying High Rodeo Co.) in Round 1, Shannon regained his title contending form in Round 2, riding Last Rights (Vold Rodeo/Prescott) for 85.5 points.
Shannon's finish propelled him to No. 14 in the PBR Canada national standings. He is now within 119 points of No. 1 Radford.
Rounding out the Top 5 in fifth was Cauy Schmidt (Coronation, Alberta, Canada).
The young gun's performance, which earned him 19 national points, was headlined by an 83.5-point ride on Wutang (Vold Rodeo) in Round 1.
In the bull pen, five animal athletes tied for the coveted YETI "Built for the Wild" Bull of the Event honor after posting matching 43.5-point scores.
Those impressive bovines were Heckya.ca (Wilson Rodeo), Billy Big Rigger (Outlaw Buckers Rodeo Corp.), Irish Rebel (Wilson Rodeo), Alberta Springs (Vold Rodeo) and Hard Not to Get (Vold Rodeo).
The 2022 PBR Canada Sup Series, presented by Wrangler, will next travel to Lethbridge, Alberta, and ENMAX Centre on Friday, September 23 and Saturday, September 24. Action for the PBR South Country Co-op Showdown, presented by VisitLethbridge.com, will get underway nightly at 7:00 p.m. MDT.   
Stay tuned in to PBRCanada.com and follow the tour on Facebook (PBR Canada), Twitter (@PBRCanada), and Instagram (@PBRCanada) for the latest results, news, stats and more.
PBR Canada Cup Series, presented by Wrangler
PBR Okanagan Challenge, presented by T-Rex Excavating
Prospera Place – Kelowna, British Columbia
(Round 1-Round 2-Event Aggregate-Event Points)
1. Brock Radford, 85.5-88.5-174.00-77 Points.
2. Dakota Buttar, 0-88-88.00-52 Points.
3. Zane Lambert, 86.5-0-86.50-45 Points.
4. Dawson Shannon, 0-85.5-85.50-29 Points.
5. Cauy Schmidt, 82.5-0-82.50-19 Points.
6. Cody Coverchuk, 78-0-78.00-11 Points.
7. Micheal Ostashek, 0-27.5-27.50-10 Points.
Blake Smith, 0-0-0.00
Logan Biever, 0-0-0.00
Aaron Roy, 0-0-0.00
Nick Tetz, 0-0-0.00
Ashton Sahli, 0-0-0.00
Todd Chotowetz, 0-0-0.00
Chad Hartman, 0-0-0.00
Fabian Dueck, 0-0-0.00
Nicholas Klinck, 0-0-0.00
Elijah Gordon, 0-0-0.00
Adam Menzies, 0-0-0.00