Blake Smith Wins Touring Pro Division Event in Waskesiu Lake Via Monster 90-Point Ride to Overtake No. 1 Rank in the Race for the 2022 PBR Canada Championship
By: Kacie Albert Friday, July 1, 2022 @ 8:48 AM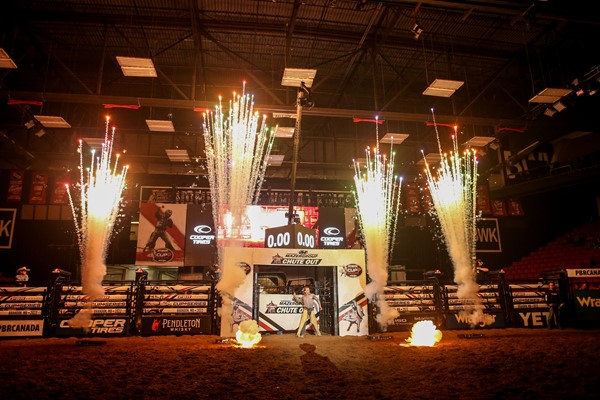 WASKESIU LAKE, Sask. – Against the picturesque backdrop of Waskesiu Lake, Saskatchewan, young gun Blake Smith (Abbey, Saskatchewan) reached a crucial career milestone Thursday evening as the 2022 PBR (Professional Bull Riders) Canada season continued with the 8 Seconds At The Ridge Touring Pro Division event. Backed by his career-first 90-point ride, Smith won the event, propelling him back to the No. 1 position in the heated race to be crowned the 2022 PBR Canada Champion and earn the accompanying $50,000 bonus.
The Austin Gamblers contender was quick to strike in Round 1 when he covered Gamebred (CS Bucking Bulls) for 84.5 points.Punching his ticket to the championship round positioned second on the event leaderboard, Smith next readied to go head-to-head with Ain't About Fame (Thompson Rodeo Livestock).
In perfect time with the animal athlete, Smith matched Ain't About Fame jump-for-jump, reaching the whistle and leading the raucous crowd to erupt in cheer. Marked a monstrous 90 points, not only was the score the first 90-point ride of the season in Canada, but it was also the first of Smith's career.
Smith clinched the event win compliments of the perfect 2-for-2 showing, garnering 30 national points. Ranked No. 2 prior to the event, Smith leap-frogged Lonnie West (Cadogan, Alberta) for the top position in the heated PBR Canada Championship race, now 18.5 points out front.
In addition to reclaiming the No. 1 position in the national standings, Smith also now leads PBR Canada in event (4) and round (5) wins across both the elite Cup Series, presented by Wrangler, and developmental Touring Pro Division.
Three-time PBR Canada Champion Aaron Roy (Yellow Grass, Saskatchewan) was second, collecting 17.5 national points.
As the only other rider to cover both of his bovine athlete opponents, Roy rode Gandy (Skori Bucking Bulls) for 84 points in Round 1, before going the distance atop Get Ugly (CS Bucking Bulls) for 85.5 points in the championship round.
Roy's silver finish allowed him to rise three positions in the national standings, climbing from No. 6 to No. 3. Attempting to earn his unprecedented fourth national title in 2022, Roy is now a mere 56.5 points behind No. 1 Smith.
Third was two-time and reigning PBR Canada Champion Cody Coverchuk (Meadow Lake, Saskatchewan).
Going 1-for-2, Coverchuk was unmatched in the opening round of competition, riding Black Jack (Skori Bucking Bulls) for 85 points.
Coverchuk left his home province event having earned 15 national points, cracking the Top 10 in the national standings. Rising from No. 14 to No. 9, Coverchuk is now within 110 points of the No. 1 position.
Should Coverchuk defend his national title in 2022, he would enter rare air. Not only would he join Roy as the only three-time Champions in Canadian history, but he would also become just the first rider to win the honor in consecutive seasons.
Newcomer Karson Turel (Kellfield, Manitoba) was fourth.
Competing in just his second PBR event, the 22-year-old went 1-for-2 riding Iodine (CS Bucking Bulls) for 84 points in Round 1 to collect 6.5 national points.
Rounding out the Top 5 in fifth was Tyson Thue (Bengough, Saskatchewan).
Thue's 82.5-point ride atop Something To Believe In (Thompson Rodeo Livestock) netted him 4 national points.
The 2022 PBR Canada season will continue Friday, July 1 in Cluny, Alberta, for the Cluny Lions Charity PBR. Action at Coulee Creek Farms gets underway at 5:00 p.m. MDT.
Stay tuned in to PBRCanada.com and follow the tour on Facebook (PBR Canada), Twitter (@PBRCanada), and Instagram (@PBRCanada) for the latest results, news, stats and more.
PBR Canada Touring Pro Division
8 Seconds At The Ridge
Elk Ridge Resort – Waskesiu Lake, Saskatchewan
(Round 1-Round 2-Event Aggregate-Event Points)
1. Blake Smith, 84.5-90-174.5-30
2. Aaron Roy, 84-85.5-169.5-17.5
3. Cody Coverchuk, 85-0-85-15
4. Karson Turel, 84-0-84-6.5
5. Tyson Thue, 82.5-0-82.5-4
6. Weston Davidson, 81.5-0-81.5-1.5
(tie) Nicholas Giles, 81.5-0-81.5-1.5
8. Brock Radford, 78-0-78-0
9. Keaton Martz, 75-0-75-0
Griffin Smeltzer, 0-0-0.00-0
Reed Duncan, 0-0-0.00-0
Landon Schmidt, 0-0-0.00-0
Cole Troendle, 0-0-0.00-0
Jake Breum, 0-0-0.00-0
Wyatt Fenning, 0-0-0.00-0
Reid Musgrove, 0-0-0.00-0
Avery Lacusta, 0-0-0.00-0
Damon Tritthart, 0-0-0.00-0
Chris Graham, 0-0-0.00-0
Brian Hervey, 0-0-0.00-0
Stefan Tonita, 0-0-0.00-0
Tanner Skene, 0-0-0.00-0
Wyatt Lavallee, 0-0-0.00-0
Tyson Salmon, 0-0-0.00-0
Orrin Marshall, 0-0-0.00-0