Young Gun Cauy Schmidt Wins Career-First PBR Canada Event at Touring Pro Division's Royal Rumbull
By: Kacie Albert Saturday, August 6, 2022 @ 8:27 AM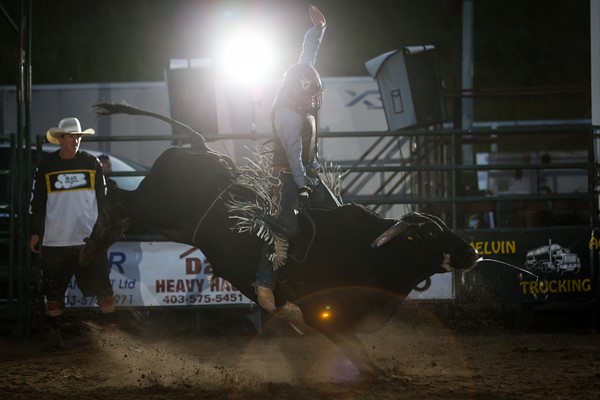 CORONATION, Alta. – In front of a hometown crowd, Cauy Schmidt (Coronation, Alberta) reached a critical career milestone Friday evening. Compliments of a perfect 2-for-2 effort at the Coronation Rodeo Grounds, Schmidt won his career-first PBR (Professional Bull Riders) Canada event, victorious at the Royal Rumbull in Coronation, Alberta.
Schmidt was quick to punch his ticket to the championship round as one of four riders to convert in Round 1. Matched up with Canadian Miracle (Wild Hoggs Bucking Bulls), Schmidt reached the requisite 8 for 83 points.
Poised, the surging 19-year-old next readied to take on Wolf Bait (Vold Rodeo) in the final round. Matching the powerful animal athlete jump-for-jump, Schmidt was scored an event win-clinching 86.5 points.
The golden finish earned Schmidt a crucial 27 national points as he seeks his career-first qualification to the PBR Canada National Finals this November in Edmonton, Alberta. Cracking the Top 20 in the national standings, Schmidt is now No. 19 in Canada, 160 points removed from the No. 1 position.
Atop the heated standings to be crowned the 2022 PBR Canada Champion and earn the accompanying $50,000 bonus, Brock Radford (De Winton, Alberta) furthered his stronghold on the No. 1 rank courtesy of a third-place finish.
Going 1-for-2, Radford's podium finish was headlined by his second-place score in the opening round, marked 84 points atop Black Beetle (Foley Bucking Bulls).
Radford left his home province event having earned 13 national points, now 37.67 points ahead of No. 2 Blake Smith (Abbey, Saskatchewan).
Attempting to become the first back-to-back PBR Canada Champion in history, and tie three-time title holder Aaron Roy (Yellow Grass, Saskatchewan) for most national titles held by one rider, Cody Coverchuk (Meadow Lake, Saskatchewan) was second.
Coverchuk was unrivaled in the opening round when he covered Big Easy (Skori Bucking Bulls) for a round winning 84.5 points.
The Saskatchewan rider left Coronation with 17 national points. He remained No. 8 in the Canadian standings, now 92 points back of No. 1 Radford.
As the only other contender to deliver a qualified ride, Garrett Green (Meeting Creek, Alberta) was fourth, netting 7 national points.
Green's Top 5 finish included an 83.5-point ride atop Liquor Shakes (Vold Rodeo) in Round 1.
The 2022 PBR Canada season continues Thursday, August 11 for the Touring Pro Division's Tofield Bull Bash in Tofield, Alberta. Action at the Tofield Fairgrounds gets underway at 7:00 p.m. MDT.
Stay tuned in to PBRCanada.com and follow the tour on Facebook (PBR Canada), Twitter (@PBRCanada), and Instagram (@PBRCanada) for the latest results, news, stats and more.
PBR Canada Touring Pro Division
Royal Rumbull
Coronation Rodeo Grounds – Coronation, Alberta
(Round 1-Round 2-Event Aggregate-Event Points)
1. Cauy Schmidt, 83-86.5-168.5-27
2. Cody Coverchuk, 84.5-0-84.5-17
3. Brock Radford, 84-0-84-13
4. Garrett Green [2], 83.5-0-83.5-7
Griffin Smeltzer, 0-0-0.00-0
Logan Biever, 0-0-0.00-0
Logan Biever [2], 0-0-0.00-0
Landon Schmidt, 0-0-0.00-0
Brian Hervey, 0-0-0.00-0
Brian Hervey [2], 0-0-0.00-0
Dakota Buttar, 0-0-0.00-0
Todd Chotowetz, 0-0-0.00-0
Garrett Green, 0-0-0.00-0
Chad Hartman, 0-0-0.00-0
Callum Miller, 0-0-0.00-0
Tanner Eno, 0-0-0.00-0
Tyler Craig, 0-0-0.00-0
Tyler Craig [2], 0-0-0.00-0
Ethan Schultz, 0-0-0.00-0
Coy Robbins, 0-0-0.00-0
Ashton Sahli, 0-0-0.00-0