Wyatt Gleeson Wins Prestigious Glen Keeley Memorial Bull Riding with Career-First 90-Point Ride
By: Kacie Albert Tuesday, August 23, 2022 @ 11:25 AM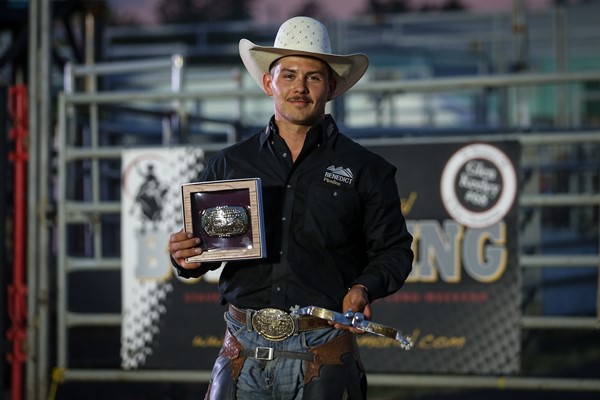 STAVELY, Alta. – Wyatt Gleeson (Sundre, Alberta) reached a crucial career milestone Saturday evening in Stavely, Alberta, registering his career-first 90-point ride in PBR (Professional Bull Riders) Canada competition, winning the Touring Pro Division's prestigious Glen Keeley Memorial Bull Riding.
Gleeson advanced to the championship round second on the event leaderboard after riding Twist of Fate (Thompson Rodeo Livestock) for 83.5 points.
The charismatic Albertan then climbed aboard Superstition (Wilson Rodeo). In perfect time with his animal athlete counterpart, Gleeson reached the requisite 8 for a monstrous 90 points. Not only was the score a career-best for Gleeson, but it also clinched his first event win since 2018.
For his efforts, Gleeson earned 30 national points. He catapulted from No. 34 to No. 23 in the race to be crowned the 2022 PBR Canada Champion. He is now within 208.5 points of No. 1 Dakota Buttar (Eatonia, Saskatchewan).
Atop the race, Logan Biever (Claresholm, Alberta) finished third to solidify his No. 2 rank and inch within a mere 2.5 points of overtaking the No. 1 rank.
Despite being bucked off in Round 1, Biever was quick to rebound in the championship round, conquering Touch Too Much (Wilson Rodeo) for 86 points.
Biever left Stavely Arena having earned a crucial 11 national points.
Austin Gamblers' Blake Smith (Abbey, Saskatchewan) was second.
Smith went 1-for-2, earning his score atop Dance Monkey (Wild Hoggs/Lou Streeter) for 87 points in the final round.
The surging young gun collected 15 national points for the podium finish and remained No. 4 in the battle to be crowned the 2022 PBR Canada Champion. He now trails No. 1 Buttar by 43.17 points.
Fourth was Coy Robbins (Camrose, Alberta).
Robbins rode Allemand Left (Wilson Rodeo) for a Round 1-winning 84 points to garner 11 national points.
The 2017 PBR Rookie of the Year remains No. 5 in Canada but climbed within 78.5 points of the top rank.
Rounding out the Top 5 was two-time PBR Canada Champion Cody Coverchuk (Meadow Lake, Saskatchewan) in fifth, earning 5 national points.
Coverchuk earned his score in the final round, marked 83 points atop Spooky Lukie (Two Bit Bucking Bulls).
Seeking his record-tying third national title in 2022, Coverchuk rose from No. 9 to No. 8 in the national standings. He is now within 103.5 points of No. 1 Buttar.
Should Coverchuk repeat as the PBR Canada Champion this November in Edmonton, he would become the first back-to-back Champion in history.  
The 2022 PBR Canada season continues Friday, August 26 for the Touring Pro Division's Les Supernant Memorial Bull Bash in Bowden, Alberta. Action at the Bowden Ag Grounds gets underway at 7:00 p.m. MDT.
Stay tuned in to PBRCanada.com and follow the tour on Facebook (PBR Canada), Twitter (@PBRCanada), and Instagram (@PBRCanada) for the latest results, news, stats and more.
PBR Canada Touring Pro Division
Glen Keeley Memorial Bull Riding
Stavely Arena – Stavely Alberta
(Round 1-Round 2-Event Aggregate-Event Points)
1. Wyatt Gleeson, 83.5-90-173.5-30
2. Blake Smith, 0-87-87-15
3. Logan Biever, 0-86-86-11
4. Coy Robbins, 84-0-84-11
5. Covy Coverchuk, 0-83-83-5
6. Todd Chotowetz, 82-0-82-5
Aaron Roy, 0-0-0.00-0
Chad Hartman, 0-0-0.00-0
Chance Switzer, 0-0-0.00-0
Brock Radford, 0-0-0.00-0
Rosendo Ramirez, 0-0-0.00-0
Nick Tetz, 0-0-0.00-0
Dakota Buttar, 0-0-0.00-0
Tanner Eno, 0-0-0.00-0