Weston Davidson Wins Career-First PBR Canada Event at Touring Pro Division's Les Supernant Memorial Bull Bash in Bowden, Alberta
By: Kacie Albert Saturday, August 27, 2022 @ 1:01 PM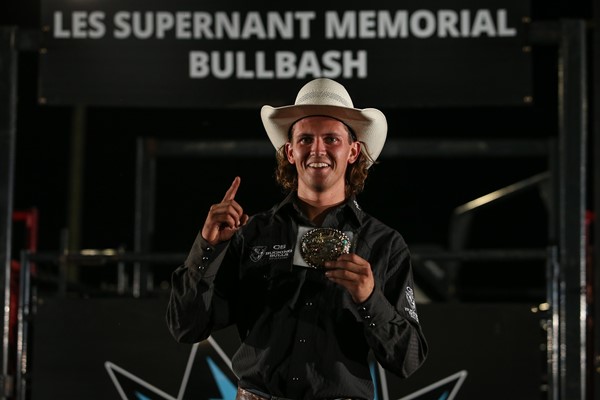 BOWDEN, Alta. – Young gun Weston Davidson (Strongfield, Saskatchewan) reached a critical career milestone Friday evening, delivering a perfect 2-for-2 showing in Bowden, Alberta, to earn his first PBR Canada event win, victorious at the Touring Pro Division's Les Supernant Memorial Bull Bash.
The 20-year-old first put points on the board in Round 1 when he went the distance atop Salty Dog (Eno Bucking Bulls) for an 82.5-point score.
Positioned second on the event leaderboard entering the second round, Davidson next readied to attempt Bull Dozzer (Skori Bucking Bulls). Remaining in perfect time with the animal athlete, Davidson reached the requisite 8 for a round-winning 85.5 points to clinch to event victory.
Davidson's golden finish earned him a critical 30 national points, catapulting him from No. 36 to No. 24 in the national standings. He now trails the Top 20 and his first berth to the PBR Canada National Finals by 22 points.
Dakota Buttar (Eatonia, Saskatchewan) strengthened his grip on the No. 1 rank compliments of a third-place finish which garnered him 13 national points.
After bucking off in Round 1, Buttar returned determined in Round 2, drawing Barnyard (Eno Bucking Bulls).
The reserved Saskatchewan man reached the whistle for 84.5 points to cement his podium finish.
While Buttar traveled to Bowden with a slim 2.5-point lead over No. 2 Logan Biever (Claresholm, Alberta), he is now 8.5 points out front.
Should 2020 Champion Buttar be crowned the 2022 PBR Canada Champion, he would becoming just the fourth rider in history to have won the national title multiple times, joining three-time Champion Aaron Roy (Yellow Grass, Saskatchewan) and two-time title holders Zane Lambert (Ponoka, Alberta) and Cody Coverchuk (Meadow Lake, Saskatchewan).
Hot on Buttar's spurs, both No. 2 Biever and No. 3 Brock Radford (De Winton, Alberta) finished inside the Top 5 in Bowden.
Biever was fourth, netting 7 national points, via his 78.5-point effort atop Farva (Eno Bucking Bulls) in the opening round.
Radford was the only other rider to deliver a flawless 2-for-2 showing, concluding the event second and earning a critical 20 national points.
The charismatic Albertan was unrivaled in Round 1, surging to an early event lead after he rode Housefire (Flying High Rodeo Co.) for 85.5 points.
While Radford converted in Round 2, riding Ribs (Vold Rodeo) for 79 points, it was not enough to defend his spot atop the leaderboard.
Radford remained No. 3 in Canada, but lessened Buttar's lead from 20.5 points to 13.5 points.
The 2022 PBR Canada season continues Saturday, August 27 for the Touring Pro Division's Wheatland Charity PBR, presented by HeckYa.ca in Gleichen, Alberta. Action at the Wilson Rodeo Grounds gets underway at 6:00 p.m. MDT.
Stay tuned in to PBRCanada.com and follow the tour on Facebook (PBR Canada), Twitter (@PBRCanada), and Instagram (@PBRCanada) for the latest results, news, stats and more.
PBR Canada Touring Pro Division
Les Supernant Memorial Bull Bash
Bowden Ag Grounds – Bowden, Alberta
(Round 1-Round 2-Event Aggregate-Event Points)
1. Weston Davidson, 82.5-85.5-168-30
2. Brock Radford, 85.5-79-164.5-20
3. Dakota Buttar, 0-84-84-13
4. Logan Biever, 78.5-0-78.5-7
Nick Tetz, 0-0-0.00-0
Cauy Schmidt, 0-0-0.00-0
Stefan Tonita, 0-0-0.00-0
Darrion Ference, 0-0-0.00-0
Chad Hartman, 0-0-0.00-0
Aaron Roy, 0-0-0.00-0