Flawless Logan Biever Wins Celebration for the Two Bit Nation PBR Canada Touring Pro Division Event in Magrath, Alberta
By: Kacie Albert Friday, August 5, 2022 @ 5:48 PM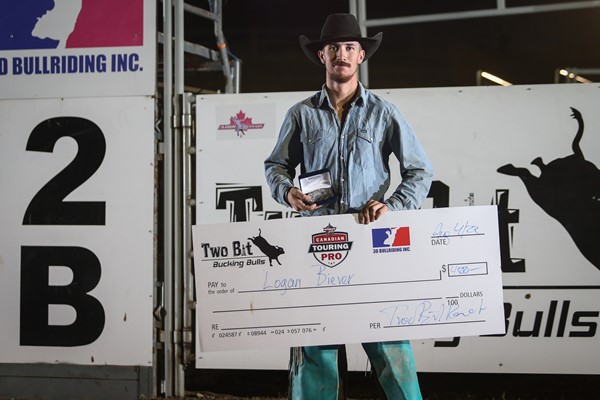 MAGRATH, Alta. – Backed by a flawless 2-for-2 performance in Magrath, Alberta, Thursday evening, Logan Biever (Claresholm, Alberta) won his second PBR (Professional Bull Riders) Canada Touring Pro Division event of the season, victorious at the Celebration for the Two Bit Nation.
Biever first lit up the scoreboard in Round 1 when he delivered the top score, marked 83.5 points atop OMB Stones Throw (Wilson Rodeo).
As action continue in Round 2, Biever remained atop the leaderboard, clinching the event win when he covered Slingin Stones (Flying High Rodeo Co.) for an event-best 88.5 points.
For his golden finish, Biever earned 32 national points, rising to No. 3 in the feverish battle to be crowned the 2022 PBR Canada Champion and earn the accompanying $50,000 bonus.
Biever is now within 34 points of No. 1 Brock Radford (De Winton, Alberta).
Radford extend his lead atop the national standings compliments of a third-place finish, which earned him 10 national points.
Also going 2-for-2, Radford rode Tractorland Train Station (Wild Hoggs Bucking Bulls) for 71 points in Round 1, and Desperado (Vold Rodeo) for 76 points in Round 2.
The Albertan sensation is now 24.67 points ahead of No. 2 Blake Smith (Abbey, Saskatchewan) as he seeks his first PBR Canada Championship this November in Edmonton, Alberta.
Austin Gamblers' Smith, along with Micheal Ostashek (Edson, Alberta) and Chad Hartman (Lancer, Saskatchewan), tied for fifth, all earning 4 Canadian points.
The trio all covered their opening round bulls for 79.5 points.
Smith rode Blue North (Two Bit Bucking Bulls), Ostashek covered Sicario (Flying High Rodeo Co.), while Hartman converted aboard Shallow Creek (Vold Rodeo).
Griffin Smeltzer (Claresholm, Alberta) parlayed a 2-for-2 effort into second-place finish.
Garnering 20 national points, Austin Gamblers free agent Smeltzer's 8-second efforts were earned aboard Tar Pit (Two Bit Bucking Bulls) for 81.5 points and Deep Creek (Vold Rodeo) for 88 points.
The surging young gun climbed to No. 18 in the PBR Canada national standings, inching within 145 points of the No. 1 rank.
Rounding out the Top 5 in fourth was reigning PBR Canada Champion Cody Coverchuk (Meadow Lake, Saskatchewan).
Coverchuk earned the finish, and 7 national points, courtesy of an 85-point score on Allemand Left (Wilson Rodeo) in Round 2.
In the bull pen, Sicilian Kiss (Flying High Rodeo Co.) bucked a cut above the rest, crowned the Bull of the Event. The powerful bovine athlete delivered the top score of the event in Round 2, scored 45 points for his 2.22-second buckoff of Callum Miller (Warwick, Queensland, Australia).
Stay tuned in to PBRCanada.com and follow the tour on Facebook (PBR Canada), Twitter (@PBRCanada), and Instagram (@PBRCanada) for the latest results, news, stats and more.
PBR Canada Touring Pro Division
Celebration For The Two Bit Nation
Two Bit Ranch – Magrath, Alberta
(Round 1-Round 2-Event Aggregate-Event Points)
1. Logan Biever, 83.5-88.5-172.00-32 Points.
2. Griffin Smeltzer, 81.5-88-169.50-20 Points.
3. Brock Radford, 71-76-147.00-10 Points.
4. Cody Coverchuk, 0-85-85.00-7 Points.
5. Blake Smith, 79.5-0-79.50-4 Points.
(tie). Micheal Ostashek, 79.5-0-79.50-4 Points.
(tie). Chad Hartman, 79.5-0-79.50-4 Points.
8. Garrett Green, 68-0-68.00
9. Weston Davidson, 0-62-62.00-1 Points.
Dakota Buttar, 0-0-0.00
Aaron Roy, 0-0-0.00
Dawson Shannon, 0-0-0.00
Callum Miller, 0-0-0.00
Cauy Schmidt, 0-0-0.00
Wyatt Gleeson, 0-0-0.00
Stefan Tonita, 0-0-0.00
William Barrows, 0-0-0.00