Dakota Buttar Wins Touring Pro Division Event in Winfield, Alberta to Overtake No. 1 Rank in the Race to be Crowned the 2022 PBR Canada Champion
By: Kacie Albert Tuesday, August 23, 2022 @ 10:38 AM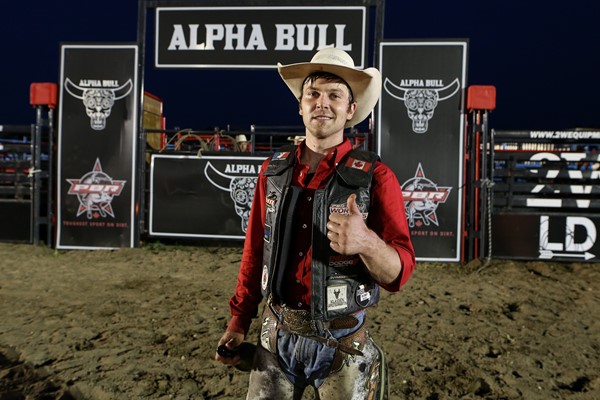 WINFIELD, Alta. – Backed by a perfect 2-for-2 performance Friday evening in Winfield, Alberta, Dakota Buttar (Eatonia, Saskatchewan) won the PBR (Professional Bull Riders) Canada Touring Pro Division's PBR Winfield to overtake the No. 1 rank in the heated battle to be crowned the 2022 PBR Canada Champion.
Should 2020 PBR Canada Champion Buttar claim the title this November in Edmonton, Alberta, he would join an elite group of multi-time title holders, including the likes of three-time Champion Aaron Roy (Yellow Grass, Saskatchewan) and two-time winners Zane Lambert (Ponoka, Alberta) and Cody Coverchuk (Meadow Lake, Saskatchewan).
After earning a re-ride in Round 1, unable to get out of the chutes aboard Wild Time (Vold Rodeo), Buttar next readied to attempt Red Rust (Vold Rodeo). Matching the animal athlete jump-for-jump, Buttar reached the requisite 8 for 80 points.
Buttar advanced to Round 2 runner-up on the event leaderboard, next tasked with Devils Dues (X6 Ranch Bucking Cattle/Legend Rodeo Stock). The stoic Canadian delivered his second score in as many attempts as he covered the bull for an event-best 87.5 points to clinch the victory.
For his golden finish, Buttar earned a crucial 30 points, overtaking the No. 1 rank in the national standings. He now leads No. 2 Logan Biever (Claresholm, Alberta) by 13.5 points.
Biever was second in Winfield as the only other rider to go a flawless 2-for-2.
After riding Canadian Miracle (Wild Hoggs Bucking Bulls) for a Round 1-best 80.5 points, Biever punctuated his event with an 84-point score atop Bar Star (X6 Ranch Bucking Cattle/Legend Rodeo Stock) in Round 2.
Biever left Winfield have earned 20 national points. He climbed from No. 3 to No. 2 in the nation.                              
Third was Chad Hartman (Lancer, Saskatchewan), collecting 13 national points.
After bucking off in Round 1, Hartman rebounded in the second round, conquering Alberta Twister (X6 Ranch Bucking Cattle/Legend Rodeo Stock) for 86 points.
Hartman rose three positions in the race to be anointed the 2022 PBR Canada Champion, climbing from No. 24 to No. 21.
Garrett Green (Meeting Creek, Alberta) was fourth courtesy of his 78.5-point ride atop Smart Doney (Wild Hoggs Bucking Bulls).
Green remained No. 20 in Canada.
The 2022 PBR Canada season continues Saturday, August 20 for the Touring Pro Division's Glen Keeley Memorial Bull Riding in Stavely, Alberta. Action at Stavely Arena gets underway at 6:00 p.m. MDT.
Stay tuned in to PBRCanada.com and follow the tour on Facebook (PBR Canada), Twitter (@PBRCanada), and Instagram (@PBRCanada) for the latest results, news, stats and more.
PBR Canada Touring Pro Division
PBR Winfield
Winfield Rodeo Grounds – Winfield, Alberta
(Round 1-Round 2-Event Aggregate-Event Points)
1. Dakota Buttar, 80-87.5-167.5-30
2. Logan Biever, 80.5-84-164.5-20
3. Chad Hartman, 0-86-86-13
4. Garrett Green, 78.5-0-78.5-7
Jake Breum, 0-0-0.00-0
Carter Sahli, 0-0-0.00-0
Cater Sahli [2], 0-0-0.00-0
Rosendo Ramirez, 0-0-0.00-0
Rosendo Ramirez [2], 0-0-0.00-0
Garrett Green [2], 0-0-0.00-0
Cody Coverchuk, 0-0-0.00-0