Young Gun Griffin Smeltzer Wins Career-First PBR Event at Cody Snyder Charity Bull Bustin' in Calgary
By: Kacie Albert Friday, September 10, 2021 @ 8:32 AM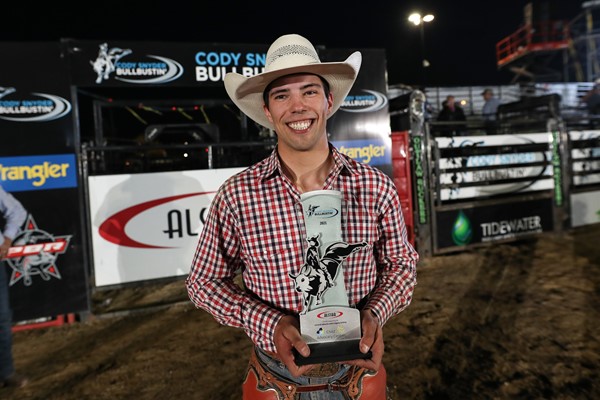 CALGARY, Alta. – Riding in front of a home province crowd, young gun Griffin Smeltzer (Claresholm, Alberta) achieved a critical career milestone Thursday evening in Calgary, Alberta. Going a flawless 2-for-2, Smeltzer captured his career-first PBR (Professional Bull Riders) event win, victorious at the Canadian Touring Pro Division's Cody Snyder Charity Bull Bustin'.
Smeltzer got off to a hot start at Grey Eagle Resort & Casino, punching his ticket to the championship round after winning Round 1. The 21-year-old first attempted Pedro (Eno Bucking Bulls), however, earned a re-ride. Making the most of his second chance, he went the distance aboard Pure Feeling (Vold Rodeo) for 85.5 points.
Awaiting Smeltzer in the final round was Blackstone After Party (Outlaw Buckers Rodeo Corp.), a powerful bovine athlete who had been ridden just twice in 17 outs on record across all levels of competition.
Rising to the occasion, Smeltzer matched Blackstone After Party jump-for-jump, reaching the requisite 8 for 87.5 points.
In addition to his golden-effort, Smeltzer also finished sixth courtesy of his double entry. The Top-10 finish was earned via his 82-point score on Double Espresso (Outlaw Buckers Rodeo Corp.) in Round 1.
Smeltzer left Calgary having earned a combined 34 national points, gaining crucial ground in the race for the 2021 PBR Canada Championship and accompanying $50,000 bonus. After beginning the event No. 6, he surged four positions to No. 2, now within 34.83 points of No. 1 Dakota Buttar (Kindersley, Saskatchewan).
After winning the first two iterations of the Cody Snyder Charity Bull Bustin', Buttar finished fourth on the final day of competition, earning 9 national points to further his stronghold on the No. 1 rank.
The reigning PBR Canada Champion went 1-for-2, covering Fake News (Outlaw Buckers Rodeo Corp.) for 84.5 points in Round 1.
Seeking history in 2021, should Buttar repeat as the national champion, he would become the first rider to win the Canadian title in consecutive seasons. Further, he would become just the third multi-time PBR Canada Champion in league history, joining the likes of three-time title holder Aaron Roy (Yellow Grass, Saskatchewan) and two-time champion Zane Lambert (Ponoka, Alberta).
Australian sensation Callum Miller (Warwick, Queensland) parlayed a double-entry in Calgary into a second and third-place finish to net a collective 28 national points.
Notching both of his qualified rides in the championship round after advancing on time, Miller rode Tennessee Whiskey (Outlaw Buckers Rodeo Corp.) for an event-best 88 points, and OLS Tubs Anika's Pet (Outlaw Buckers Rodeo Corp.) for 85.5 points.
Attempting to become the first Australian to win the PBR Canada Championship in 2021, the podium finishes gained Miller one position in the title race, elevating him from No. 5 to No. 4. He now trails No. 1 Buttar by 39.83 points.
Rounding out the Top 5 in fifth was 2018 PBR Canada Champion Cody Coverchuk (Meadow Lake, Saskatchewan).
The Saskatchewan man rode Brahma Boots Firm Believer (Outlaw Buckers Rodeo Corp.) for 82.5 points in Round 1 to earn 6 national points.
Seeking his second national title in 2021, Coverchuk is now No. 5 in the heated race, 42.83 points removed from the top position.  
The PBR Canada Touring Pro Division next travels to Prince, Albert Saskatchewan and the Byrne Ranch on Sept. 23-24. Action for the Prince Albert PBR, presented by Riverside Dodge, gets underway nightly at 6:30 p.m. MDT.
Be sure to stay tuned to PBRCanada.com and follow the tour on Facebook (PBR Canada), Twitter (@PBRCanada), and Instagram (@PBRCanada) for the latest results and schedule of events.
PBR Canada Touring Pro Division – Cody Snyder Charity Bull Bustin' 3
Calgary, Alberta – Grey Eagle Resort & Casino
Event Results (Round 1-Round 2-Event Aggregate-Canadian Points-World Points)
1. Griffin Smeltzer [2], 85.5-87.5-173-30-10
2. Callum Miller, 0-88-88-17-6
3. Callum Miller [2], 0-85.5-85.5-11-4
4. Dakota Buttar, 84.5-0-84.5-9-3
5. Cody Coverchuk, 82.5-0-82.5-6-2
6. Griffin Smeltzer, 82-0-82-4-1
7. Chad Hartman, 80.5-0-80.5-2-0
Coy Doore, 0-0-0.00-0-0
Coy Doore [2], 0-0-0.00-0-0
Dawson Shannon, 0-0-0.00-0-0
Tim Lipsett, 0-0-0.00-0-0
Tim Lipsett [2], 0-0-0.00-0-0
Travis Maguire, 0-0-0.00-0-0
Travis Maguire [2], 0-0-0.00-0-0
Michael Ostashek, 0-0-0.00-0-0
Jared Parsonage, 0-0-0.00-0-0
Tyler Craig, 0-0-0.00-0-0
Marcos Gloria, 0-0-0.00-0-0
Marcos Gloria [2], 0-0-0.00-0-0
Wacey Finkbeiner, 0-0-0.00-0-0
Fabian Dueck, 0-0-0.00-0-0
Rosendo Ramirez, 0-0-0.00-0-0
Austen Watier, 0-0-0.00-0-0
Coy Robbins, 0-0-0.00-0-0
Zachery King, 0-0-0.00-0-0
Nicholas Klinck, 0-0-0.00-0-0