Head-Turning 90-Point Ride Propels Reigning PBR Canada Champion Dakota Buttar to Victory at Ponoka, Alberta Touring Pro Division Event
By: Kacie Albert Monday, September 6, 2021 @ 12:54 PM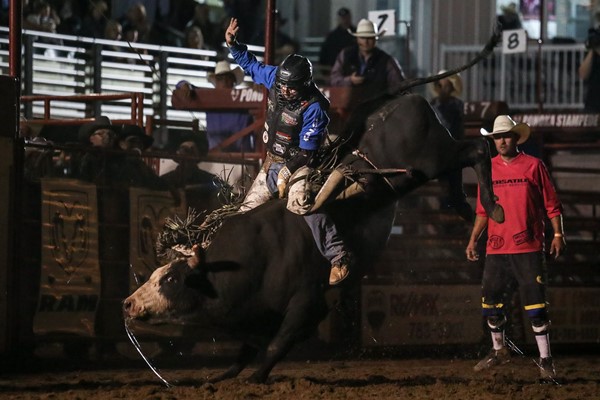 PONOKA, Alta. – Reigning PBR (Professional Bull Riders) Canada Champion Dakota Buttar (Kindersley, Saskatchewan) inched one step closer towards history Saturday evening in Ponoka, Alberta as he attempts to become the league's first-ever back-to-back national title winner in 2021. Backed by an awe-inspiring 90-point ride in the championship round, Buttar won the Wild West PBR Touring Pro Division event, cracking the Top 5 in the race for the 2021 PBR Canada Championship and accompanying $50,000 bonus.
Buttar got off to an electric start in Round 1, delivering the second-best score when he went the distance atop Twisted Soul (X6 Ranch Bucking Cattle) for 84.5 points.
In the championship round, Buttar selected a new bovine athlete opponent, drafting Norse God (Wild Hoggs Bucking Bulls) who had been ridden just once prior in five outs on record.
Becoming just the second rider to make the 8 aboard the powerful bull, Buttar matched Norse God jump-for-jump en route to a head-turning 90-point score. The 90-point ride was Buttar's first of the 2021 season and fifth of his career across all levels of PBR competition.
The flawless effort earned the Saskatchewan man a critical 30 national points, allowing him to crack the Top 5 in the national title race. He rose six positions from No. 9 to No. 3 and is now within 18.67 points of No. 1 Zane Lambert (Ponoka, Alberta).
Should Buttar repeat as the national champion in 2021, he would not only become the first rider to win the honor in consecutive seasons, but also just the third multi-time PBR Canada Champion in league history, joining three-time champion Aaron Roy (Yellow Grass, Saskatchewan) and two-time title holder Lambert.
Riding in front of a hometown crowd, Ponoka's own Lambert finished fourth to extend his lead atop the national standings.
Going 1-for-2, Lambert rode Times Up (Wild Hoggs/Ross Lewis) for 82.5 points in Round 1 to earn 6 national points.
In the championship round, Lambert architected a much-anticipated rematch with Catch My Drift (Two Bit Bucking Bulls/K Rose Ranch). While the veteran contender had covered the bovine athlete twice prior this season for 90 points or more, Lambert was gotten the better of by Catch My Drift in Ponoka, bucked off in a hard-fought 6.06 seconds.
Lambert now leads No. 2 Nick Tetz (Calgary, Alberta) by 7.34 points.
Surging young gun Chad Hartman (Lancer, Saskatchewan) was second at the Wild West PBR.
The 21-year-old earned the silver finish after winning Round 1 compliment of a career-best 85.5-point score atop Eski Time (Wild Hoggs/Colin Eskeland).
Hartman earned 17 national points for his efforts, climbing from No. 18 to No. 13 in the PBR Canada standings. He now trails No. 1 Lambert by 99 points.
Garrett Green (Meeting Creek, Alberta) was third earning 11 national points.
After riding Split Up (Vold Rodeo) for 83 points in Round 1, Green was unable to conclude his performance at the Ponoka Stampede Rodeo Grounds with a qualified ride, dispatched by Razor (Vold Rodeo) in 6.51 seconds during the championship round.
Green's third Top-5 finish of the season allowed him to gain one position in the race for the 2021 PBR Canada Championship. He is now the No. 6-ranked rider in Canada, 34 points removed from the No. 1 position.
Rounding out the Top 5 in fifth was Jared Parsonage (Maple Creek, Saskatchewan).
He covered Sons of Junkie (X6 Ranch Bucking Cattle/Johnson Bucking Bulls) for 81.5 points in Round 1 to collect 4 national points.
Despite earning points, Parsonage lost ground in the national standings, slipping from No. 5 to No. 7, now 37 points back of No. 1 Lambert.
In the bull pen, Catch My Drift was the high-marked bull of the event, scored 44.5 points in his final-round out with Lambert.
The PBR Canada Touring Pro Division next travels to Calgary, Alberta, for the Cody Snyder Charity Bull Bustin' Sept. 7-9. Action at Grey Eagle Resort & Casino will get underway nightly at 7:00 p.m. MDT.
Be sure to stay tuned to PBRCanada.com and follow the tour on Facebook (PBR Canada), Twitter (@PBRCanada), and Instagram (@PBRCanada) for the latest results and schedule of events.
PBR Canada Touring Pro Division – Wild West PBR
Ponoka, Alberta – Ponoka Stampede Rodeo Grounds
Event Results (Round 1-Round 2-Event Aggregate-Canadian Points-World Points)
1. Dakota Buttar, 84.5-90-174.5-30-10
2. Chad Hartman, 85.5-0-85.5-17-6
3. Garrett Green, 83-0-83-11-4
4. Zane Lambert, 82.5-0-82.5-6-3
5. Jared Parsonage, 81.5-0-81.5-4-2
6. Wacey Finkbeiner, 81-0-81-2-1
Landon Schmidt, 0-0-0.00-0-0
Cole Young [1], 0-0-0.00-0-0
Cole Young [2], 0-0-0.00-0-0
Callum Miller, 0-0-0.00-0-0
Micheal Ostashek, 0-0-0.00-0-0
Dawson Shannon, 0-0-0.00-0-0
Nicholas Klinck [1], 0-0-0.00-0-0
Nicholas Klinck [2], 0-0-0.00-0-0
Ethan Schultz, 0-0-0.00-0-0
Cody Coverchuk, 0-0-0.00-0-0
Tim Lipsett, 0-0-0.00-0-0
Griffin Smeltzer, 0-0-0.00-0-0
Brock Radford, 0-0-0.00-0-0
Shay Marks, 0-0-0.00-0-0
Rosendo Ramirez, 0-0-0.00-0-0
Coy Robbins, 0-0-0.00-0-0
Tyler Craig, 0-0-0.00-0-0
Todd Chotowetz, 0-0-0.00-0-0
Fabian Dueck, 0-0-0.00-0-0
Aaron Roy, 0-0-0.00-0-0
Blake Smith, 0-0-0.00-0-0
Weston Davidson, 0-0-0.00-0-0